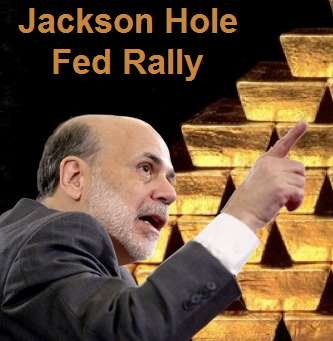 The Bernanke Put is firmly in place. The much awaited Bernanke speech was just a rehash of previous statements. But others like Fed mouthpiece, the WSJ's Jon Hilsenrath, has basically said more QE is on the way and it's just a matter of when. Bernanke's own words suggest the Fed is keen to promote higher stock prices. As he stated: "It is probably not a coincidence that the sustained recovery in U.S. equity prices that began in March 2009, occurred shortly after the FOMC's decision to greatly expand securities purchases. And, that this effect is potentially important because stock values affect both consumption and investment decisions." Therefore, we know how he grades performance-the level of the S&P 500. How he believes all this has helped the economy is unexplained. The Bernank has the printing press and you don't, so don't fight him.
There was some disappointment after the vague Bernanke statement as bulls wanted their QE now! But the spin was assured by Hilsenrath and later luminaries like Bill Gross who stated, "QE is a certainty."
With hindsight, it was clear now why Draghi was a no show. He knew Bernanke was just going to repeat previous statements thus shining the spotlight on him. He had nothing to offer so he stayed home.
Stocks bounced around most of the day, but QE addicts are still running the show. After all it is month-end, the opportunity to window dress is ever present.
The worst measure of Consumer Sentiment, the U of Michigan's data was positive (74.3 vs. 73.5 expected & prior 73.6). I say it's the worst measure because it's weighted too heavily by stock prices. It's an interesting disconnect from The Conference Board's report on Tuesday showing a dreadful (60.6 vs. 65.4) reading. The Chicago PMI (50.3 vs. 50.7) was a disappointment. Factory Orders showed a headline gain (2.8% vs. -.5% prior), but inside the numbers, capital spending was 4% lower.
Overseas, the eurozone offered the third straight month of gains despite dreadful economic reports each month. The rumor du jour was that Jens Weidmann, head of the Bundesbank and a thorn in the side of pro-bailout and QE forces in the ECB, was contemplating retirement. That caused stocks to rally as the tough sheriff might be leaving Dodge so the bad guys could tear up the town.
One thing is clear; gold (NYSEARCA:GLD) loves QE since it lowers the value of the dollar (NYSEARCA:UUP). And, in case you forgot, one of the Fed's two mandates is to protect the purchasing power of the dollar. What's the grade for especially given manipulated CPI data?
Investing tip: Just yesterday we discussed a range of strategies to protect your portfolio from a poor outcome post Jackson Hole. It looks like the Bernanke Put is firmly in place so shorting seems unwise. You either don't play or go with the presumed next liquidity injection, but you don't need to go "balls to the wall" especially when BRICs and others are in very poor shape technically and fundamentally.
Volume expanded on the volatile day's action but was still below recent standards. I suspect most traders left for the long holiday weekend around noon. Breadth per the WSJ was positive.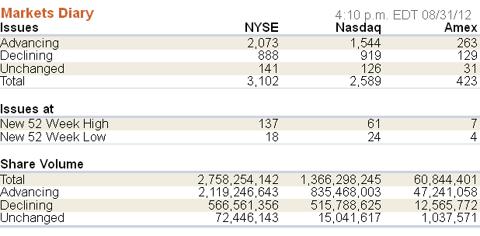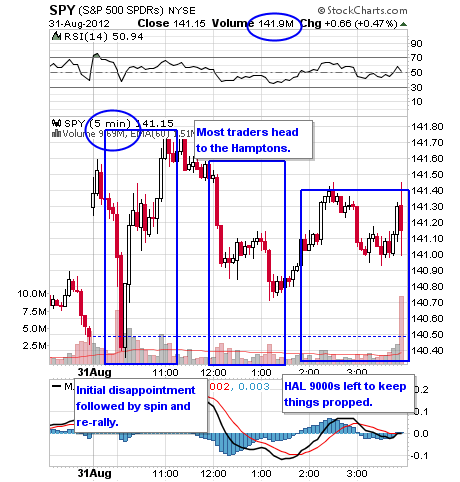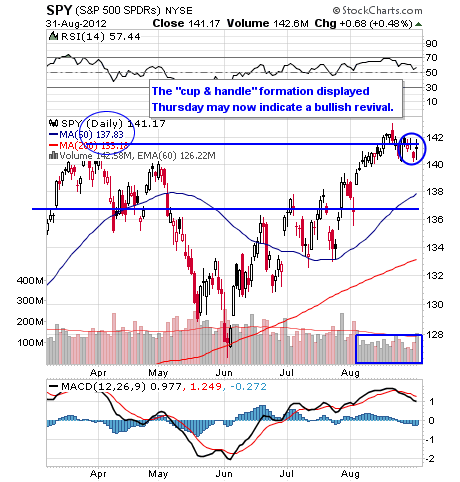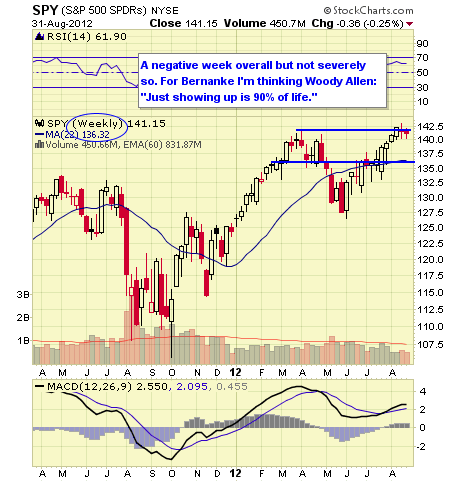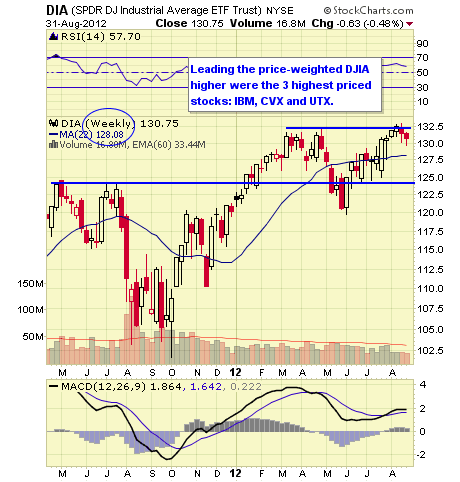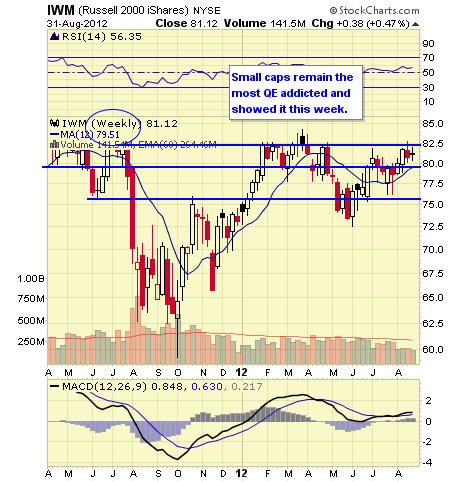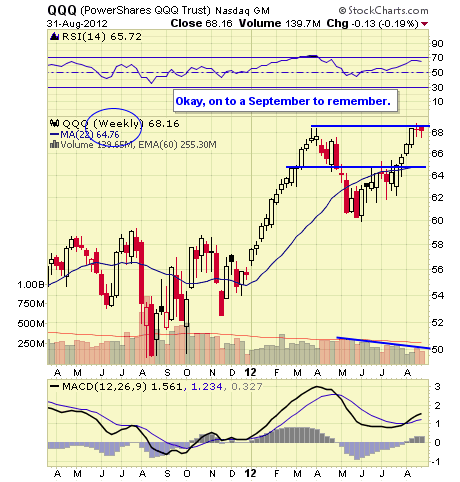 Continue to U.S. Sector, Stocks & Bond ETFs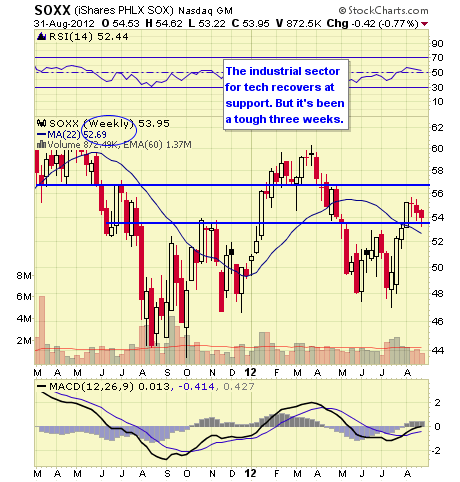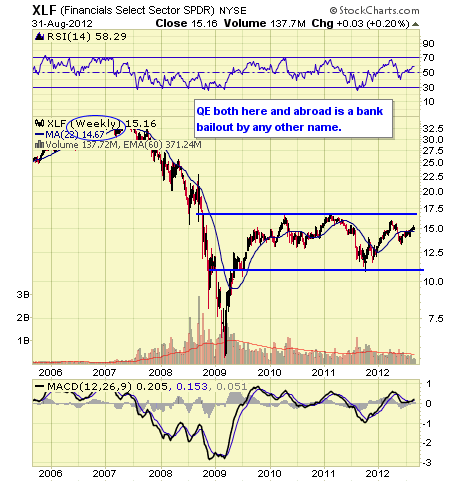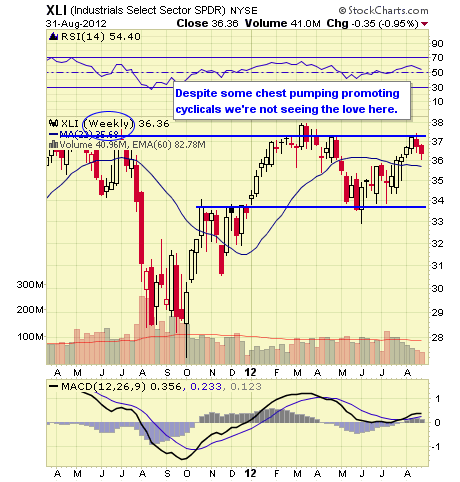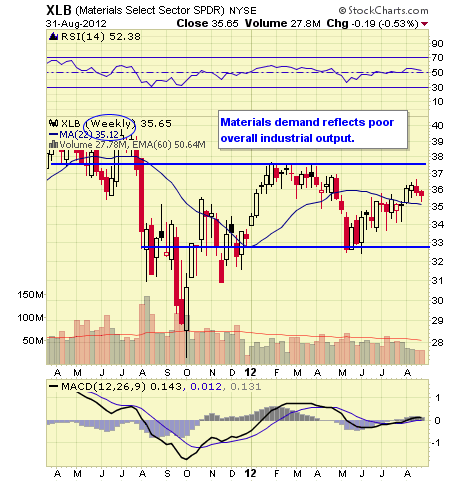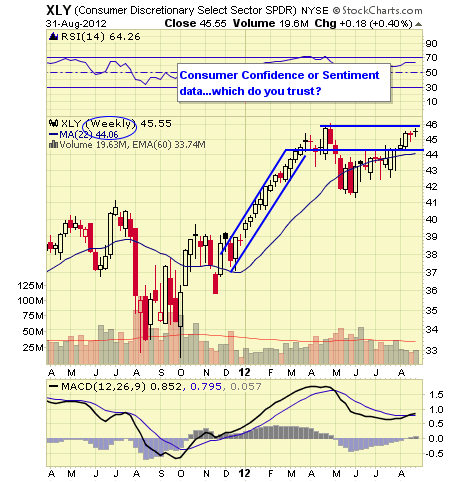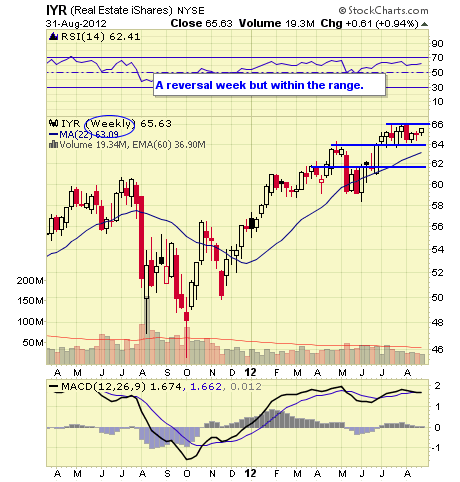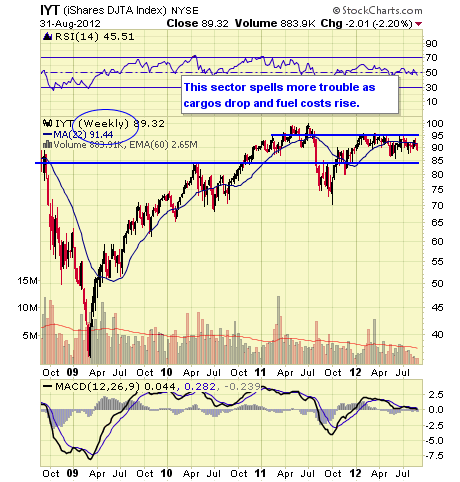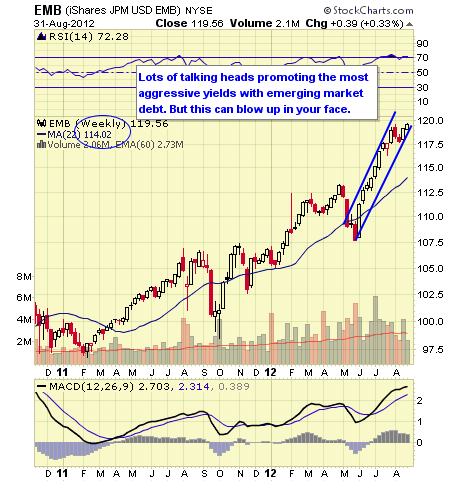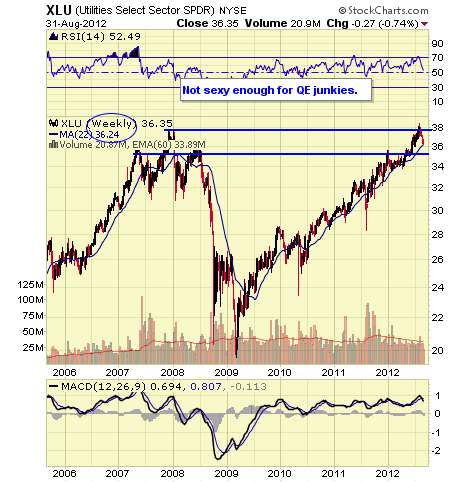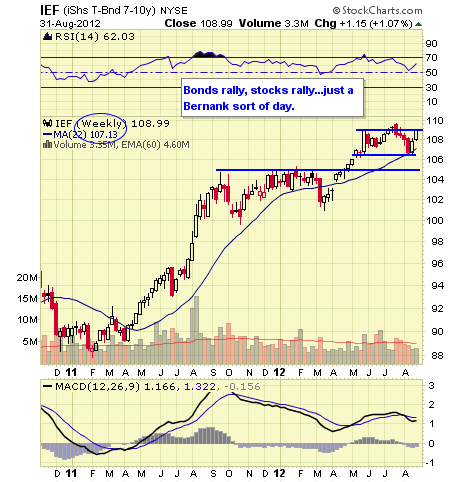 Continue to Currency & Commodity Market ETFs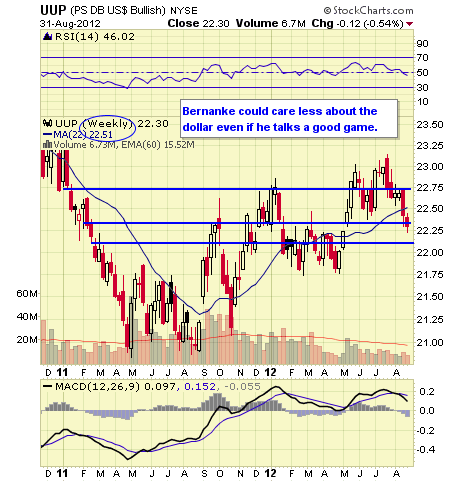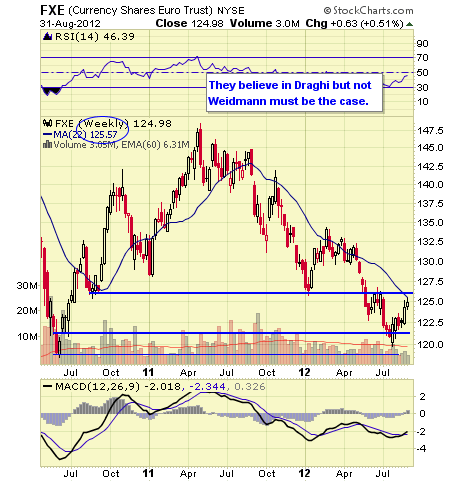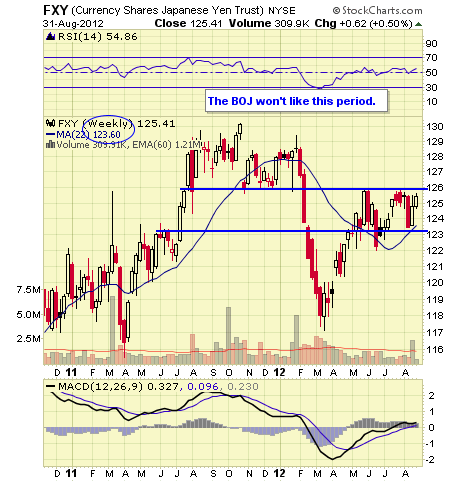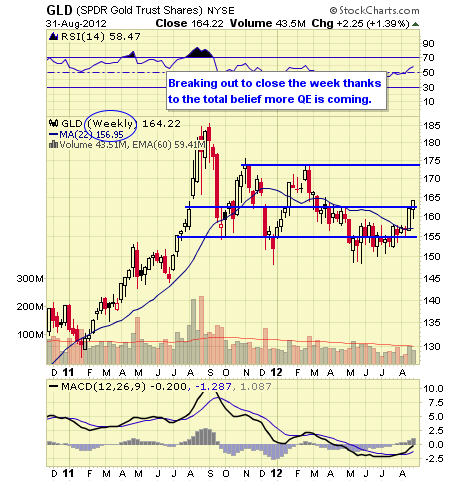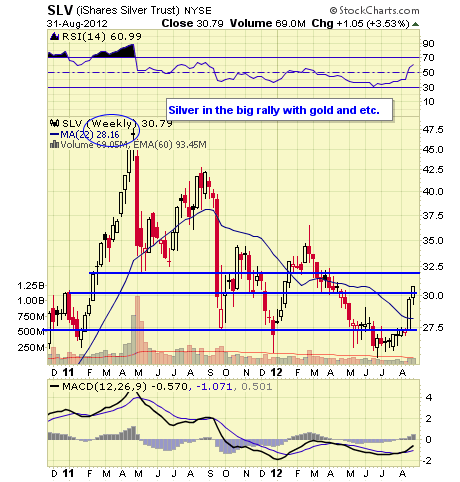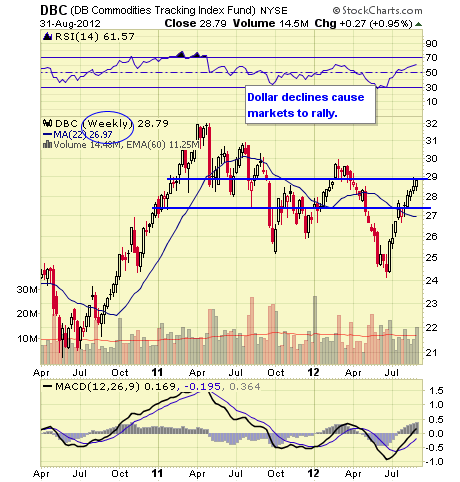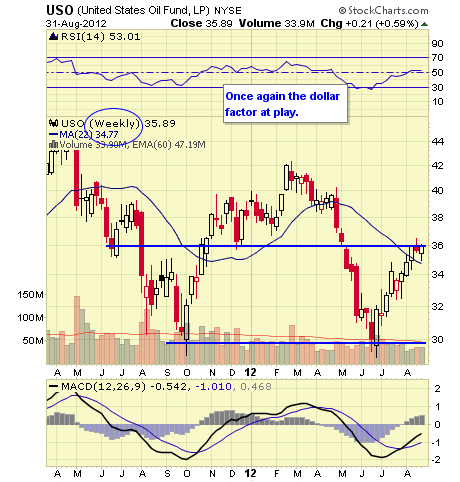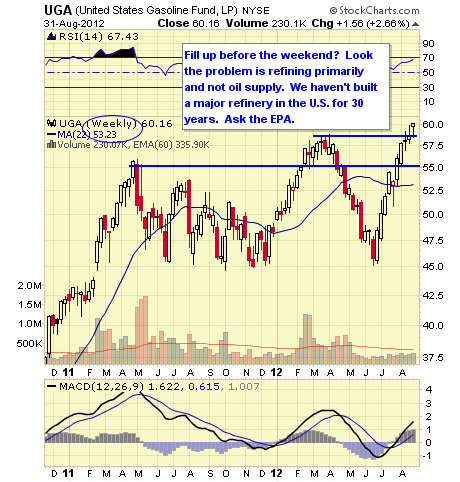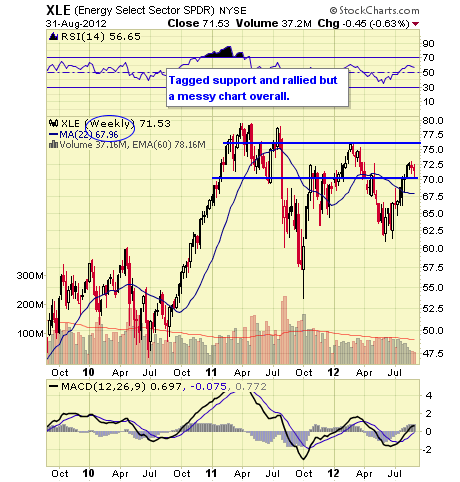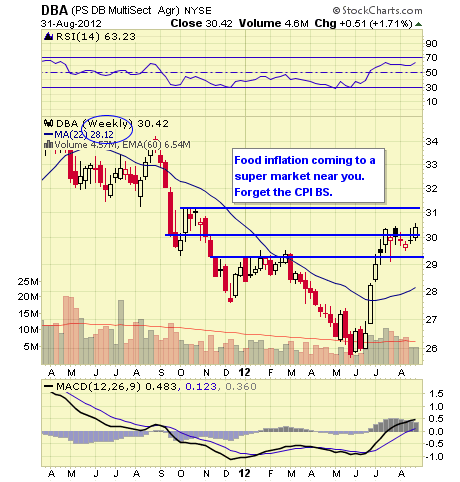 Continue to Overseas Sectors & ETFs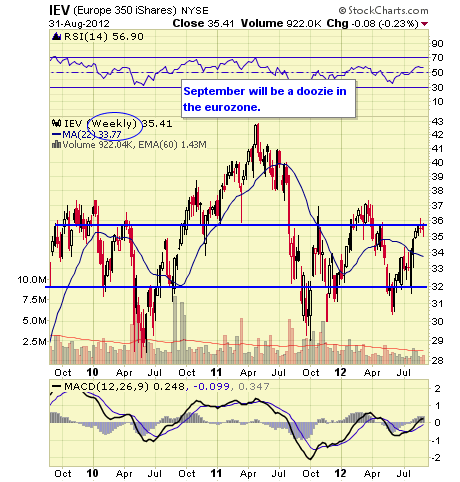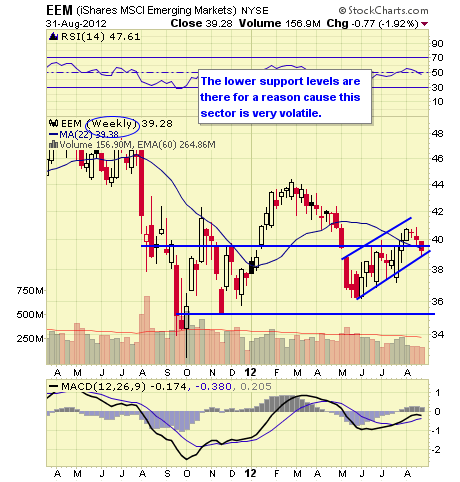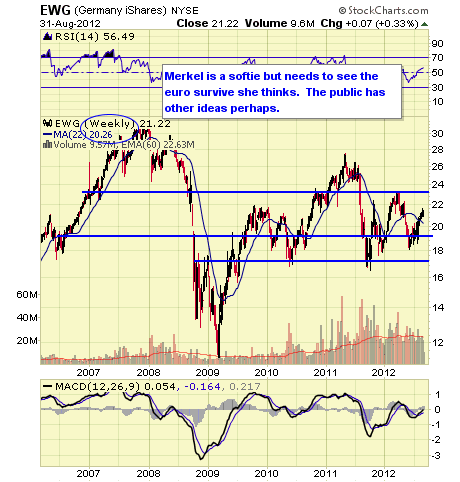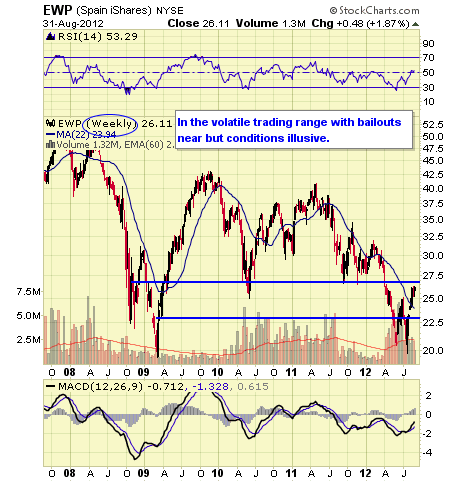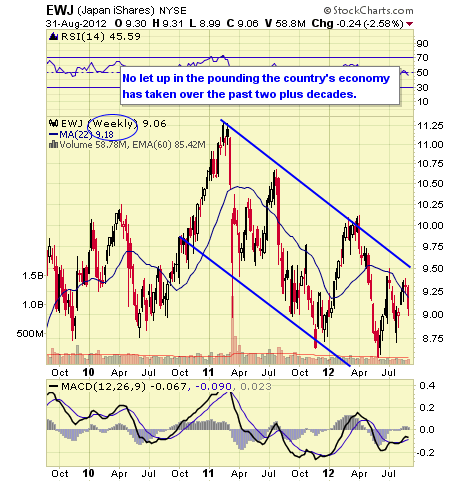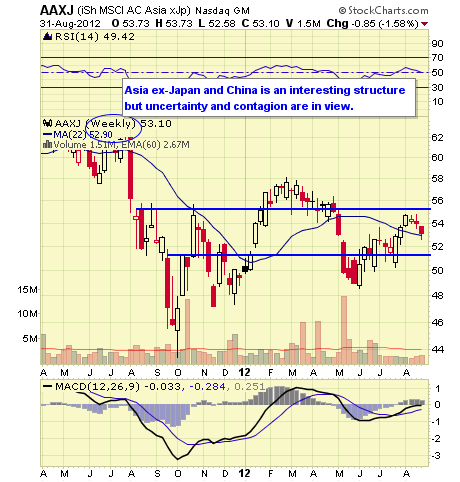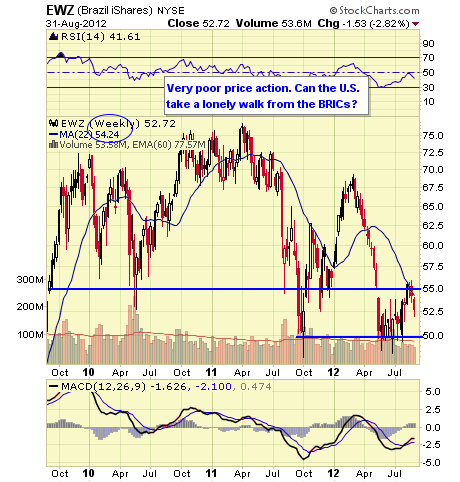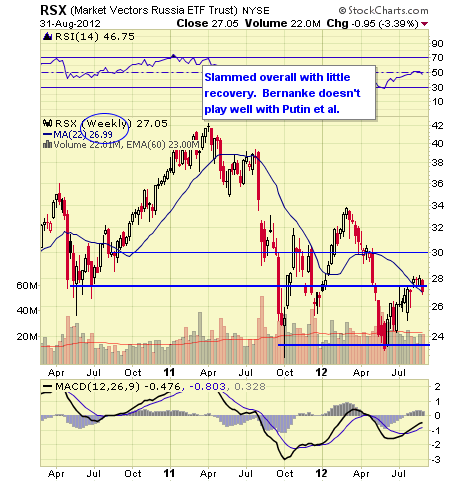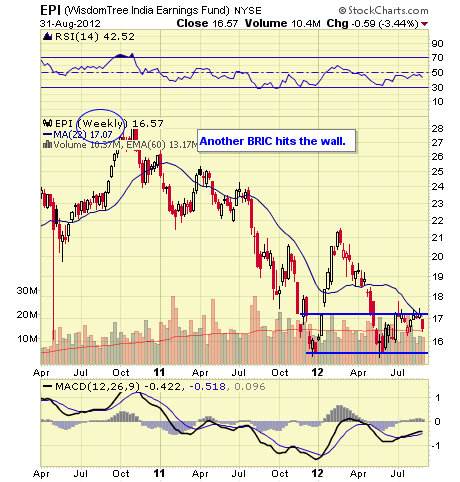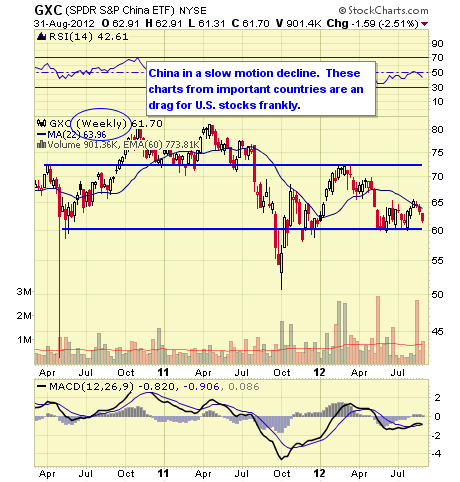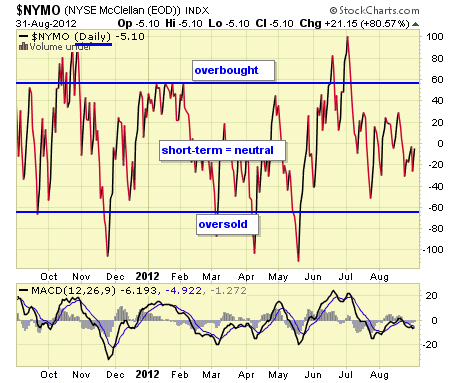 The NYMO is a market breadth indicator that is based on the difference between the number of advancing and declining issues on the NYSE. When readings are +60/-60 markets are extended short-term.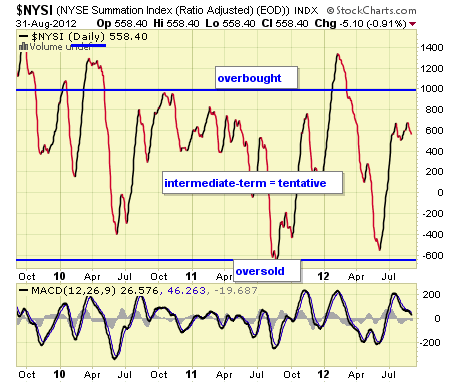 The McClellan Summation Index is a long-term version of the McClellan Oscillator. It is a market breadth indicator, and interpretation is similar to that of the McClellan Oscillator, except that it is more suited to major trends. I believe readings of +1000/-1000 reveal markets as much extended.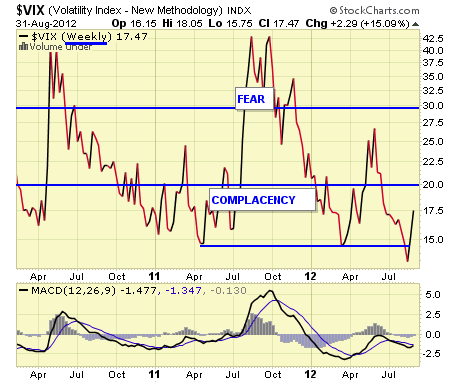 The VIX is a widely used measure of market risk and is often referred to as the "investor fear gauge". Our own interpretation is highlighted in the chart above. The VIX measures the level of put option activity over a 30-day period. Greater buying of put options (protection) causes the index to rise.
Well that wraps up August and a very slow week of trading.
We'll see if there is some bullish follow-through next week especially from the eurozone and Friday's employment report.
Have a great holiday weekend.
Disclaimer: The ETF Digest maintains active ETF trading portfolio and a wide selection of ETFs away from portfolios in an independent listing. Current "trading" positions in active portfolios if any are embedded within charts: Lazy & Hedged Lazy Portfolios maintain the follow positions: VT, MGV, BND, BSV, VGT, VWO, VNO, IAU, DJCI, DJP, VMBS, VIG, ILF, EWA, IEV, EWC, EWJ, EWG, & EWU.
The charts and comments are only the author's view of market activity and aren't recommendations to buy or sell any security. Market sectors and related ETFs are selected based on his opinion as to their importance in providing the viewer a comprehensive summary of market conditions for the featured period. Chart annotations aren't predictive of any future market action rather they only demonstrate the author's opinion as to a range of possibilities going forward.
Disclosure: I have no positions in any stocks mentioned, and no plans to initiate any positions within the next 72 hours. I wrote this article myself, and it expresses my own opinions. I am not receiving compensation for it. I have no business relationship with any company whose stock is mentioned in this article.