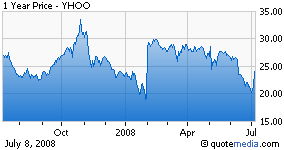 Several analysts Tuesday morning weighed in on the latest chapter in the Yahoo (NASDAQ:YHOO) soap opera, with Microsoft (NASDAQ:MSFT) now apparently willing to bid again if Carl Icahn succeeds in ousting the Yahoo board. The takeaway here is that there is an increasing belief that Icahn just might pull off a win, or maybe a partial win, in his pending proxy contest. Excerpts:
Robert Haley, Gabelli & Co.: He raised his rating on the stock Tuesday morning to Hold from Sell. "Yahoo stock is trading on speculation of a deal, rather than on company fundamentals," he wrote. "With the prospect of a potential deal having re-surfaced, we believe the stock will remain volatile." That said, he is not impressed with the company's business prospects: "Our fundamental concerns regarding Yahoo remain unchanged: declining search share and weaker monetization limit Yahoo's ability to compete as an ad platform on sites beyond Yahoo's own, which diminishes the addressable market opportunity."
Youssef Squali, Jefferies: He predicts that Icahn will win 2-4 Yahoo board sets, "enough for him to get Yahoo back to deal with MSFT." He thinks CEO Jerry Yang "is the likely casualty of such a scenario," and that the most likely outcome is still the sale of the entire company. On the other hand, he says that Icahn won't get all 9 seats because he lacks a plan B, "a fleshed out strategy for Yahoo that would prevent MSFT from abusing its sole bidder status." He has a Buy rating and $30 price target on the stock.
George Askew, Stifel Nicolaus: He says the odds of a MSFT takeover of YHOO are up to 40%, from his previous estimate of 30%. On the other hand, he still sees a 60% chance that Yahoo remains independent. He sees the stock worth $32 in a takeover scenario, or $26 if it completes its outsourcing deal with Google but stays independent. He maintains a Buy rating on the stock.
Yahoo Tuesday was up 39 cents, or 1.6%, to $24.30.