Since the financial crisis and recession ended, the retail sector has become increasingly bifurcated, with retailers on both the high-end and low-end doing well. In particular, Wal-Mart (NYSE:WMT), the standard-bearer for low-end retail, has outperformed its main rivals over the past year, and that performance has led some to question whether or not any upside remains. We, however, believe that Wal-Mart's financial profile, as well as its positioning for the back-to-school shopping season, allow for plenty of upside, even at these levels. That, along with a reasonable valuation, gives us confidence in recommending shares of Wal-Mart. For the record, unless otherwise noted, financial statistics and management commentary will be sourced from either Wal-Mart's Q2 2013 (Wal-Mart's fiscal year ends on January 31) results, or its Q2 2013 earnings conference call (as of this writing, the retailer has not yet filed its 10-Q for this quarter).
Overview
Wal-Mart's stock has risen almost 38% over the past year, outperforming both the S&P 500, as well as Costco (NASDAQ:COST) and Target (NYSE:TGT), the company's two main rivals in broadline retail (for the record, we own shares of Costco, and do think that both it and Target are solid companies).

In fact, Wal-Mart shares closing on August 31 at $72.60, they are just 3.5% below their all-time high of $75.24, which was achieved in August. Wal-Mart's stock has more than recovered from the fallout of the Mexican bribery scandal. On the company's conference call, Wal-Mart did say that it would be incurring $35-$40 million of expenses in each remaining quarter of fiscal 2013 related to the Foreign Corrupt Practices Act, but that it would not be making further comments regarding the case at this time.
With Wal-Mart trading near its all-time high, is there more room to go? We believe there is, and that Wal-Mart's competitive position heading into the back-to-school shopping season (as well as its overall position in the marketplace) is strong, and we explore this below.
Back-to-School, and Back to Basics
In a recent interview with Barron's Citigroup's top retail analyst, Deborah Weinswig explained why Wal-Mart is her firm's top retail stock heading into the second half of the year (Weinswig is also confident that Wal-Mart is putting the Mexican bribery scandal behind it; given that she is a former accountant, we believe that she knows what she is talking about. Weinswig states that Wal-Mart is making the right moves regarding this matter, and that the company has tightened its internal controls and put a new management team in place in Mexico). Weinswig notes that Wal-Mart has been aggressive in advertising its cost advantage relative to its peers, and that the retailer is offering about $1 billion in price cuts in 2012. And secondly, Wal-Mart is restructuring its stores and merchandise to be more in touch with their core customers. The apparel division has been moved from New York back to Arkansas (that makes sense for Wal-Mart, after all, this retailer is not meant to be a destination for chic fashion). And there is a focus on ensuring that stores are stocked with the items that consumers want. For some time, Wal-Mart has struggled to find the proper balance between merchandise selection and store format. Either the stores are fully stocked, but cluttered, or they are neat, but relatively bare (by historic Wal-Mart standards). But for this back-to-school season, Wal-Mart is changing its strategy. The retailer is adding back products that have been stripped from shelves, but is also going "back to basics," and ensuring that there is ample supply of key back-to-school products. When Weinswig visited Wal-Mart's stores for her latest client note, she was impressed with what she saw. Weinswig noted that, "they had balloons marking all of the hot items and they told you what time you could pick up the items that were on sale. I have never seen anything like it in any retail, let alone Wal-Mart. It used to be there was always scribble-scrabble on the boxes and you couldn't figure out what was going on. But it was so organized, there was enough help on the floor and everyone felt that they were personally taken care of." Wal-Mart has taken great care to revamp its store format, and we believe that this new approach will continue to flow through to the company's bottom line in the quarters to come. Weinswig has an $82 price target on Wal-Mart, implying upside of 12.95% from current levels.
Strong Financials, and Room for Dividend Increases
Wal-Mart's balance sheet is in good shape, and there is more to its large debt load than meets the eye (Wal-Mart ended Q2 2013 with $7.935 billion in cash and equivalents, and $45.231 billion in debt). While this does give Wal-Mart a large net debt position, it is important to remember that retail is a capital-intensive business, and very few retailers have net cash on their balance sheets. In any case, Wal-Mart's cash flows are solid ($11.595 billion in operating cash flow for the first 6 months of 2012, and $6.1 billion of free cash flow), and we fully believe that Wal-Mart can support its debt burden. Wal-Mart is rated at various levels of AA by Moody's, Fitch, and S&P (with stable outlooks), and Wal-Mart's Treasurer, Jeff Davis, has made it clear that the company plans on maintaining those ratings.
Wal-Mart is generous with its free cash flow, and has committed itself to a $15 billion buyback program, and there is $7.9 billion left in the program. In this most recent quarter, Wal-Mart bought back $3.429 billion of stock. However, we feel that management may slow the pace of buybacks given the rise Wal-Mart has seen this year. Buybacks are meant to drive share price appreciation (via higher earnings per share), and they become less and less worthwhile the higher the share price is. In any case, a slowdown in buybacks will be mitigated by a rising dividend. Wal-Mart dividend currently stands at 39.75 cents per quarter, giving the stock a yield of 2.19%. Wal-Mart can do better that, in our view. The company has raised its dividend every year since 1974, and it has grown by 10.85% annually over the past five years. Furthermore, should Wal-Mart's profit growth accelerate, its dividend growth rate may rise as well. Wal-Mart returns the majority of its free cash flow to investors, and given the fact that free cash flow will almost certainly rise alongside net income, any rise in profitability will result in larger returns of capital, which will drive Wal-Mart's stock higher.
Improving Margins and Growth
Over the past several years, Wal-Mart has faced questions as to whether or not its best days are behind it. Given the company's latest results, as well as its growth plans, we believe that Wal-Mart's days are ahead of it. Wal-Mart posted growth across all 3 of its divisions in its last quarter, and raised full-year EPS guidance from a range of $4.72-$4.92 to $4.83-$4.93. That represents an increase of 1.245% at the midpoint of those ranges. While that may not seem like much, it is important to remember that it was just a few years ago that investors and industry observers were assuming that Wal-Mart would begin sliding into a prolonged period of declining sales and income. As this quarter has shown, that is not the case.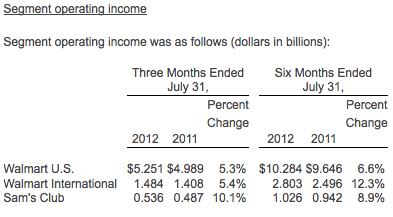 Wal-Mart's operating margins rose in 2 of 3 divisions, and we break them down below.
| | | | |
| --- | --- | --- | --- |
| | Q2 2013 | Q2 2012 | % Change |
| Wal-Mart U.S. | 7.796% | 7.688% | +1.405% |
| Wal-Mart International | 4.635% | 4.678% | -0.919% |
| Sam's Club | 3.785% | 3.569% | +6.05% |
Wal-Mart's investments are paying off, with margins rising at both Wal-Mart and Sam's Club (Sam's Club operates in the United States, Brazil, China, Mexico, and Puerto Rico). International margins did fall by almost 1% in this quarter, but that is due to long-term investments that are needed to grow the business. Wal-Mart's international sales made up 28.199% of sales in Q2 2013, compared to 27.706% of sales in Q2 2012, and it is the fastest growing division (by sales) at Wal-Mart. Wal-Mart is turning its focus to its international business, and is set to slow store expansion in order to focus on comparable store growth. Wal-Mart's overall operating margin for Q2 2013 was 5.86%, compared to 5.836% for Q2 2012. While the company's gross margin did fall during this quarter (from 24.73% a year ago to 24.553%), we believe that this drop is inconsequential in the long run. Furthermore, we think that gross margin is not as important as operating margin, for gross margins fail to take into account solid expense controls. While investors should indeed look at both statistics, we do not feel that there is a need to focus on this small drop in gross margin.
Valuation: Far From Stretched
As of this writing, Wal-Mart trades at 14.877x the midpoint of its own fiscal 2013 earnings guidance, 14.756x the consensus analyst estimate for fiscal 2013, and 13.545x the consensus estimate for fiscal 2014.

Wal-Mart is set to grow earnings by 9.577% in fiscal 2013, and 8.943% in fiscal 2014. While that may make Wal-Mart shares seem relatively expensive, a look at Wal-Mart's historical P/E ratio shows that this is not the case.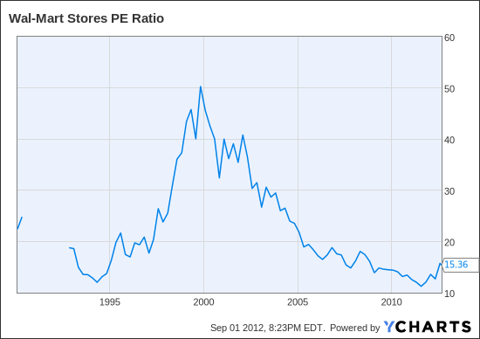 Even with Wal-Mart's recent rally, the stock is still cheap relative to where it has traded in the past, and given the company's commitment to returning free cash flow to investors, we do not feel that Wal-Mart's current P/E ratio prices in the opportunities for increased return of capital.
Conclusions
We believe that even with Wal-Mart's recent rally, there is still a good deal of upside in this stock. We would view a pullback as a buying opportunity, and believe that investors who add to or initiate a position in Wal-Mart at this time will be investing in a company with a good growth strategy, a solid market position, and a proven track record of returning capital to shareholders. In our view, Wal-Mart's best days are ahead of it, and we believe that investors who keep their faith with the world's largest retailer will be amply rewarded.
Disclosure: I am long WMT, COST. I wrote this article myself, and it expresses my own opinions. I am not receiving compensation for it (other than from Seeking Alpha). I have no business relationship with any company whose stock is mentioned in this article.
Additional disclosure: We hold shares of Wal-Mart via the Fidelity Growth Company Fund.