Just look at the stock price graph of Ciena Corporation (NASDAQ:CIEN) during the last three months, the stock price rose by over 32%. But what exactly happened on 30th August that the stock price would plunge by around 20%?
Click on the graph below to see how drastically the stock price has tanked on 30th August, 2012.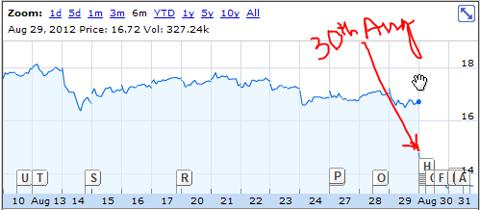 Why so?
Well apparently, the company released its dim FY2012 fourth quarter outlook below analysts' estimates on August 30, that is, last Friday. Ciena Corp announced that for the fourth quarter of 2012, it expects revenue in the range of $455-$480 million. According to I/B/E/S estimates, analysts were expecting the Company to report revenue of $499 million for fourth quarter of 2012.
"We are experiencing the effects of ongoing macroeconomic challenges and slower than expected roll-outs of new design wins," CEO Gary Smith said on Thursday.
Analysts already started down-rating Ciena in the first week of August, with Goldman Sachs (NYSE:GS) issuing a neutral call on the Company. Then this outlook was released in contrast to the dividend payout hike by Cisco (NASDAQ:CSCO). No wonder the share price tanked so much.
Ciena Corp's target share price has been mercilessly cut down by Goldman Sachs, JP Morgan Chase (NYSE:JPM) and Bank of America (NYSE:BAC), following this release.
But hey! We are not really worried about the price, are we? We are bothered by…
Fundamentals of the Ciena Corp
While the total revenue increased to $474.1 million third quarter of 2012, compared to $435.3 million in the third quarter previous year and $477.6 million in the second quarter of 2012, the operating margin stills seems to suffer. Digging deeper into it, it is clear that the Company is focusing hard on research and development processes. While research and development expenses accounted for $93.2 million in last year's third quarter, it accounted for around $88.3 million third quarter this year. Can we say that the Company is working really hard on developing and streamlining its products and services to cater to the specific market demands?
Coming to the point of modification, control and perfection of business products and services, it might be interesting to note that the restructuring costs in the third quarter this year soared to $2.3 million, against $504,000 third quarter last year. Is it because of asset write-down or facility shut-down? Apparently, the change of fair value of assets probably accounted to $3.3 million in the last nine months.
The balance sheet shows the PP&E is worth around $118.6 million at the end of the third quarter of 2012, compared to $122.6 million, a decrease of $4 million in the last nine months. Normally, you don't write down tangible assets because they are accounted at original costs and original costs don't really go down, do they? Perhaps, we are looking at significant operation shut-down in the last nine months. While this might be due to closing down of operations, the decrease in net value of the intangible assets might have faced write-down in the recent times.
Even current deferred revenue has gone down to $78.3 million at the end of third quarter this year, against $99.4 million nine months ago. This says that the clients' confidence and loyalty in the Company's products and services might have gone down due to certain reason. Could this be due to seasonal slowdown? Provision for inventory excess and obsolescence surged to $23.5 million for the last nine months this year compared to $10.5 million in the same time period last year.
Reasons to worry
While 50% of the total revenue was acquired outside United States, I would say that the Company needs to figure out something to deal with the macroeconomic volatility factor and the global economic crisis. These things are not going away in a day or two, with Greece sliding down the path to oblivion.
Moreover, with the pricing pressure for the Packet-Optical Transport products and services combined with competition from the big giants like Cisco and Ericsson (NASDAQ:ERIC), the Company needs to innovate and sharpen their technological prowess to regain their market status. If that is the reason for the huge spending on research and development, I would like to see some good results from it. Then again, it might not be possible in a quarter or two.
This is the time of transition from one technology platform to another, and to be successful, complete restructuring and remodeling of the business model might be required.
Conclusion
With the debt restructuring, fall in liabilities and increase in cash assets, it is possible that the Company is all set for a complete overhaul.
And needless to say, this overhaul might take a couple of years ahead to show sweet results for the investors.
I don't see any drastic need to sell the company's stock as of yet. Better to wait and watch. Remember, even the PEG ratio of Alcatel-Lucent (ALU) runs in the negative at the moment. It might be a sector slowdown, who knows. Even the companies Verizon (NYSE:VZ) and AT&T (NYSE:T), to which Ciena Corp supplies optical switches, are not doing that well at the moment. Just the question of who might be the last survivors still remains.
Disclosure: I have no positions in any stocks mentioned, and no plans to initiate any positions within the next 72 hours. I wrote this article myself, and it expresses my own opinions. I am not receiving compensation for it (other than from Seeking Alpha). I have no business relationship with any company whose stock is mentioned in this article.
Additional disclosure: Please contact your financial adviser before investing.