Edited by Marianna Avilkina
Imperial Oil (NYSEMKT:IMO), Canada's second largest petroleum company, is engaged in the upstream business of exploration, extraction, and production of crude oil and natural gas for the past 130 years. Additionally, the company is involved in the downstream business of refining and marketing as well as the chemical business. ExxonMobil (NYSE:XOM) owns 69.6 percent of Imperial's shares, so many of Exxon's products are sourced from Imperial Oil. The majority of the company's operations take place in Canada's oil sands - including Cold Lake, Kearl, and Athabasca - though it is also exploring, developing, and producing oil on offshore rigs.
The scale of Imperial's operations can be estimated by considering that Imperial Oil produces a gross 247,000 barrels of crude oil and natural gas per day. In 2011, it completed a $4.1 billion capital and exploration program in order to enhance its upstream capacity. The company continues investing in expansion as it is investing up to $40 billion to double its upstream production. It also had an average return on capital of 25.4 percent and earned $3.4 billion.
Imperial's impressive financial results have become possible due to its incomparable network of businesses spread across the United States and Canada. Diversification has allowed it to reap the benefits of demand from a larger market area. It is notable that Imperial Oil has paid increased annual dividends per share over the past seventeen consecutive years. Moreover, the last year was marked as the 120th year in which Imperial has paid a dividend without any interruptions to shareholders. It is also the only company in the Canadian industry that has maintained an AAA rating from Standard & Poor's.
Financial Situation
In 2011, Imperial's cash flow was at $4.8 billion. The company's EPS has demonstrated a steady, positive trend. As of August 31, 2012, the EPS level was standing at $4.12, up from $2.59 in the last year. Return on capital was also an industry leading 25.4 percent. In addition, last year the company invested $4.1 billion in capital and exploration projects, covering most of the costs of such efforts through internal funding. However, $1.2 billion was ultimately raised as debt by the end of the year. Nevertheless, a cash on hand level of $1.2 billion allowed Imperial to end 2011 with zero net debt.
The dividends declared at the end of 2011 were equivalent to $373 million, or $0.44 per share by, by the end of 2012's second quarter, they had soared to $848 million, or $0.75 per share. Gross earnings increased because of lower royalty costs and stronger industry margins. However, they were offset by a weak Canadian dollar, higher maintenance costs and lower costs of commodities. For the year 2012 up to the present, Imperial reported a net income of $635 million, compared to $726 million by this time last year. This unfortunate decline in income was mainly due to lower commodity prices accompanied by higher maintenance costs.
Company Stock and Dividend Profile
Imperial's main competitors are Valero Energy Corp. (VLO), Marathon Petroleum Corp. (NYSE:MPC), China Petroleum & Chemical Corp. (SNP) and Suncor Energy (SU). The company's current market capitalization is $46.11 Billion.
The figure below shows that Imperial's stock price roughly been following the market trends. However, in the last 12 months, it has underperformed the S&P 500 by about 6 percent.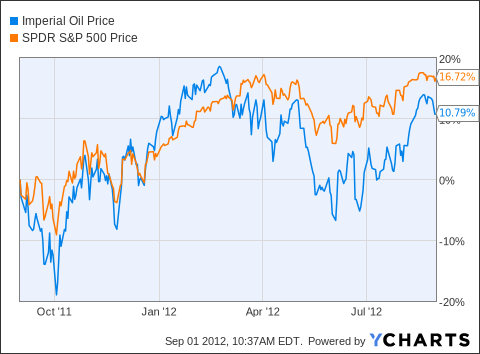 Since 2009, Imperial's stock value has been volatile within the US market. Recent investment in exploration programs and full integration of new oil fields might have had affect on the price of Imperial. However, the rewards of this research are bound to emerge over the long-term as upstream production increases.
The figure below demonstrates that the company has been performing well, in line with its main industry competitors. Compared to them, only Valero Energy (NYSE:VLO) shows potential to trump Imperial's performance. However, Suncor (NYSE:SU) could be a better choice for the future depending on their Q3 and Q4 performance. At present, the main reason to favor Imperial is its stable quote trend, which closely follows overall market performance trends.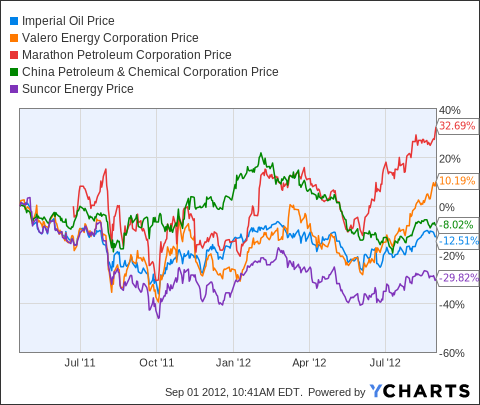 As of August 30, 2012, Imperial's price-to-earnings ratio was 11.0, compared to an industry average of 9.1. For the 52-week range, Imperial falls between $32.18 and $49.32. Meanwhile, the Return on Invested Capital is 23.08 percent, making it a leader in the market since last year. Imperial's Beta of 0.54 signals that the company's stock price is affected by the market price changes in a sensitive, but not very extreme, way. This supports Imperial's ability to maintain its own stability over the years.
Furthermore, Imperial's five-year average dividend yield is 0.9 percent, which is very low when compared to the industrial average of 3.1 percent. 2012 will be the 18th consecutive year in which its dividends have grown, if they are increased from the $373 million paid in 2011. The current dividend value stands at $ 0.74 per share, the lowest value since Q2 of 2011.
Present Economic Outlook
At the end of Q2, Imperial Oil experienced a 13 percent drop in revenue because of lower commodity prices and higher planned maintenance. Compared to last year, oil production also decreased due to planned maintenance activities at the Syncrude and Cold Lake mining fields. The $10.9 billion Kearl oil sand facility is almost completed and expected to start up later this year. Meanwhile, the Cold Lake oil sands rolled out 160,000 barrels of oil per day in 2011, achieving an industry record for production.
Imperial continues its decade long growth strategy in 2012 by investing from $35 billion to $40 billion in an upstream enhancement project to increase production in order to meet global demand. Imperial expects the global demand for oil and gas to double by the year 2020 and is taking appropriate steps to meet this need. The company's demonstrated ability to finance all these expansions from internal revenues puts it in a strong position for the future. Increases in both production levels and profits can be expected over the coming years.
Summary
The slump in oil demand has forced Imperial to shut off and auction some of its offshore refineries in order to reduce losses. This is also a move to fund its expansion program that focuses more on extraction and upstream functions. However, all indicators predict stability for Imperial Oil, even though its dividend yield and price quotes are average at best. It is recommended to hold this stock for future activity, because this company is currently undergoing a significant transition. The returns on newly invested assets for Imperial are predicted to perform particularly well in the future. Investors should look forward to holding the stocks, but buyers may prefer to consider Suncor Energy or Valero Energy for a higher short-term return.
Disclosure: I have no positions in any stocks mentioned, and no plans to initiate any positions within the next 72 hours. I wrote this article myself, and it expresses my own opinions. I am not receiving compensation for it (other than from Seeking Alpha). I have no business relationship with any company whose stock is mentioned in this article.