In the U.S. markets, traditional safe haven sectors have afforded some measure of protection; that is, the S&P Select Utilities (NYSEARCA:XLU), Select Consumer Staples (NYSEARCA:XLP) and Select Health Care (NYSEARCA:XLV) have not lost as much in 2008 as the heralded S&P 500 (NYSEARCA:SPY) benchmark proxy.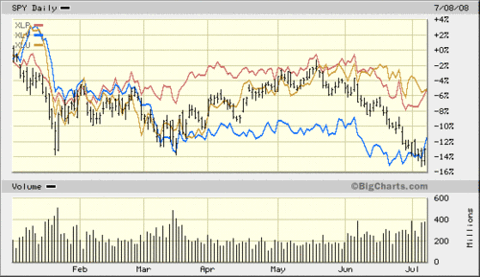 Staples (a.k.a. "toilet paper and toothpaste") as well as Utilities (a.k.a. "we gotta have water and electricity") have weathered the 2008 downturn adequately. What's more, they have opened up an 8% advantage on the broader market.
Surprisingly to some, however, Health Care has been rather dismal. It's ability to outperform the S&P 500 has been hampered by the political risks of government-mandated health coverage. (Note: For July 8th, at least, it's upswing was second only to financial services.)
I wondered if we'd find the same pattern on the global scene; that is, do defensive sectors that cover global companies provide similar shelter from selling pressure?
In fact... they may.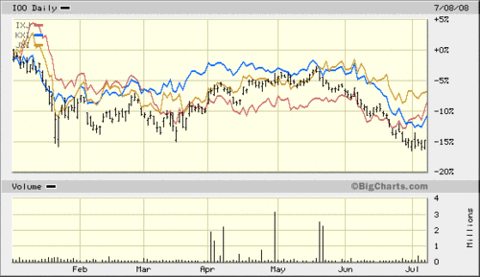 Global Utilities (NYSEARCA:JXI), Global Health Care (NYSEARCA:IXJ) and Global Staples (NYSEARCA:KXI) respectively dropped 6%, 8% and 10% in 2008 so far. In contrast, the iShares S&P Global 100 Index Fund (NYSEARCA:IOO) was down 15%.
Whether domestic or global, it appears that defensive sector ETFs will do their part. They may falter when other risks come into play, such as the political risk that U.S. health-care companies seem to be running up against.
Still, how long will it benefit investors to stay "defensive?" When will early cycle leaders like financials and technology begin to grab the bull by the reins? Personally, I think we may have a bit further to go.
That's why I continue favoring infrastructure... a concept that couples the defensive characteristics of utilities and the growth components of building/transporting/communicating. For instance, infrastructure via turning the power on plays into using the iShares Global Utilities Fund.
At the same time, with global materials companies some 17%-18% off their peaks, the valuations on these infrastructure growth plays may be too good to pass up. The iShares Global Materials Fund (NYSEARCA:MXI) holds some of the gems of the commodity-related manufacturing world -- companies that ultimately determine the fate of infrastructure success worldwide.
(Wanna learn more about infrastructure and ETFs? Click here.)
Disclosure Statement: ETF Expert is a web log ("blog") that makes the world of ETFs easier to understand. Pacific Park Financial, Inc., a Registered Investment Advisor with the SEC, may hold positions in the ETFs, mutual funds and/or index funds mentioned above. Investors who are interested in money management services may visit the Pacific Park Financial, Inc. web site.