I am always on the lookout for compelling stocks approaching the $5 level. A lot of institutions are prohibited from owning stocks that do not trade for at least $5 a share. I have found that this can provide a solid tailwind to an equity that crosses the $5 level and sports a compelling valuation. Here are two stocks I currently have on my radar screen.
Spartan Motors (NASDAQ:SPAR) engages in the design, engineering, manufacture, and sale of specialized motor vehicle chassis and bodies primarily in the United States, Canada, South America, and Asia. (Business description from Yahoo Finance)
Five reasons Spartan offers solid growth play at $5 a share:
The company has a robust balance sheet with over $30 million in net cash on the books (approximately 20% of current market capitalization).

The stock is cheap at just 92% of book value and just about 1/3 of annual revenues.

Insiders have been net buyers of the stock so far in 2012.

The three analysts that cover the stock have a median price target of $8 a share on the stock. Price targets range from $6.50 to $11 a share, all significantly above the current price of the stock.

The company has beat earnings estimates the last two quarters and analysts expect between 6% to 8% revenue growth in FY2012 and FY2013.
Hersha Hospitality Trust (NYSE:HT) is a real estate investment trust that engages in the ownership and operation of mid scale limited service hotels in the Eastern United States. As of June 30, 2005, it owned interests in 35 hotels, including 4 hotels owned through joint ventures in Pennsylvania, New York, New Jersey, Maryland, Georgia, Connecticut, and Massachusetts. (Business description from Yahoo Finance)
Five reasons Hersha is cheap at $5 a share:
Hersha yields a robust 4.8%. Given earnings growth, dividend payouts should be increased in the near future.

The company almost tripled operating cash flow from FY2009 to FY2011. Cash flow has continued to increase in 2012.

Earnings are on a consistent march up. HT earned 38 cents a share in FY2011 and is on track to bump that to 40 cents a share in FY2012. Analysts expect a 20% improvement to 48 cents a share in FY2013.

The company is growing sales faster and has better gross margins than competitors Ashford Hospitality Trust (NYSE:AHT) and Host Hotels & Resorts (NYSE:HST).

The stock has good medium term technical support at these price levels (See Chart).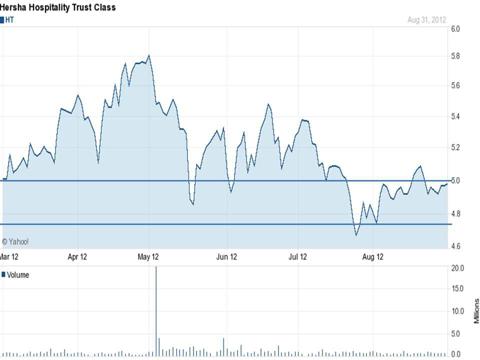 Disclosure: I have no positions in any stocks mentioned, but may initiate a long position in HT over the next 72 hours. I wrote this article myself, and it expresses my own opinions. I am not receiving compensation for it (other than from Seeking Alpha). I have no business relationship with any company whose stock is mentioned in this article.