Background
When a stock has heavy short interest, it is usually because a lot of investors believe that the company's fate is all but sealed and that bankruptcy is just an earnings report away. However, sometimes short sellers completely miss the mark and a positive catalyst ignites very heavy short covering (a "squeeze"). In this article, I have identified three companies whose stocks have significant short interest along with potential catalysts that could trigger a short squeeze.
1. Take-Two Interactive (NASDAQ:TTWO)
Short Interest (as of 8/15/2012): 17.57%
Take-Two Interactive develops, markets, and publishes video games (or, more formally, "interactive entertainment") across all the major gaming platforms including Microsoft's (NASDAQ:MSFT) Windows PC and Xbox platforms, Sony's (NYSE:SNE) PlayStation, Nintendo's Wii, smartphones, and tablets.
Taking a quick look at the firm's financial metrics, it's quite clear where the major short interest comes from: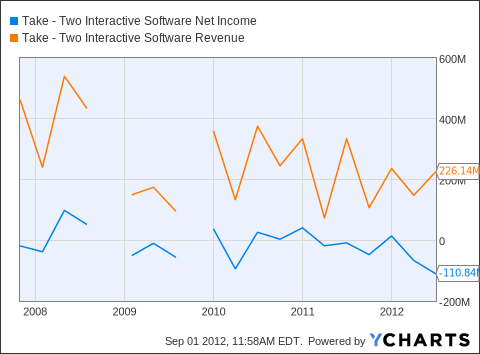 TTWO Net Income data by YCharts
Revenues over the last five years have been languishing, and in 2012, the company continues hemorrhage money. However, the company's product lineup is strengthening, and over the next year or so we should see a number of strong releases from the company, including:
Borderlands 2: The original Borderlands, released in 2009, was a critical and commerical success, scoring well over 80% average review score on GameRankings and selling over 4M copies. The sequel is scheduled for release across all three platforms (PC, Xbox 360, PlayStation 3) on September 18, 2012.

BioShock Infinite: BioShock and BioShock 2 were each critical and commercial successes, with the former selling 4M copies and the latter shipping over 3M copies. The new game should see significant sales when it is released on February 26, 2013.

Grand Theft Auto V: The Grand Theft Auto series has been a rousing success for Take-Two. In 2008, Grand Theft Auto IV was released to wild critical and commercial success, averaging well over 90% in the reviews, and selling over 22M copies since its release in 2008, making it one of the best selling games in history.
The firm also has a number of successful "cash cow" sports titles such as its NBA 2K, NHL 2K, and MLB 2K. Finally, the launch of new game consoles in the 2013-2014 timeframe should have a positive secular impact on consumer demand for interactive entertainment in general.
For a more in depth view on the long case for Take-Two, I recommend Chris Katje's articles, in particular "Take Two Shares Look Attractive Once Again At New 3 Year Low Prices"
2. Vera Bradley (NASDAQ:VRA)
Short Interest: 43.7%
Vera Bradley designs and markets accessories for women.
The company's shares are trading near the bottom of their 52-week range of $18.91-$45.91 at $21.23 as of the most recent close. The company recently IPO'd near the end of 2010, and saw a strong run up from about $27 to about $50. However, as revenue growth slowed, the high flying valuation could not be justified, likely explaining the high short interest and the dramatic drop from its highs: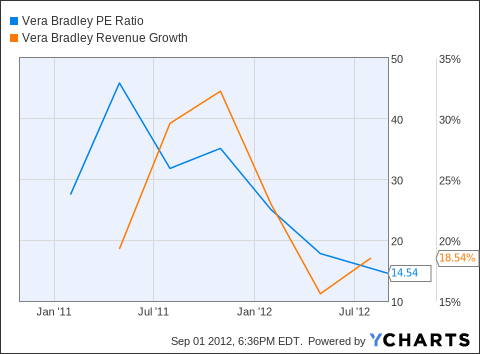 VRA PE Ratio data by YCharts
However, at 14.58 times earnings, the company seems fairly inexpensive considering that there is a lot of growth left to be had. The firm is just beginning expansion into international markets, and only has 23% of its target store count in the United States. Further, in the most recent quarter, the company saw a 21% increase in online sales.
Turning to the balance sheet, the company has $7.61M in cash and $25.39M in long-term debt, which certainly isn't ideal. However, the company's net income in the most recent quarter was $13.4M, and with strong revenue growth, it doesn't seem that the company is in any danger of bankruptcy (which is what an astronomical short interest seems to suggest).
For a more in-depth fundamental view of the company, I highly recommend (again) Chris Katje's article "Vera Bradley Decline Offers Good Entry Point For Long Term Growth," as well as Robert Broens' article "Vera Bradley: After 60% Retreat From Highs, Shares Offer Strong Value As Growth Continues."
3. Research In Motion (RIMM)
Short Interest (as of 8/15/2012): 16.8%
Ah, RIM. A former high flier in the smartphone industry, famed for its BlackBerry line of phones and infamous for its fall from grace at the hands of Apple (NASDAQ:AAPL) and the legion of phones based on Google's (NASDAQ:GOOG) Android operating system. The short thesis is quite obvious: RIM has been bleeding market share to the aforementioned smartphone ecosystems. As of last count, RIM only had 8.8% of smartphone market share, with fears that this number will plummet to 5% in the near term.
However, at $6.69/share (very close to the 52-week low of $6.56), the company's market capitalization comes in at a mere $3.51B against the firm's $1.94B cash position and no long-term debt, which ends up valuing the business at a mere $1.57B. However, it's not hard to see why the short interest is so high and the valuation of the business is incredibly low by looking at revenue, gross margin, and net income: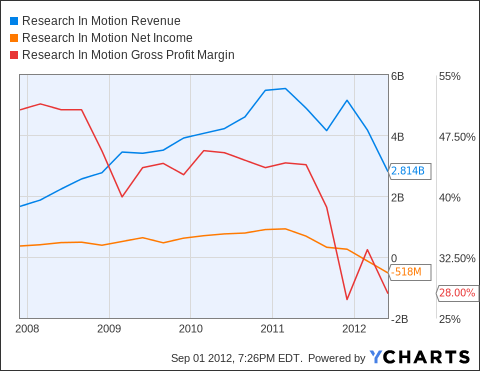 RIMM Revenue data by YCharts
Yet there are a number of potential catalysts that could help reverse RIM's fortunes and trigger a short squeeze:
BB10 Could Be A Hit: A stretch, I know, but phones based on the BlackBerry 10 OS could actually be a hit! Word has it that RIM's newest phones will use Qualcomm's (NASDAQ:QCOM) latest Snapdragon S4, which is the fastest smartphone processor available. Coupled with a modern design and a brand new operating system, this could be just what RIM needs to bring sales, gross margins, and ultimately profitability back.

A Buyout: Rumors have been flying that the firm has hired Goldman Sachs to help facilitate a buyout. While it is unclear as to which firm would be interesting in buying the troubled smartphone maker, RIM's large cash position coupled with the potential value of its patent portfolio could fetch a significant premium to the current market capitalization.
For more in depth coverage of the long case for RIM, check out my own "Why Betting On Research In Motion's Turnaround Isn't Crazy," and "Can BlackBerry 10 Return Research In Motion To Profitability?" by Adam Levine-Weinberg.
Disclosure: I have no positions in any stocks mentioned, but may initiate a long position in RIMM, VRA, QCOM over the next 72 hours. I wrote this article myself, and it expresses my own opinions. I am not receiving compensation for it (other than from Seeking Alpha). I have no business relationship with any company whose stock is mentioned in this article.