There have been quite a few articles touting EMC Corporation (EMC) recently. Some have cited its new partnership with Lenovo as the catalyst to buy the shares. Others have pointed out its forays to become more than just a storage vendor. Finally, some have highlighted various valuation and balance sheet metrics that warranted investment. However, the one best reason to own EMC is the consistent way it grows its operating cash flow (See Chart of OCF growth per share). The company simply does a fantastic job of steadily increasing its cash flow, which has seen a sevenfold increase over the last decade.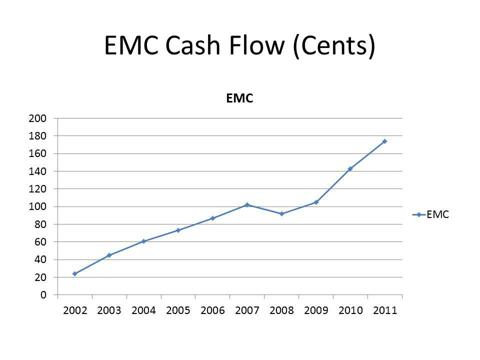 "EMC Corporation (EMC) develops, delivers, and supports the information and virtual infrastructure technologies and solutions." (Business description from Yahoo Finance).
Six additional reasons to own EMC at $26 a share:
UBS and Cantor Fitzgerald initiated and upgraded the shares to a buy respectfully in the last couple of months and the median price target by all analysts is $31.25 a share.
The company is a consistent grower. EMC grew revenues by an average of 10% annually over the past five years. Analysts expect low double digit sales increases in FY2012 and FY2013 as well.
An investor can buy this kind of consistent growth for just 13.3 times forward earnings at the current stock price, a discount to its five year average (16.8).
The company has fortress balance sheet with approximately $4B in net cash and owns 80% of fast growing serving virtualization software firm VMWare (NYSE:VMW).
Taking out cash, EMC is selling at just 8 times that beautiful operating cash flow.
The stock is selling at the bottom third of its five year valuation range based on P/B, P/E, P/S and P/CF.
Disclosure: I am long EMC. I wrote this article myself, and it expresses my own opinions. I am not receiving compensation for it (other than from Seeking Alpha). I have no business relationship with any company whose stock is mentioned in this article.