Weekly Outlook: The market had a bit of a wild ride this past week leading up to and reacting to the Jackson Hole Economic Symposium speech from Fed President Ben Bernanke. The marketplace reacted very positively to the speech from Bernanke that highlighted that the Fed is still considering QE3 as a potential option moving forward if needed. Additionally, we got a healthy slate of data last week that showed some positives: GDP came in higher than expected, Pending Home Sales better than expected, and Factory Orders were positive as well. The market was pretty timid on light volume into the announcement, but it raced higher after the speech was released, setting up a positive potential for this week. Yet, we have quite a busy week to react to this week.
We have an extremely busy week to get the Fall season started with the ECB rate decision this week as well as a good deal of economic data here at home.
The market definitely has a strong amount of economic data this week that can move it on a shortened week with the ISM Index, Construction Spending, and Auto/Truck Sales on Tuesday. We get a healthy slate of employment data on Thursday with Challenger Job Cuts, ADP Employment Change, and Initial Jobless Claims. All that leads up to the all-important Non-Farm Payroll report on Friday. That report will be crucial to the end of the week's market movement and set up the following week, but it should be overshadowed by developments in Europe and the ECB Rate Decision on Thursday.
Overseas, we are headlined by the ECB rate decision on Thursday, which is expected to shed some light on the potential ECB bond-buying program that the organization is expected to formulate. It is a very busy week though for overseas announcements as most countries are ending their summer breaks and getting back to work. Monday we get what has become one of the most important Chinese data points in the HSBC Manufacturing PMI. Tuesday is highlighted by the Australian Reserve Bank Rate Decision, Swiss GDP numbers, and Euro-Zone Producer Price Index. Wednesday will be highlighted by Australia's GDP numbers as well as Euro-Zone Retail Sales. It all culminates in Thursday's ECB rate decision, which is the highlight of the week. On Friday, we also get a key Bank of England Inflation Rate announcement that should be quite important to the markets as well.
Earnings are pretty quiet again this week as we wait to get into the late September reports and then October season. We do have a couple reports though to watch. The leading reports this week are Dollar General (NYSE:DG), Kroger (NYSE:KR), Campbell Soup (NYSE:CPB), Ulta Salon (NASDAQ:ULTA), and Verifone (NYSE:PAY). Dollar General and Kroger will give us interesting perspective into grocers while CPB is a key consumer staple. PAY is probably the best bellwether for consumer spending, and ULTA gives us a look at high-growth companies. None of these reports can move the market alone, especially with the type of week we have, but the reports will definitely be impactful to their sectors.
The Federal Reserve will definitely take a backseat this week to the ECB, but the board definitely put a nice floor in the downward potential of the market moving forward. No major announcements or speeches expected this week.
So where are we headed this week?
The market has some definite potential to move higher. Volume should return to the market after a long summer, and the prospects of the ECB bond buying is definitely a positive for the market. Yet, there is a lot riding on this decision, and if it's disappointing, the market will definitely see some "risk-on" trading occur. There is a healthy dose of data to be released as well, culminating in the unemployment numbers on Friday. Based on jobless claims, that number should be relatively flat and expectations are not very high for payrolls. It should be an exciting week with some volume definitely returning to the market, but temper expectations as Europe is the center of the move. Disappointment there will spell losses.
Stocks To Trade:
The five stocks we would be watching this week are TJX Companies (NYSE:TJX), Skyworks (NASDAQ:SWKS), Harley-Davidson (NYSE:HOG), Halliburton (NYSE:HAL), and Worthington (NYSE:WOR).
For an earnings play, we like Worthington. The steel industry is still not at a cyclical growth timeframe currently, but Worthington is looking solid in their coming quarterly report in mid-September. The company is expected to report around 10% growth in sales along with around 33% growth in EPS. Both numbers are very solid for what we look for for high growth earnings reports. The company, though, has weakened as of late to the $20 line where it has shown strength. The company's last report was very strong, taking the stock from 18.50 - 22.00 in one week. Right now, we can still make 20%+ selling the $20 puts, and we believe that line will hold into earnings as we expect another run up in the stock into their report. The recent moves down have been due to low volume sell-offs, and it should rise as true volume gets back into the market.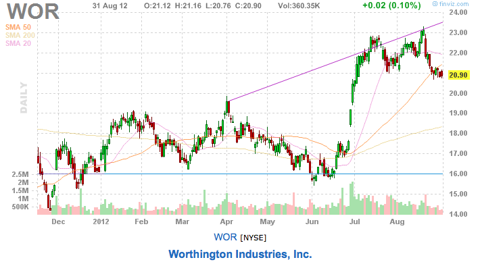 For longs, we like the looks of TJX and SWKS. Both companies look quite excellent right now with a lot of strength and recent consolidation that could mean breakouts are pending. TJX has been looking very good all year long, moving up 40% on the year. The company's recent earnings report helped pushed the stock over $45, which it has now held very strongly. The company has good growth, great momentum, and low volatility. We like them for a bull put spread for this reason, and we can make decent returns of around 11% on the 42.50/40 bull put spread for October that is really low risk now that earnings are out.
The company has not breached 42.50 since the beginning of July. Skyworks finally broke $30 after consolidating below it for all of August and holding $28 all at the same time. The stock busted out on the strong move on Friday, and we look at this as a breakout of an upward wedge, which is a strong buying opportunity. And what's not to like? The stock has a sub-15 future P/E, good growth, and will benefit from the movement into the iPhone 5. We like them as a buy headed into the iPhone announcement.
For bearish plays, we like the looks of Harley-Davidson and Halliburton. Harley has been in a pretty strong downward price channel for most of the summer after reaching a solid 52-week high, and recent earnings may be keeping the stock in check for some time. The company's recent August 1 earnings were good overall, but the company's outlook was hurtful. The stock has had trouble getting itself going since and on Friday actually fell below its 20-day MA despite a strong day in the market.
We think the stock is a perfect candidate for a bear call spread due to the weak outlook and lack of upward momentum its accruing. We like the 46/47 bear call spread for October for the company that is offering just under 20%. Halliburton looks very weak right now. Why? The combination of going ex-dividend and the hurricane may have provided recent weakness, but the company is in a consolidation phase this year due to a lot of oil services issues. Their next report is supposed to show 10%+ growth in sales once again, but it's supposed to also show a 0.17 decline in EPS. If the ECB does not come through this week, then the dollar will strengthen a lot and cause some definite weakness in oil prices that could held continue the stock's technical weakness. Look for a breakdown below $32.
Oxen Group Holdings:
We have the following positions:
In our Short-Term Equity Portfolio we are long Microsoft (NASDAQ:MSFT) and NetSuite (NYSE:N).
In our Options Portfolio, we are long Apple (NASDAQ:AAPL), Whole Foods Market (WFM), Priceline.com (PCLN), Google (NASDAQ:GOOG). We are short Gamestop (NYSE:GME), Safeway (NYSE:SWY).
In our Earnings Alpha Portfolio, we are long Crocs (NASDAQ:CROX), Discover Financial (NYSE:DFS), Smith & Wesson (SWHC), Lennar (NYSE:LEN), Ulta , Francesca's (NASDAQ:FRAN). We are short RedHat (NYSE:RHT). We have a reverse iron condor in Abercrombie & Fitch (NYSE:ANF).
In our Goldman Sachs Up/Down Paper Portfolio, we have no current positions.
Chart courtesy of finviz.com.
Disclosure: I have no positions in any stocks mentioned, and no plans to initiate any positions within the next 72 hours. I wrote this article myself, and it expresses my own opinions. I am not receiving compensation for it (other than from Seeking Alpha). I have no business relationship with any company whose stock is mentioned in this article.