Real Estate Investment Trusts (REITs) have become a popular investment vehicle for investors who desire a source of reliable, consistent and safe income. As a result of low rates and few safe and viable alternatives, many REITs are trading near their historical price highs and yield lows. One way around this problem is to cast your investment net in different waters.
An example of this is the retail shopping center REIT sector. The sector has returned 25% year-to-date and 2.54% in August. As a result of this strong performance, the majority of the larger retail REITs have dividend yields below 4%. A look at the retail REIT landscape shows the following yields:
It is hard for income investors to get excited about these types of yields, despite their compelling qualities of reliability, consistency and safety. Perhaps investors can get a higher yield by looking at a higher latitude.
RioCan (OTCPK:RIOCF) is Canada's largest real estate investment trust exclusively focused on retail real estate. Their core strategy is owning and managing community-oriented neighborhood shopping centers anchored by supermarkets, together with a rapidly expanding mix of new format retail centers. RioCan owns and manages Canada's largest portfolio of shopping centers with ownership interests in a portfolio containing an aggregate of over 79 million square feet. RioCan also owns interests in a number of grocery anchored shopping centers in the United States located predominantly in the Northeastern United States.
RioCan currently trades at a 4.99% dividend yield. Higher latitude, higher yield.
Geographic Diversity:
As some are not as familiar with the Canadian provinces as they are with the states, here are a few facts to help put RioCan's geographic diversity in perspective (from Statistics Canada):
The population is not distributed uniformly throughout Canada's territory. The vast majority of people who make up the population of Canada live in the southern part of the country, near the American border, leaving the northern areas largely uninhabited.
The strongest concentrations of population are located, firstly, along the axis extending from Québec city to Windsor, that is, along the St Lawrence River and lakes Ontario and Erie, and secondly, in Western Canada, in Vancouver and Victoria in British Columbia and the area extending from Calgary to Edmonton in Alberta.
In 2006, Canada's population was very largely concentrated in four provinces: Ontario, Quebec, British Columbia and Alberta. Approximately 86% of Canadians in 2006 were living in one of these four provinces. The 12.7 million Ontarians alone account for nearly 40% of Canadians.
In 2006, more than four immigrants out of five (85%) chose to settle in Quebec, Ontario or British Columbia. Ontario alone received half of Canada's newcomers in 2006, whereas the demographic weight of that province was less than 40%.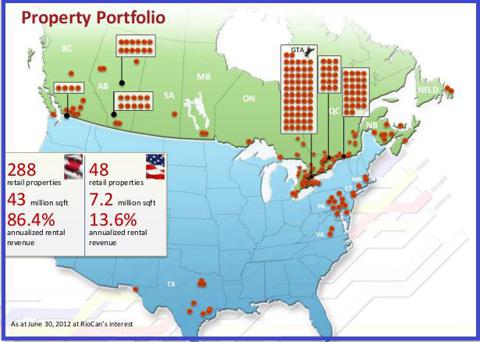 Source: RioCan investor presentation
As the chart above shows, RioCan is well diversified in Canada and has been increasing its geographic footprint in the United States which adds to the growth and stability of this retail REIT.
Tenant Diversity:
One of the benefits of investing in a REIT whose majority of operations are outside of the United States is that it allows true diversification of end markets and tenants. RioCan affords investors the opportunity to truly diversify their REIT portfolio.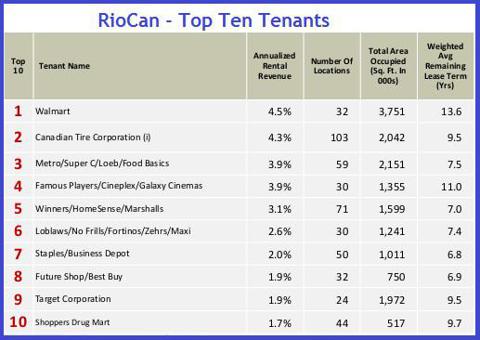 RioCan's diversity is strong and its tenants are among the who's who of retailers.
Occupancy:
Geographic diversity and tenant diversity amount to very little if your centers are not occupied. RioCan has a higher occupancy rate than the majority of its US peers and has not had to "buy" its occupancy through lower rents.
In the most recent quarter, Regency Centers had a 93% occupancy, Kimco had a 93.5% occupancy and Federal Realty had a 94.2% occupancy rate. RioCan has never been as low as any of these REITs currently are in terms of occupancy.
Financial Snapshot:
The factors shown above have lead to strong financial performance, which supports an investment thesis: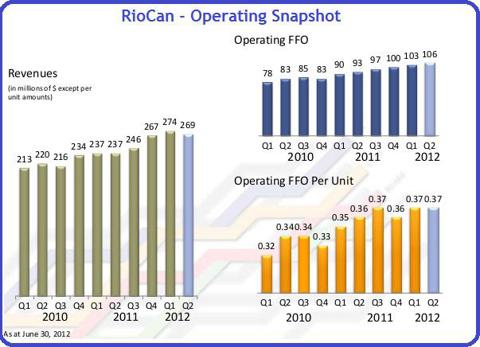 The strong financial results have translated into decent distributions to shareholders: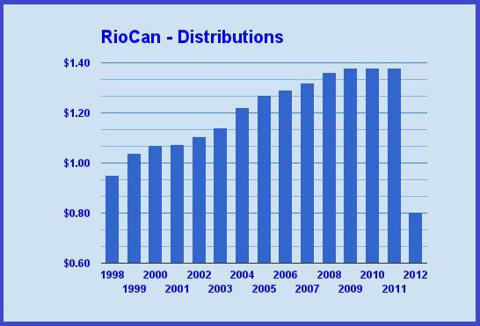 Distributions per share have been flat from 2009-2011 because while funds from operations has increased, the number of units outstanding has increased by 43 million since 2008, leading to flat distributions per unit over the same timeframe. The increased shares reflect RioCan increasing its footprint in the United States as well as strengthening its balance sheet (the company has to bring leverage down as it is currently greater than 7x EBITDA).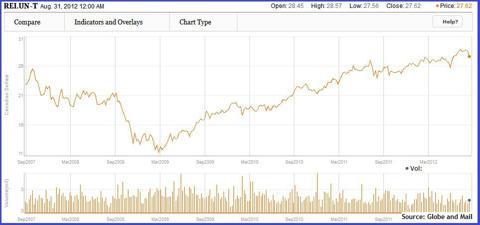 Bottom Line: RioCan REIT allows investors to diversify their portfolio in terms of geography and tenants while increasing their dividend yield. The REIT, at 18.7x FFO trades on top of US shopping center sector multiples while out-yielding the sector by 130bps or 1.3%. The REIT has performed well operationally, and never slashed its dividend during the credit contraction showing its focus on operations and shareholders.
NOTE: If you're a U.S. citizen, Canadian corporations withhold 15% of your dividends deposited in regular accounts for Canadian Taxes. For regular accounts, you can apply for to the U.S. IRS for a refund (foreign tax credit) for at least a portion of the amount withheld.
Disclosure: I have no positions in any stocks mentioned, and no plans to initiate any positions within the next 72 hours. I wrote this article myself, and it expresses my own opinions. I am not receiving compensation for it (other than from Seeking Alpha). I have no business relationship with any company whose stock is mentioned in this article.
Additional disclosure: This article is for informational purposes only, it is not a recommendation to buy or sell any security and is strictly the opinion of Rubicon Associates LLC. Every investor is strongly encouraged to do their own research prior to investing.