The Dividend Champions spreadsheet and PDF have been updated through 8/31/12 and are available here. Note that all references to Champions mean companies that have paid higher dividends for at least 25 straight years; Contenders have streaks of 10-24 years; Challengers have streaks of 5-9 years. "CCC" refers to the universe of Champions, Contenders, and Challengers.
One Step Forward, Two Steps Back
August was a fairly quiet month for dividend increases, as expected. Even so, most companies that typically announce increases during the month did so, and a couple of those graduated from Challenger to Contender status. But as I mentioned last month, there will likely be a bit of "shrinkage" in the CCC universe, as we approach the fourth quarter, since more than a dozen face deletion if they fail to increase the amount that they have been paying throughout 2011 and 2012. These "frozen" dividend rates are not as bad as outright reductions, but they represent an interruption in the dividend growth that investors look for. Longer-term, we should see an expansion in the listing of "Near-Challengers" (in Appendix B on the Notes tab) next year, based on a proliferation of companies declaring increases for the third straight year in 2012.
One slight revision during the month will hopefully increase the overall ease of use. I created Range Names for the full Champions, Contenders, and Challengers data, which should make sorting easier. If you look just above Column A in any of these tabs, you'll see a "Name Box" that usually shows "C7," a reference to the current (HOME) position of the cursor. If you click on the down arrow on the right, you'll see a listing of Range Names. Selecting, for example, the "ChampsData" highlights all the cells from A7 to BZ111 as the data range and clicking on Data-Sort from the top menu then allows you to select the sort criteria by column heading. Some of the headings are intuitive, others may take a bit of practice. Thanks to SA member Rudester for this suggestion, along with jogging my memory (of my Lotus 1-2-3 days) about naming ranges for easier sorting.
Quick Summary
The Summary tab includes a table comparing the composite numbers from the latest update to those from the previous month and the end of the previous year. Below that is a summary of the latest month's activity, in terms of companies added, deleted, or promoted. That is reflected below:
Quick Summary:

8/31/12

Champs

Contdrs

Challgrs

Total

No. of Companies

105

176

190

471

Ave. No. of Years

38.8

14.4

7.2

17.0

Average Price

53.24

49.36

43.15

47.72

Average Yield

2.95

3.06

3.45

3.19

Ave. MR Increase

7.42

8.56

10.02

8.87

7/31/12

Champs

Contdrs

Challgrs

Total

No. of Companies

105

174

195

474

Ave. No. of Years

38.7

14.4

7.2

16.8

Average Price

53.20

48.03

43.92

47.48

Average Yield

2.95

3.07

3.49

3.22

Ave. MR Increase

7.33

8.73

10.06

8.97

12/30/11

Champs

Contdrs

Challgrs

Total

No. of Companies

102

146

200

448

Ave. No. of Years

38.7

15.1

7.2

17.0

Average Price

49.98

46.20

42.62

45.46

Average Yield

2.94

3.10

3.36

3.18

Ave. MR Increase

7.24

8.47

10.99

9.39

MR = Most Recent

Additions:

CAE Inc. (NYSE:CAE) to Challengers

Deletions:

Astro-Med Inc. (NASDAQ:ALOT) from Challengers

CNOOC Ltd. (NYSE:CEO) from Challengers

Greif Inc. A (NYSE:GEF) from Challengers

Koninklijke KPN N.V. (OTCPK:KKPNF) from Challengers

Promotions:

Atrion Corp. (NASDAQ:ATRI) from Challenger to Contender

Ritchie Brothers Auctioneers Inc. (NYSE:RBA) from Challenger to Contender
(Table from author; may include underlying data from FinViz.com)
Let's Go to the Chart
As a bonus, I'm inserting one of Chuck Carnevale's F.A.S.T. Graphs below, highlighting one of the companies listed above. When the stock's price line has moved into the green area, it suggests that the stock may be undervalued in relation to its earnings.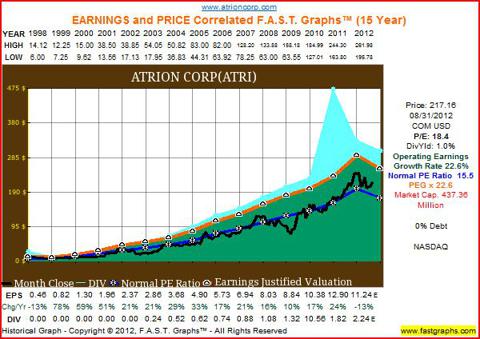 Disclosure: I have no positions in any stocks mentioned, and no plans to initiate any positions within the next 72 hours. I wrote this article myself, and it expresses my own opinions. I am not receiving compensation for it (other than from Seeking Alpha). I have no business relationship with any company whose stock is mentioned in this article.