As the summer winds down, the market's volume will pick up as investors and traders begin to position their portfolios for the upcoming holidays. Simultaneously, healthcare stocks will continue to move sporadically throughout September as several highly anticipated events are on the docket that will provide profitable swing trades.
September 5
Shortly after the holiday weekend, Salix (NASDAQ:SLXP) will receive a final decision regarding Crofelemer. Crofelemer tablets are intended to treat patients with HIV-related diarrhea. According to Salix, Crofelemer has a possible patient pool of about 150,000 in the U.S. However, the key to getting Crofelemer approved may be the possibility of treating irritable bowel syndrome (IBS) in the future.
Crofelemer differs from other IBS or anti-diarrhea drugs because Crofelemer remains local in the digestive system as opposed to being absorbed into the bloodstream and circulated throughout the body. More importantly, there were no serious hiccups in the clinical trials. However, a three-month delay from the FDA, as well as a crushing Relistor CRL has caused Salix's stock to stagnate. If Crofelemer receives a CRL then the stock will keep moving south. In this scenario, the only thing holding the stock up will be the expectation of strong Xifaxin sales.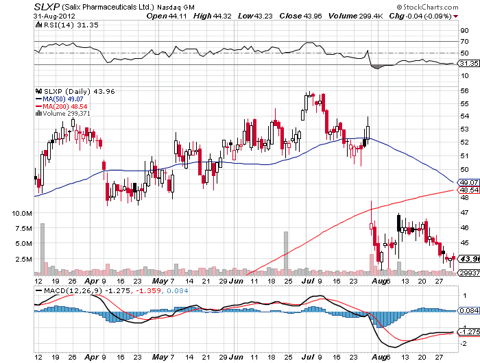 (Source: StockCharts.com)
Novartis' (NYSE:NVS) TOBI Podhaler will face an Advisory Committee on September 5. The TOBI Podhaler is a new device that uses a powdered formulation of the common antibiotic tobramycin intended to treat cystic fibrosis. The Podhaler is already approved in Europe and I am expecting to see a fairly simple Advisory Committee vote without any negative surprises.
September 10
Navidea's (NYSEMKT:NAVB) Lymphoseek is one of the most anticipated PDUFA decisions for biotech traders. Lymphoseek is a gamma radiation lymph node tracing agent that is intended to be used in intraoperative lymphatic mapping. I have been bullish about Lymphoseek for quite a while and I expect to see an approval here.
Lymphoseek received a three-month delay because Navidea submitted updated chemical, manufacturing and controls (CMC) data within 90 days of the original June 10 PDUFA date. This indicates that the original NDA may not have led to an approval because there were issues with the CMC section of the application. The good news is that the additional three months gave Navidea the opportunity to seal up any leaks in the NDA.
Navidea's share price was moving along at a very impressive rate until the firm took out a new $50 million credit facility. After the momentum was broken, the stock has failed to regain its prior form but I expect to see the stock surge higher prior to the PDUFA date.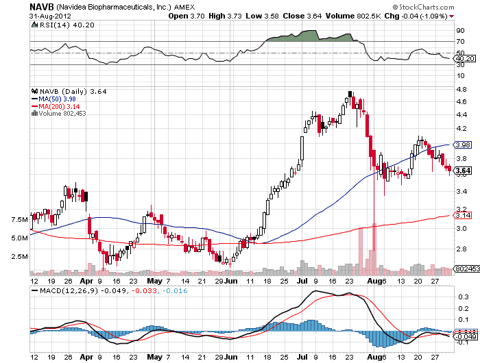 (Source: StockCharts.com)
September 13
Cornerstone's (NASDAQ:CRTX) lixivaptan will face an Advisory Committee on September 13. Lixivaptan is intended to treat systematic hypervolemic and euvolemic hyponatremia. According to Cornerstone, the U.S. market for hyponatremia is $1.6-$3.6 billion. We will know more about lixivaptan after the Advisory Committee meeting but I am siding with a positive review. The Advisory Committee will be taking an in depth look at safety because it appears from the trials that lixivaptan reduced volume overload in patients with heart failure and it was well tolerated.
Cornerstone's share price has been drifting over the past year; however, since June, the share price has been climbing. I am not expecting much action prior to the Advisory Committee, but a post meeting spike or collapse should be expected.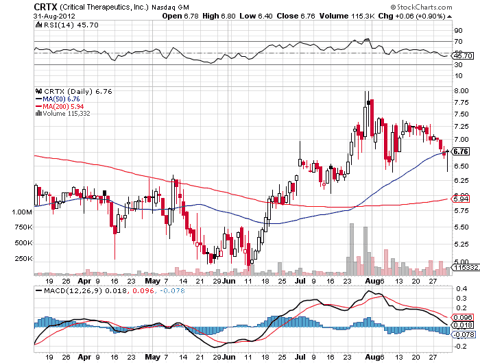 (Source: StockCharts.com)
September 14
Another step in the Amarin (NASDAQ:AMRN) saga will likely be the September Orange Book update. To recap, Amarin received FDA approval to market Vascepa, a high triglyceride lowering capsule on July 26. Following this approval, the big question was whether Amarin will receive three-year or five-year new chemical entity (NCE) status. Obviously, the five-year version will be more profitable and, if a buyout occurs, lead to a better offer. This decision was supposed to occur in August, but the FDA stated more time was needed.
After a volatile first half of August, Amarin's stock regained some traction during the second half of the month. It appears that traders may be positioning themselves for five-year NCE status or perhaps a buyout. I expect to see the momentum slow as traders realize that this stock is very volatile on any news or negative rumors, as well as the fact that whether the FDA will grant three- or five-year exclusivity is an unknown. Amarin appears to be positive about receiving five-year NCE status, but then again that is why they are required to state the Safe Harbor Provisions.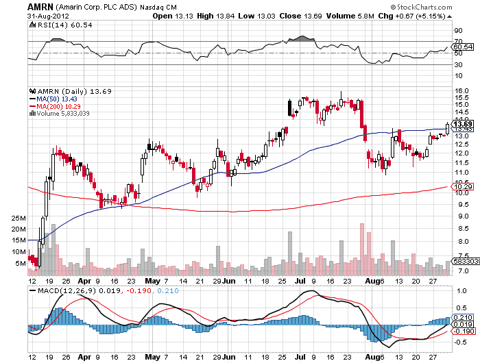 (Source: StockCharts.com)
September may not be an incredibly busy month due to a few early decisions, but with three smaller cap biotech stocks with catalysts, we should see some interesting share price fluctuations. Salix may in fact be the stock to watch. Many people were expecting to see Relistor and Crofelemer approved. In fact, expectations were so high that many traders had priced an approval of both into the stock price already. This is why the stock collapsed after the Relistor CRL. This leaves Crofelemer as Salix's short-term savior. I am expecting an approval, but then again, Relistor was also deemed as a slam dunk.
Disclosure: I am long AMRN. I wrote this article myself, and it expresses my own opinions. I am not receiving compensation for it (other than from Seeking Alpha). I have no business relationship with any company whose stock is mentioned in this article.