On August 16, 2012, South African Police opened fire on a group of striking miners in the bloodiest incident in South Africa since the end of apartheid. This incident occurred at the Lonmin Marikana platinum mine, approximately 100km from Johannesburg. Platinum futures jumped higher on the same day, and have yet to fall back to previous levels. Lonmin is the third largest producer of platinum in the world.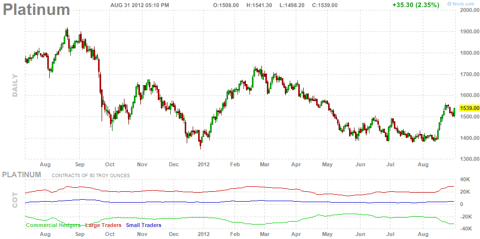 The two main rival unions for miners in South Africa are the Association of Mineworkers and Construction Union (AMCU) and the National Union of Mine workers (NUM). AMCU started as an offshoot of NUM just over a decade ago. Both agencies have been involved in contract negotiations with mining companies operating in South Africa, on behalf of miners belonging to either organization. There has been some rivalry between AMCU and NUM, with claims of AMCU being a radical group, though AMCU claims it wants "peaceful competitive coexistence with the dominant and long-standing National Union of Mineworkers and is totally opposed to union monopoly for itself or any other union." Considering the events of August 16, there remains some doubt about the intentions of AMCU.
The fatal incident occurred after negotiations between Lonmin and striking mine workers broke down. In a bizarre twist, a medicine man had convinced miners they would not be harmed by police, if they followed his muti. Some miners attributed the 34 deaths to a rabbit, that the medicine man warned the miners not to kill. There have been even more twists and turns in this story, and several ongoing investigations. Tension is high at many mines in South Africa.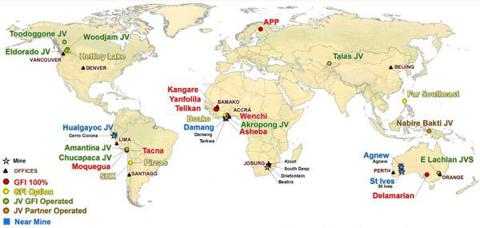 Gold Fields Limited (NYSE:GFI) operates four gold mines in South Africa. Both AMCU and NUM represent mine workers at those four mines. Unrest continued after negotiations at Lonmin, as less than 10% of the workforce reported for duty. On the late night shift of August 29, 2012, mine workers staged a wildcat strike at the Gold Fields KDC mine. KDC is reported to have enough gold reserves to sustain operations until 2028. A long halt in mine operations at KDC would negatively impact Gold Fields' revenues. On August 31, Gold Fields issued a statement indicating that 12,000 mine workers were participating in the "unlawful and unprotected" strike.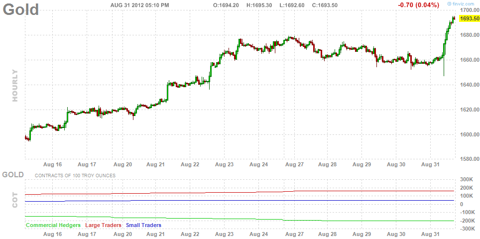 Before the strike at KDC was well known, investors were concerned about additional mining strikes in South Africa. Negotiations are ongoing to meet some of the demands of the miners, many of which now feel they have lost too much to give up on their demands, and that a compromise would be a "sell-out" of their dead comrades. While AMCU backed the striking miners at Lonmin, rival union NUM has been unable to get workers to restart operations. KDC is one of the largest gold mine operations in South Africa, and there is concern of more widespread strikes across other gold mines. Gold Fields does have contracts with many other mine workers, which are not set for renegotiation until mid-2013. Those existing contracts may keep some miners from striking soon, though they present a potential problem in 2013.
The ruling African National Congress party of President Jacob Zuma is supported by the Congress of South African Trade Unions (COSATU), of which NUM is one of the largest unions. That connection of NUM to the A.N.C. has led to some miners aligning with AMCU, making negotiations by NUM largely ineffective. While there have been grumblings of nationalizing mines, I think we are more likely to see mining companies meet some of the demands of the miners. That might happen without any intervention from the South African government. The government needs to engage AMCU and miners affiliated with that union.
According to the CIA World Fact Book, South Africa is the largest producer of gold, platinum, and chromium. The CIA also indicates that more than 50% of the population lives in poverty, and nearly 1/4 of the population is unemployed. Clearly mining is important for employment and the economy of South Africa. I think it is unlikely that the government would move to nationalize the mines, since there is a real risk that outside investment would flee South Africa. Lonmin is responsible for 12% of the platinum production in the world. So far miners aligned with AMCU feel they have been excluded from negotiations. Lonmin risks breaching debt covenants unless platinum production restarts soon. I think that a resolution to the strike at Lonmin would quickly lead to a resolution of the strike at KDC.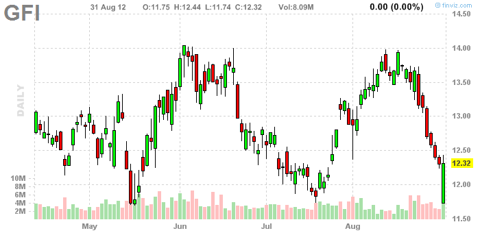 I have been a shareholder in Gold Field Limited prior to the recent unrest amongst mine workers. Some investors may consider the risk of investing in any company in South Africa to be excessive. After seeing remarks on Twitter suggesting a possible strike at KDC, I made the unusual move of placing another limit order for additional shares of Gold Fields Limited. That order was filled Friday, August 31 at the low of the day.
In the event of a wider strike, spreading to other Gold Fields mines in South Africa, then my order may have been premature. Clearly a larger strike would impact next quarter revenues. I feel that with tensions so high, and the economy of South Africa at risk, it will not take much longer for these strikes to be resolved. Once the strikes end, normal production will resume. Until that time, this may be a rare Black Swan event that some investors may want to use to increase positions in Gold Fields Limited. Since this is not without considerable risk, I highly recommend doing your own research, following the links I have provided, and watching for developing news in South Africa.
Disclosure: I am long GFI. I wrote this article myself, and it expresses my own opinions. I am not receiving compensation for it (other than from Seeking Alpha). I have no business relationship with any company whose stock is mentioned in this article.