There are many signs that the Chinese economy is slowing down
After three decades of torrid growth, China is encountering an unfamiliar problem with its newly struggling economy: a huge buildup of unsold goods that is cluttering shop floors, clogging car dealerships and filling factory warehouses. [New York Times]
Even the official PMI has now fallen into contraction area (below 50) as of today (Sunday September 2). Such is the apparent slowdown that even corporate profits are falling:
Earnings fell by 5.4% in July from a year earlier. That compares with a 1.7% annual drop in June. Chinese firms have been hurt by a slowdown in global demand as well as lackluster domestic consumption. [BBC]
However, according to Steven Roach, this doesn't mean a hard landing is in the cards. Comparing the 2008-09 recession with what is going on today:
This time, the descent has been far milder. From a peak of 11.9% in the first quarter of 2010, China's annual GDP growth slowed to 7.6% in the second quarter of 2012 - only about half the outsize 8.2-percentage-point deceleration experienced during the Great Recession. [Steven Roach]
China is a surprisingly open economy, much more dependent on international trade than either the US or the EU. Without a eurozone breakup, the IMF predicts a 4% increase in world trade. This is quite something else from the 10.5% fall in international trade in 2009. This is the main reason for Roach's soft-landing scenario.
According to Minxin Pei in Foreign Policy, the Chinese economic problems are structural, rather than cyclical:
an overbearing state squandering capital and squeezing out the private sector, systemic inefficiency and lack of innovation, a rapacious ruling elite interested solely in self-enrichment and the perpetuation of its privileges, a woefully underdeveloped financial sector, and mounting ecological and demographic pressures.
The author notes that American elites, each for their own reasons, have reasons to overplay the Chinese strength. Republicans can safeguard defense spending and Democrats spending on education. If you wonder about the latter, it's those tens of thousands of cheap Chinese engineers rolling off the conveyor belt of Chinese education each year.
Famous economist Barry Eichengreen also thinks that the present slow-down is part of a structural trend:
Clearly part of what we are seeing is structural. The Chinese population is aging. Labor force growth is slowing. Workers, especially in the urban centers, are demanding higher wages, which are being granted to ensure social stability and in response to pressure from foreign companies concerned with matters of image, all of which raises production costs. Other lower-cost national producers, in East Asia and elsewhere, are nipping at China's heels.
So the question is whether the whole Chinese growth model is starting to run on empty. We give you the main tenets of that model, the Chinese growth is mainly based on:
Extremely high investment, at near 50% of GDP, a staggering and truly unprecedented figure
Export led growth by maintaining a competitive currency
All this to move large amounts of people from (low productivity) activities in the provinces to (higher productivity) activities in urban areas
Financial repression and the lack of a safety net provide the huge savings level to underpin the massive investment
Moving up the value chain by investing heavily in science, technology and education
The state and state banks as 'buyers of last resort,' that is, when demand falters state and state banks move in
There are possible limits to the model:
The export led growth is running up the problems in foreign markets and rising Chinese wages (which is why they want to move up the value chain into higher value added activities where wage costs are less important)
Diminishing returns: textbook economics has it that such enormous amount of capital formation must go hand in hand with low capital returns
Diminishing returns on capital increases the amount of bad loans at banks
Demographically; the supply of cheap labor from the countryside isn't drying up yet, but China's one child policy will be a major limiting factor in the future. China will have a major demographic problem in the not too distant future and as yet, there is little in terms of a safety net (healthcare, pension system) to deal with this, which is the main reason the Chinese save so much
Environmental problems are clear for anyone who has visited a big Chinese city, which are amongst the most polluted in the world.
Diminishing returns
Here is Eichengreen again:
Restructuring meant rebalancing domestic spending from investment to consumption. The investment rate would be lowered from a stratospheric 50 percent, given that no economy can productively invest such a large share of its national income for any length of time. There would be no more construction of ghost towns and no more bullet trains running off the rails, in other words.
Indeed, one is inclined to think that diminishing returns on the enormous amount of capital formation would have long set in, and there is some evidence in support of that textbook proposition. Despite double digit growth, the Chinese stock exchange indexes haven't exactly performed well over the past years.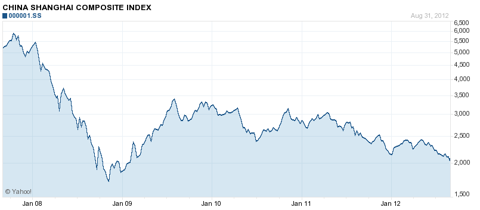 You can see in the graph above that the index is barely above its 2009 lows in the wake of the financial crisis. All that spectacular growth, but little or nothing to show for it in terms of return on capital. However, the return on capital is a near irrelevant metric in China though. Normally, such a low return would lead to a slowdown in capital formation, but not in China. Why not?
The equally unprecedentedly high savings rate produces a mountain of savings that has few places to go. Households cannot invest abroad, the two main choices are savings accounts with banks of buying property. Starting with the latter, this at least partly explains the numbers of empty properties, as many are simply bought as investments.
Saving accounts offer measly interest rates invariably amounting to negative real rates of returns. The flip side of that is that state banks have a cheap and bountiful source of funds, the advantages of which is passed on to corporations in the form of loans with negative real rates. So the IRR, or internal rates of returns on Chinese capital formation is low (possibly even negative in real terms) simply because there is plenty of cheap funding available.
As James White at Colonial First State of Australia argues:
Falling or negative returns on capital are a sure sign of economic weakness reflecting the end of a period of over-investment, which is naturally followed by a period of under-investment.
However, in China, things work differently:
China views competition as an important means of raising living standards by lowering the cost of goods and services. This encouragement of a hyper-competitive industry structure drives innovation through the threat of failure; there is no carrot for innovation. Investors understand that achieving scale and productivity growth is the only way to sustain a profitable business model. By not using capital returns as a scorecard for economic progress, China improves the allocation of capital in its economy and raises living standards.
The jury is still out on what the limits of this model are and whether these are now starting to function as a constraint, lowering growth. But looking at capital returns is the wrong place to look. China's economy functions differently than Western economies.
Restructuring the economy?
So in essence, China works like this:
Households save enormously because there is no safety net
These savings have few places to go, there is financial repression
Which provides cheap funds for investment, investments can even generate negative (real) rates of return and still continue
It's the threat of failure, rather than return of capital that spurs innovation and growth.
Probably the best point of leverage to restructuring this model is for the state to start building a safety net. This would diminish the cheap funding of capital and raise the required returns, diminishing capital formation. However, it would spur consumer spending and open up another growth dynamic (besides capital formation and exports).
The traditional model has been called "unstable, unbalanced, uncoordinated and unsustainable" by Premier Wen Jiabao. However, because of the imminent leadership change, the Chinese authorities are not embarking on experimenting with what has worked so well in the past. One more time, the economy will receive another impulse along traditional lines:
China has ditched its reform strategy and prepared a vast stimulus package as the country's soft-landing turns uncomfortably hard, with recession warnings flashing across East Asia. [The Telegraph]
The likes of Steven Roach are therefore not worried about the risks of a hard landing, but how much this will do remains very much to be seen. In the end, countries can only build so much infrastructure and housing and industrial capacity. There have to be end buyers at some stage, that is, consumers for its output. Sooner or later, China has to start let consumption increase as a percentage of GDP (now at a stunningly low 1/3 of GDP while in most countries it's closer to 2/3's).
Chinese shares
There are numerous ETF vehicles for Chinese shares:
iShares FTSE/Xinhua China 25 Index Fund (NYSEARCA:FXI)
iShares MSCI Hong Kong Index Fund (NYSEARCA:EWH)
Direxion China Bear 3X - Triple-Leveraged ETF (CZI)
Direxion China Bull 3X - Triple-Leveraged ETF (CZM)
EGS INDXX China Infrastructure ETF (NYSEARCA:CHXX)
Global X China Consumer ETF (NYSEARCA:CHIQ)
Global X China Energy ETF (NYSEARCA:CHIE)
Global X China Financials ETF (NYSEARCA:CHIX)
Global X China Industrials ETF (NYSEARCA:CHII)
Global X China Materials ETF (NYSEARCA:CHIM)
Global X China Technology ETF (CHIB)
Guggenheim China Technology ETF (NYSEARCA:CQQQ)
Guggenheim/AlphaShares China All-Cap ETF (NYSEARCA:YAO)
Guggenheim/AlphaShares China Real Estate ETF (NYSEARCA:TAO)
Guggenheim/AlphaShares China Small Cap Index ETF (NYSEARCA:HAO)
iShares FTSE Hong Kong Listed China Index Fund (NASDAQ:FCHI)
Market Vectors China ETF (NYSEARCA:PEK)
While producing staggering economic growth, the Chinese model hasn't provide good returns for investors:
Compared to its BRIC (the Brazilian share market, Russia, India and China) counterparts the Shanghai Composite has been staggeringly bad. Since 2004 Brazil is up 167%, Russia 176%, India 197% but China is up just 46%, despite higher growth rates. (FT Alphaville.)
If and when such a restructuring path would be embarked upon, the rate of return on capital is likely to rise and Chinese shares will take-off. In the meantime, shares are getting ever cheaper: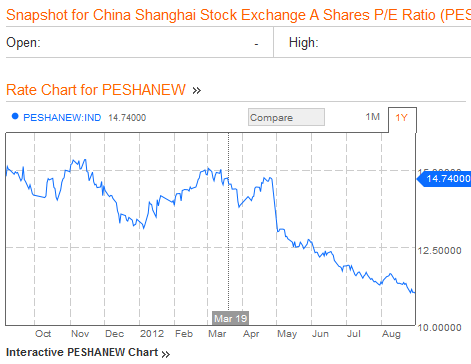 Slowing growth, faltering export markets, rising wages at home, already wafer-thin margins, not even 8% growth provides good returns to stocks. It is a quite remarkable story, and those that think that Chinese stocks, because of its staggering economic growth, is a one-way bet should really think again.
Spectacular economic growth and high returns on capital don't necessarily go hand in hand. While Chinese shares are cheap, we wouldn't buy them unless there are explicit signs of a turnaround.
Better still, wait for that restructuring towards a more consumption led economy, as that will reduce investment and raise returns on capital. There might be one exception though. Another round of infrastructure spending could give the EGS INDXX China Infrastructure ETF ETF a little jolt.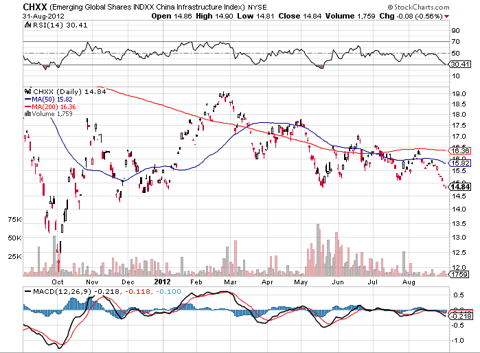 It just happens to be very near oversold territory, so a little bounce is in the cards.
Disclosure: I have no positions in any stocks mentioned, and no plans to initiate any positions within the next 72 hours. I wrote this article myself, and it expresses my own opinions. I am not receiving compensation for it (other than from Seeking Alpha). I have no business relationship with any company whose stock is mentioned in this article.