It's been a very frustrating year, especially for commodities traders who have been worried (if bearish) or optimistic (if bullish) about the possibility of a third round of quantitative easing. Although the fed has changed its wording around a lot, nothing has really changed since the beginning of the year. The market is especially busy weighing the likelihood of QE3 against stagnation in the global financial markets.
The most recent speech, which was given last Friday (August 31st) seemed a bit more dovish than usual, but it seems unlikely (from the implications of the speech) that we will see anything other than words of encouragement without some really bad data.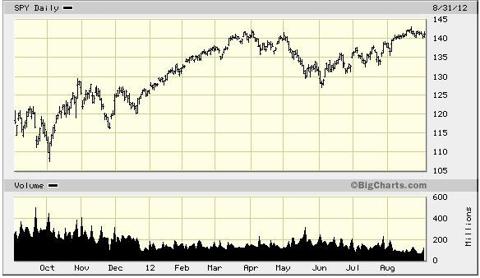 Even if we are sitting at multi-year highs without the fundamental data supporting it, it seems quite clear that Bernanke is not going to let the market and economy crash - especially with around 8.3% unemployment.
Looking ahead for this trading week we see a few interest rate decisions that may rock the forex market around, but the real event is the unemployment report for the month of August due on Friday. If we see unemployment rising, it may be just enough to trigger more easing.
This is exactly why this market has been so difficult to short in recent months despite some clear signs of weakness. There are many reluctant traders who are forced to be more bullish in anticipation of the protection that the fed is promising.
Because of the situation, I think it's likely that we will stay rangebound if things stand the way that they are. Based on the channel that the S&P 500 (NYSEARCA:SPY) is in right now, we are looking at 1350 being the approximate floor with the 52-week high of 1426 being the ceiling we're looking to break (as unlikely as it seems without external action). Look for about 12,500 on the Dow (NYSEARCA:DIA) to begin buying with conviction too.
The implication here is that even shallow dips can be bought with some degree of confidence due to the potential for the dollar to get weaker in the face of central bank intervention.
An even more lucrative strategy for those expecting very sideways action is to sell call options on one's core holdings. Assuming these positions are in the green, it's a great way to provide extra return on the investments that may be going nowhere in the short to medium run.
Disclosure: I have no positions in any stocks mentioned, and no plans to initiate any positions within the next 72 hours. I wrote this article myself, and it expresses my own opinions. I am not receiving compensation for it (other than from Seeking Alpha). I have no business relationship with any company whose stock is mentioned in this article.