Lately, I've been detailing some of Berkshire Hathaway's (NYSE:BRK.A) recent common stock purchases. I've written two articles about DirecTV (DTV), most recently last Thursday, and one about Wells Fargo (NYSE:WFC). They are both companies Berkshire bought more of during its latest quarter. I continue the series of looking at recent Berkshire buys, with an analysis of DaVita (NYSE:DVA).
According to its 2011 annual report, DaVita is a leading provider of kidney care services in the U.S. with over 1,800 outpatient service centers and 900 hospital units. Its clientele consists of patients with an end-stage chronic kidney malfunction that requires dialysis treatment three times a week. The company serves about 142,000 patients, yielding it a U.S. market share of about 32%. It also has plans for expansion in other countries, but as of yet, its international branch remains in a startup phase with only tens of centers abroad. International expansion is expected to be a major contributor to the company's growth in the future.
DaVita is a turnaround story led by CEO Kent Thiry. In the late 1990's, the company was called 'Total Renal Care', and financially it was sailing in dire straits. After Kent Thiry was elected CEO in 1999, he restructured the company and asked the employees what the company's name and core values should be. The name chosen, DaVita, is Italian for "Giving Life". After taking the helm, Thiry has lead DaVita to become a leading company in its field in terms of both financial and clinical results.
Thiry is known for occasionally dressing up as a musketeer and for creating almost a cult-like 'village culture' inside the company. Not everyone likes the culture, but many employees are proud to be part of the extraordinary corporate family. Thiry started his career as a consultant in Bain & Company in 1983. He has worked in the dialysis business since 1991.
Whatever critics say about DaVita and its cult-like ethos, let the results speak for themselves: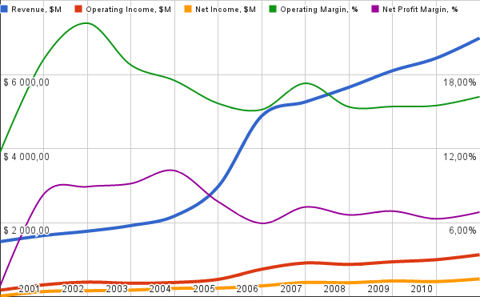 That's quite an impressive chart for a company lingering near bankruptcy in 1999! As illustrated, DaVita had a growth spurt in 2005-2006. This is mainly related to a one-time acquisition that nearly doubled the number of its outpatient service centers. DaVita's business is cash-rich and it has had the means to grow organically as well as by buying other companies without taking on much debt, all the while paying quarterly dividends to its shareholders. Here's an illustration of DaVita's debt profile over the years (blue+red=total assets):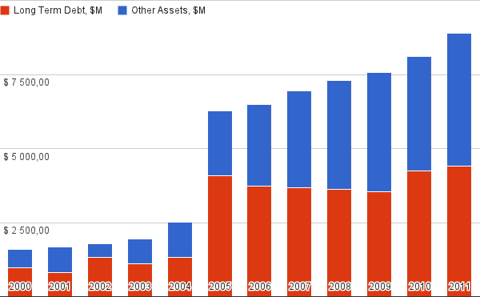 After the spurt of 2005-2006, DaVita has been decreasing its leverage. If the company wanted to, it could now releverage its balance sheet with record low interest rates, but for now, the company seems to be doing fine with organic cash flow.
So, dialysis services are a growing need globally and DaVita is an excellent company in the field, what's not to like? One major risk factor is that the company derives almost all of its profit from about 34% of its revenue generated by commercial payors - that is customers not paid for by government or state-backed Medicaid/Medicare. DaVita's results are thus very much dependent on rate negotiations with commercial payors/insurers, as well as the mix of commercial and government-backed revenue.
DaVita trades at a trailing 12 month P/E of 17.7 with a market cap of 9.2 billion dollars. Despite being a great business with a visionary leader, the price is a tad too much for my liking. Buffett's lieutenants Weschler and/or Combs at Berkshire Hathaway seem to disagree. What do you think?
Disclosure: I have no positions in any stocks mentioned, and no plans to initiate any positions within the next 72 hours. I wrote this article myself, and it expresses my own opinions. I am not receiving compensation for it (other than from Seeking Alpha). I have no business relationship with any company whose stock is mentioned in this article.