Last Friday, Ben Bernanke delivered his much-anticipated speech at the Federal Reserve's annual symposium in Jackson Hole, Wyoming. The speculation before the speech was whether the Fed Chairman will hint at another round of quantitative easing (QE3). After the speech, it is quite clear that the Fed is open to another round of QE3. The big question now is the timing of QE3.
QE3 Likely
In his speech, the Fed Chairman defended the nontraditional policies (quantitative easing, Operation Twist) implemented by the central bank to spur economic growth and restore confidence in financial markets. Bernanke noted that there are potential costs of implementing nontraditional monetary policy measures. However, he said that these costs are manageable and therefore further use of such policies, if economic conditions warrant, cannot be ruled out.
Bernanke's remarks make it quite clear that the Fed is ready for QE3. The timing of QE3 though will depend on how the U.S. economy fares in the coming months.
The Fed's next FOMC meeting takes place on September 12-13. Between now and the next FOMC, the most important economic data the Fed will be watching is nonfarm payrolls for the month of August. The jobs report for the month of August will be released this Friday and economists surveyed by MarketWatch are projecting an addition of 120,000 jobs in August. The unemployment rate, meanwhile, is expected to stay at 8.3%. If the jobs report is weaker-than-expected, the Fed may announce QE3 at the next FOMC meeting.
In fact, the labor market is the Fed Chairman's biggest worry. Bernanke mentioned in his Friday speech that even though the Fed's accommodative monetary policies have provided support to the economic recovery, the economic situation is far from satisfactory. The Fed Chairman is particularly concerned about the labor market. According to Bernanke, the rate of improvement in the labor market has been painfully slow.
Impact of QE on the Economy and Financial Conditions
In the previous two rounds of quantitative easing, the Fed purchased treasuries and mortgage-backed securities from private banks, injecting cash onto their balance sheet. The idea behind QE is that the cash infusion onto banks' balance sheets will spur lending.
Bernanke said in his speech that the Fed's bond buying programs have significantly lowered long-term Treasury yields. The Fed Chairman also said that the impact is not restricted to longer-term Treasury yields as significant declines in the yields on both corporate bonds and mortgage-backed securities have been noted following the previous two rounds of quantitative easing.
The impact of QE is not just confined to bond markets. Stock prices also rose sharply following quantitative easing. In fact, the two-year rally in U.S. equity market that began in March 2009 coincided with the expansion of QE1.
Between March 2009, when the Fed expanded QE1, and June 2011, when QE2 ended, the S&P 500 rose more than 70%.
Gold rose from $937.25 an ounce on March 2, 2009, to $1,505.50 an ounce on June 30, 2011. Silver jumped from $13.14 on March 2, 2009, to $35.02 an ounce on June 30, 2011.
Other dollar-denominated commodities including copper and oil also rallied.
Money also poured into emerging markets as investors looked for returns. Between March 2009 and June 2011, the iShares MSCI Emerging Markets Index ETF (NYSEARCA:EEM) gained more than 100%.
The Big Question: What To Buy?
So with QE3 likely, the big question is what you should buy this time around. The obvious choice would be to move into risk assets, considering their excellent performance during the previous two rounds of quantitative easing.
For QE3, gold seems to be the best bet. Gold prices are well off their September 2011 high. In recent months, prices have traded in a tight range. However, the hints of QE3 in Bernanke's speech on Friday sparked an immediate rally in gold. In fact, bullish bets on gold rose sharply last week as traders speculated on QE3.
The SPDR Gold Trust (NYSEARCA:GLD), the world's biggest gold backed ETF, would be a good option if you are looking to gain exposure to the precious metal. Of course, there is always the option of buying physical gold.
QE3 also creates the risk of future inflation and gold is an excellent hedge against inflation.
Silver prices posted gains of nearly 170% in the previous two rounds of quantitative easing. Investors can opt for the iShares Silver Trust (NYSEARCA:SLV) to gain exposure to silver.
What about other commodities?
This is where I would be a little cautious. All dollar-denominated commodities did exceptionally well in the previous two rounds of quantitative easing. However, remember China was growing at a robust pace in that period and demand for commodities from that country was a major factor in driving up prices. This is not the case this time around. Data released earlier today further confirmed that the Chinese economy is slowing.
I would look at commodities only if Chinese policymakers also adopt accommodative monetary policy to boost growth.
How About Stocks
Financials look like a good bet. Between March 2009 and June 2011, the Vanguard Financials ETF (NYSEARCA:VFH), which tracks the performance of stocks of large, medium and small U.S. companies in the financial sectors, gained more than 80%.
Basic Materials and Energy sectors are an option if commodity prices rally, which as I mentioned before depends on how the Chinese economy fares going forward.
Cyclical stocks would be a good option if QE3 has the desired effect on the economy, especially the labor market.
In terms of individual stocks, Dow Jones components such as Bank of America Corp. (NYSE:BAC), General Electric Co. (NYSE:GE), Caterpillar Inc. (NYSE:CAT), and Boeing Company (NYSE:BA) outperformed the S&P 500 between March 2009 and June 2011. However, the performance of individual stocks also depends upon many other things. Therefore, I would recommend investors gain exposure to the broad market through ETFs such as the SPDR S&P 500 (NYSEARCA:SPY), which tracks the S&P 500 Index.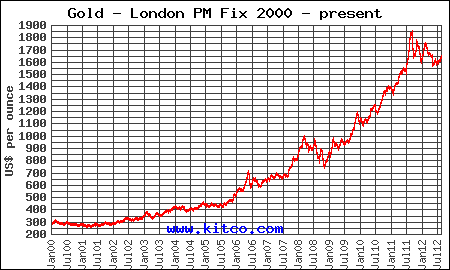 Source; Kitco.com
Disclosure: I have no positions in any stocks mentioned, and no plans to initiate any positions within the next 72 hours. I wrote this article myself, and it expresses my own opinions. I am not receiving compensation for it (other than from Seeking Alpha). I have no business relationship with any company whose stock is mentioned in this article.