Microsoft Corporation (NASDAQ:MSFT) has been trading in the same range for the last decade. As of this writing, the stock trades for $30.82 per share and offers a dividend yield of 2.6%.
Click to enlarge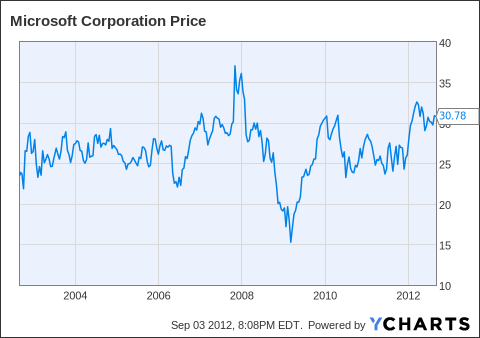 Microsoft pays a lower dividend yield than other tech giants, such as Intel Corporation (NASDAQ:INTC) with a 3.44% yield and Cisco Systems, Inc. (NASDAQ:CSCO), which recently increased its dividend substantially, with a 2.94% yield. One way to increase the income generated by shares that you already own is by selling call options.
Call Options
By selling a call option, you are selling someone the right to buy your shares at the strike price on or before the expiration date. The buyer pays you a premium for this right, which you keep regardless of the outcome of the option. If the price of the stock never rises above the strike price then the option expires worthless and you keep your shares. If, however, the stock price does rise above the strike price the shares may be called away from you at the strike price. Obviously, there is a real risk that you will be forced to sell your shares using this strategy. It is important, then, that you only sell call options with a strike price at which you are comfortable selling your shares.
Let's take a look at call options with a $35 strike price, 13.5% greater than the current market price of $30.82.
Expiration Date
Premium

Annualized Return

(based on current price)

Oct 2012 (46 days)
$0.05
1.29%
Nov 2012 (74 days)
$0.11
1.76%
Dec 2012 (109 days)
$0.23
2.50%
Jan 2013 (137 days)
$0.37
3.20%
Apr 2013 (228 days)
$0.81
4.21%
Jan 2014 (501 days)
$1.85
4.37%
As the expiration date gets further away the premium increases. The Jan 2013 call option offers a good compromise between premium and time until expiration. If you sell a Jan 2013 $35 call option, you receive a $37 premium, representing a 3.2% return on the current share price. The 100 shares of Microsoft that you own cannot be sold until the option expires (or is exercised) or you buy back the call option at a later time. The two possible outcomes are as follows.
The market price never reaches $35 and the option expires worthless after 137 days. The 3.2% return from the premium acts as a dividend enhancer, raising your effective dividend yield to 5.8%. You are now free to sell another call option.
The market price goes above the strike price and you are forced to sell your shares for $35 per share. The strike price represents an 13.5% gain from the current price, which annualized over 137 days is nearly 36%. You also have the $37 premium and, depending on when the option was exercised, dividend payments. If the option is exercised early you may miss out on some dividend payments.
Conclusion
By selling call options on shares of Microsoft you can generate income such that your effective dividend yield more than doubles. There is a risk that you will be forced to sell your shares, which means that you must be comfortable selling your shares at the strike price. The $35 strike price offers a 13.5% increase over the current share price, which is a significant buffer against this risk. Used intelligently, this strategy can increase the income generated by shares in your portfolio substantially.
Disclosure: I am long CSCO. I wrote this article myself, and it expresses my own opinions. I am not receiving compensation for it (other than from Seeking Alpha). I have no business relationship with any company whose stock is mentioned in this article.