One way to unlock value in real estate is to invest in companies that own properties leased to corporate occupiers. Generally defined, sale/leaseback transactions involve the sale of property and a lease of all or part of the property, for all or part of the property's remaining economic life, back to the seller (source: ASC 840-40). Over the past three decades, corporations have been increasingly executing sale/leaseback transactions - usually to better allocate capital, but also in many cases to manage residual real estate risk.
In a sale/leaseback transaction, the owner-occupant of a commercial property sells the asset it owns and occupies by executing a long-term lease with a real estate investor. This structured financing alternative has evolved into an attractive strategy for many corporations to unlock the value of their real estate assets.
Many corporations earn a higher return on their core business as compared to investing their capital in owned real estate. This off-balance sheet alternative provides the occupier 100 percent of the value of the property compared to traditional mortgage financing, which is usually around 65 percent loan-to-value. In addition, the gain realized from a sale/leaseback transaction can be amortized on the corporation's income statement, increasing reported earnings (this earnings impact can potentially improve the firm's financial ratios and margins).
Other benefits for sale/leaseback occupiers include premium pricing and tax considerations. Empirical evidence shows that a sale/leaseback property sells for a premium of 13 percent relative to comparable non-sale/leaseback properties. In addition, under a sale/leaseback structure, rental payments are 100 percent deductible against the company's taxable income, versus only the interest portion of a mortgage payment.
Some Bloomin' Good REITs
National Retail Properties (NYSE:NNN) and Cole Real Estate Investments recently acquired 67 Bloomin' Brands, Inc. (NASDAQ:BLMN) restaurant properties for net proceeds of around $192.9 million (source S-1). The sale/leaseback transaction was arranged under nine separate master leases (on March 14, 2012) and the portfolio was leased to all five of the founder-inspired restaurant concepts. Bloomin' Brands has considerable debt ($1.8 billion as March 31, 2012), and by monetizing the core restaurant holdings, National Retail Properties and Cole Capital were able to capture accretive shareholder spreads. As explained by National Retail Properties' Chairman and CEO, Craig MacNab:
The largest transaction that we completed in the quarter was the acquisition of 34 properties leased to Outback Steakhouse and their various brands, where we invested just shy of $100 million. In this transaction, we acquired mature restaurant locations at a very stable and have a rent coverage ratio that's comfortably in excess of two times. Outback is performing very well as a company and you may have seen recent press reports that they are considering going public.
Another company that has demonstrated the capacity to unleash substantial sale/leaseback capital is Pep Boys - Manny, Moe, and Jack (NYSE:PBY). As of January 28, 2012, the Philadelphia-based chain operated 562 Supercenters, 169 Service & Tire Centers, and 7 Pep Express stores located in 35 states of the United States, and in Puerto Rico. Founded in 1921, Pep Boys acquired 99 Service & Tire Centers and opened 21 new stores in 2011-20 Service & Tire Centers and one Supercenter. The company plans to open 75 new Service & Tire and 10 Supercenter locations in 2012.
The Company owns its five-story (approximately 300,000 square foot) corporate headquarters in Philadelphia and a 60,000 square foot office building in Los Angeles. The company also owns the following administrative regional offices—approximately 4,000 square feet of space in each of Melrose Park, Illinois, and Bayamon, Puerto Rico. Of the 738 store locations operated by the company (at January 28, 2012), 232 are owned and 506 are leased. As of January 28, 2012, 126 of the 232 stores owned by the company are currently used as collateral under our Senior Secured Term Loan, due October 2013 (source: PBY 10-K).
As fellow Seeking Alpha contributor, Christopher Pavese, wrote in a recent article (Manny, Moe & Jack's Competitive Advantage):
We believe the company's real estate portfolio provides investors with a healthy margin of safety. Pep Boys' most recent real estate appraisal in June 2011 valued the company's owned real estate at about $690 million. After the stock's recent decline, PBY's market capitalization is around $500 million today. We think this is a temporary overreaction and represents a very attractive entry point into a high quality service business with strong brand recognition. It's unlikely Amazon will find a way to effectively compete with Manny Moe & Jack anytime soon.
National Retail Properties has 17 leases with Pep Boys, and the REIT's annual base rent composition (of Pep Boys) is around 2.2 percent. In addition, National Retail Properties has 34 leases with Bloomin' Brands (representing 2.4 percent of the REIT's concentration with BLMN).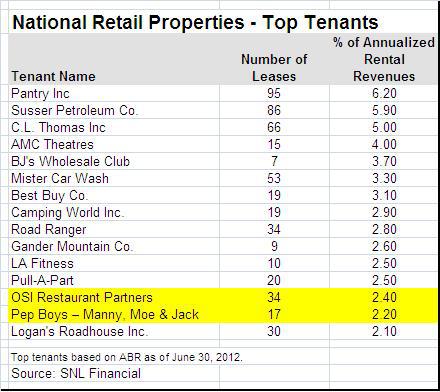 Last week, Jonathan Heller, contributor for TheStreet, wrote an article, Profiting from the Cracker Barrel Feud, in which he revealed some interesting sale/leaseback options related to unlocking considerable value for Cracker Barrel (NASDAQ:CBRL) investors. As Heller explains,
Sweetening the deal was the real estate owned by the company; namely more than 400 of its locations. That's a potentially compelling portfolio of real estate and gives the company some options. Three years ago, a sale and leaseback transaction on one distribution center and 14 stores netted $57.6 million: $12.4 million for the distribution center and about $3.23 million per store. While you can't jump to the conclusion that every owned location is worth in excess of $3 million, it does give you an idea of potential value.
Monmouth Real Estate Investment Corporation (NYSE:MNR) owns a 381,240 square foot retail distribution center in Lebanon, New Jersey. The industrial sector REIT acquired the facility for $14.5 million from United Trust Fund, a Miami-based REIT that specializes in sale/leaseback transactions.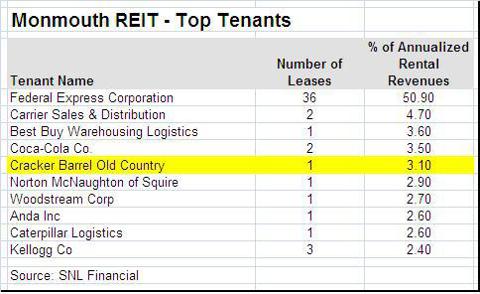 United Trust Fund has a 40-year track record of originating sale/leaseback transactions and the following quote was contained in the company's website brochure:
The sale-leaseback often begins with companies recognizing that assets frozen in concrete and steel are neither good for the balance sheet nor a productive utilization of capital. Old economy or new, boom times or downturn, the demands of adjusting to shifting economic realities are exacting. Managing balance sheets must be done at the speed of business today. This requires efficiency and creativity. Now more than ever, businesses have a need to convert existing real estate assets into cash and find cost effective and efficient alternatives to traditional debt to fund the costs of expansion, acquisitions, special investment opportunities, and construction of new facilities.
By monetizing the 400 plus locations (66 percent of portfolio) owned by Cracker Barrel, the company could unlock considerable capital that could be deployed at a higher return and in their core business, as compared to investing in company-owned real estate.
Other "Best in Class" Brands Focus on Operations, Not Real Estate
Family Dollar (NYSE:FDO) recently tapped the sale/leaseback market by generating over $357 million. In two separate transactions, the company was able to combine these sale/leaseback transactions to monetize the new stores as a source of capital for the company's ongoing fee development program. Earlier this year, Family Dollar created a new fee development program whereby the company works with developers to build stores using the company's capital and thereby lowering its occupancy costs. As Family Dollar's CFO, CAO, and Executive Vice President, Mary A. Winston explains (Q3-12 earnings call):
Upon completion of construction, we own the stores. While we are expanding our fee development program, our goal is not to own more stores. We prefer the flexibility of operating leases and do not believe that investing in real estate is an optimal use of our capital. Our goal is to convert these owned assets into leased assess through a series of sale-leaseback transactions.
Walgreen (WAG) and Bank of America (NYSE:BAC) are also in the market to monetize select free-standing properties. According to the Jones Lang LaSalle (NYSE:JLL) website, both high-traffic investment-grade rated companies are looking to rearrange their capital structures by utilizing sale/leaseback strategies.
Historically, Walgreen has utilized sale-leaseback cash to pay off short-term debt accumulated against long-term real estate assets. This rationale is the primary motive for most sale/leaseback candidates as their returns on investments in real estate are not nearly as good as the returns they get from operating their core businesses.
While real estate returns typically range between 5 percent and 7 percent, Walgreen's shareholders expect returns of about 18 percent after taxes and by owning real estate, the returns are dilutive.
W. P. Carey: The Pioneer of Sale/Leaseback Investing
W. P. Carey & Company (NYSE:WPC), founded in 1973 by William Polk Carey, is focused on financing sale/leaseback opportunities and providing companies with capital to invest in growth or balance sheet efficiencies. As a global net lease pioneer, Carey has maintained a stalwart platform of providing sustainable net lease income for 40 years. The globally diverse asset portfolio, combined with its sustainably innovative operating platform, has made W. P. Carey one of the safest and reliable real estate investment platforms in the world.
W. P. Carey & Company is also growing closer to merging its Corporate Property Associates 15 Inc. (CPA®: 15) non-traded REIT into W. P. Carey & Co., LLC. Upon merging these two entities, the merged company (expected to close around Q3-12) will become a publicly listed REIT. By owning over 75 percent of its combined (merged) assets, W. P. Carey will qualify as a REIT and the benefits of the planned merger will provide further risk-alignment for current and future investors.
Earlier this year, Carey announced that its non-traded REIT affiliate (CPA®:17) had closed on a sale/leaseback with Blue Cross and Blue Shield of Minnesota. The properties acquire included six buildings in suburban Minneapolis/St. Paul as well as individual properties locates in the cities of Aurora and Virginia, also in Minnesota.
W. P. Carey pioneered the sale/leaseback as a mainstream form of financing in the U.S. and has been a leader in introducing sale-leasebacks to corporations and governmental entities throughout Europe and now in Asia. Over nearly a 40-year history, Carey has provided long-term financing solutions to more than 284 companies. In 2011, Carey structured investments totaling approximately $1.2 billion (source: WPC website).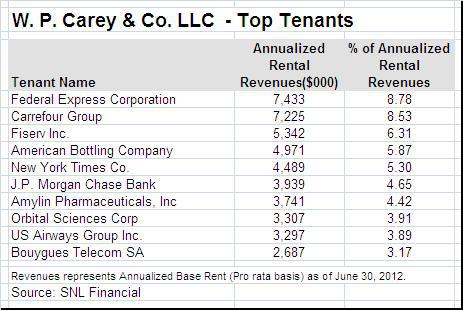 Advantages to Investing in Sale/Leaseback Transactions
One of the primary advantages for investing in sale/leaseback transactions is to reduce portfolio volatility. Given the broader unpredictability in the equity markets and rich pricing across fixed-income instruments, sale/leaseback investors have gravitated to the "flight to quality" that make the asset sector attractive. In addition, sale/leasebacks provide investors with an immediate return on equity since leases are in place. The essence of the sale/leaseback investment strategy is that the leases behave much like a corporate bond, but they also include a hedge against inflation.
The sale/leaseback investor has minimal expenses since the property is acquired with a long-term lease in place. Uncertainty associated with operating expenses and vacancy is muted, increasing the investment value to the buyer. Accordingly, premium pricing on sale/leaseback assets is justified because of the lack of anticipated periodic vacancy.
National Retail Properties, Realty Income (NYSE:O), Monmouth REIT, W.P. Carey, Lexington Realty Trust (NYSE:LXP) and Cole Real Estate Investments (non-traded REIT sponsor) have all tapped the sale-leaseback space in order to originate "organic" long-term leases. Given the benefits of sale/leaseback transactions, there should be a continued trend of a larger number of firms to sell their facilities to investors, unlocking the value of the underlying properties. Accordingly, the sale/leaseback industry will continue to provide a meaningful balance of value for originators and investors alike.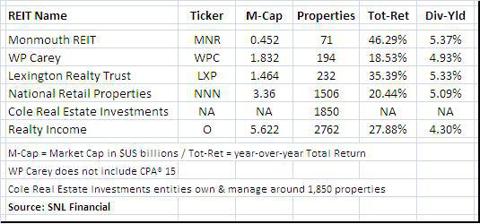 Related Article: Last week, I wrote an article (The Conundrum Of Triple Net Lease Valuation) in which I explained that the triple-net conundrum is cheap is truly great…if it comes with a cost of capital that is competitive over the long term.
The Author in Action: I plan on attending the France Media 3rd annual InterFace Net Lease conference on September 11, 2012, in New York City at the New York City Bar Association. This industry-leading information and networking conference will bring together all of the leading players in the net lease, 1031 and sale leaseback markets. Last year's event attracted over 250 attendees and an audience of over 300 are expected in New York for this year's conference.
I will be moderating the sale/leaseback panel that will include industry experts Sidney Domb, Founder and Chief Executive Officer of United Trust Fund; Teddy Kaplan, Managing Director of Angelo, Gordon & Co.; Guy Ponticiello, Managing Director, Capital Markets Group of Jones Lang LaSalle; and Camille Renshaw, CCIM, Director, Investment Sales of Stan Johnson Company.
Disclosure: I have no positions in any stocks mentioned, and no plans to initiate any positions within the next 72 hours. I wrote this article myself, and it expresses my own opinions. I am not receiving compensation for it (other than from Seeking Alpha). I have no business relationship with any company whose stock is mentioned in this article.