Though it wasn't a big plunge, last week's dip was the second losing week in a row, following six straight weeks of gains. While that may have bled off some of the overbought pressure, the bears may not be done yet. We're headed into one of the weakest periods of the year, and the floors the bulls are hoping will hold up are going to be tested soon.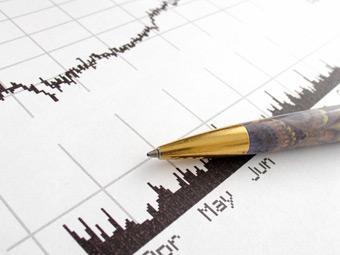 First things first though - last week's and this week's major economic data.
Economic Calendar
Most of last week's economic numbers were bigger-picture items. Namely, we got a glimpse of the country's quarterly growth estimates, and consumers' mood. Let's just dig in.
On the consumer sentiment front, the Conference Board's confidence score fell drastically in August, from 65.4 to 60.6 . The Michigan Sentiment Index, on the other hand, rose from 72.3 in July to 74.3 last month… a three-month high. It makes one wonder how the two seemingly similar measures can end up with such wildly different results.
Real estate continues to look stronger. The Case-Schiller home price index was up 0.5% in June, and July's pending home sales were higher by 2.4%.
The big enchilada last week, however, was second quarter's GDP growth rate. Not that it was 'great' in Q2, but at 1.7%, it was better than the previously thought 1.6%. And, if July's Factory Orders are any indication, than the trend may actually be improving rather than decelerating. July's factory orders were up 2.8%, better than the expected 2.0% increase, and far more encouraging than June's 0.5% dip.
Everything else is on the following grid.
Economic Calendar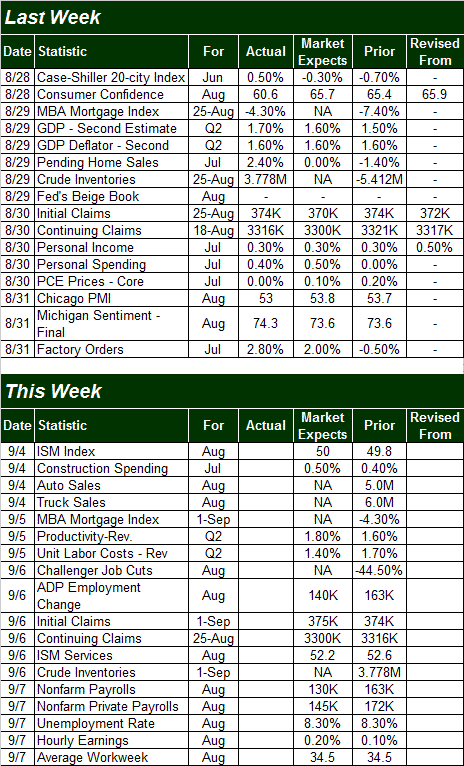 Though the coming week may be shortened by the holiday, we're still going to cram a lot of numbers into the four-day span. Here are the biggest potential market-movers:
* Tuesday - Construction Spending: This number has been generally healthy of late. The pros are looking for a 0.5% increase for July.
* Tuesday - Auto Sales: Car sales have been relatively firm of late as well. Can that broad trend continue? Given how fragile the economy is, there's no room for a misstep here.
* Thursday - Job Cuts and ADP Employment Change: This is going to be a precursor to Friday's unemployment rate figure and official jobs-created figure. There's no forecast for the Challenger jobs cuts number, but they fell 44% in July. ADP is expected to say 140,000 new jobs were created for August, which is slightly less than the prior month's 163,000. But, that's still a firm number.
* Friday - Nonfarm Payrolls and Unemployment Rate: Economists are looking for 145,000 new private payrolls, short of July's 172,000. They don't think the unemployment rate is going to budge from the 8.3% we saw a month earlier. While falling short of estimates could trip-up the market, even if the numbers roll in a well as expected, the expectations are so low that it may not inspire bullishness.
Stock Market
On Thursday, after the S&P 500 Index (SPX) (NYSEARCA:SPY) finally made that first close under the 20-day moving average line, it looked like the bears had finally turned the tide to their favor. With Friday's bounce, however, one has to wonder if the bulls have actually given up yet or not.
The fact of the matter is, while the S&P 500 did move under the 20-day moving average line, that's really only the real bearish clue we've seen from the market in weeks. The lower 20-day Bollinger band still hasn't been broken as support. Indeed, it hasn't even been tested as support. That's not to say it won't be, but it is to say that - for the time being anyway - the market still isn't in a heap of trouble. The worst case scenario is, right now the S&P 500 is simply caught between a rock and a hard place…1394 and 1420. Take a look.
SPX & VIX - Daily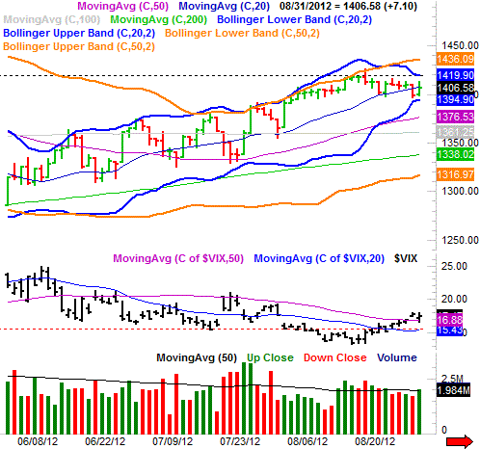 All that being said, just because something hasn't happened yet doesn't mean it won't happen at all. Until and unless the ceiling at 1420 is breached, the path of least resistance is still a downward-pointing one. Again, we're not looking for a major correction - just enough to fully burn off the overbought condition.
And where might the S&P 500 need to bottom for that to happen? While the daily chart doesn't make it clear where the most natural floor is waiting, the weekly chart may be offering a better clue.
If you look closely at the weekly chart below, you can see the 200-day (40 week) and 100-day (20 week) moving average lines are on pace to intersect one another around 1363. [The 200-day moving average line isn't that far along on the daily chart, so let's acknowledge that this kind of target-setting isn't, nor does it have to be, an exact science.]
SPX & VIX - Weekly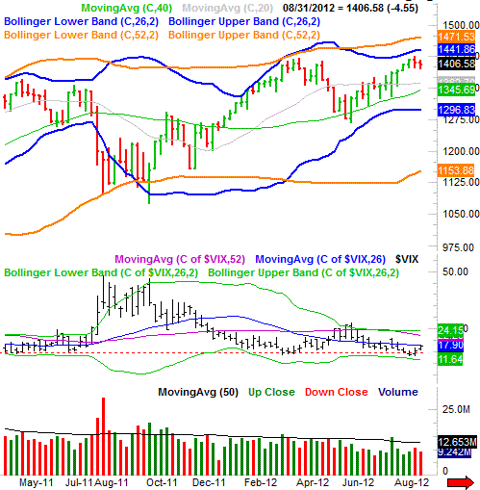 Just for perspective, a move to 1363 would mean about a 4.4% dip from the recent high of 1426.68. That's a healthy dip… the kind that hits the proverbial 'reset' button for a bullish trend, without actually disrupting the trend. As a matter of fact, the normal-sized correction in a bull market is around 8.0%. So, there's plenty of room for a dip in the broad stock market indices here (NYSEARCA:DIA) (NYSEARCA:IWM) (NASDAQ:QQQ).
Sector Performance
It's been a couple of weeks since we last took as look at how each sector was performing, but we need to make a point of doing so this week, since there are a handful of noteworthy changes taking shape.
First and foremost notice that the Utilities sector (NYSEARCA:IDU) (NYSEARCA:XLU) is quickly losing ground now, after being one of the market's best sectors since the end of Q1. Interestingly, about the same time the utilities stocks started to struggle, the Healthcare (NYSEARCA:IYH) (NYSEARCA:IYF) (NYSEARCA:XLV) and Consumer Services (NYSEARCA:IYK) (NYSEARCA:IYC) (NYSEARCA:XLP) (NYSEARCA:XLY) arenas started to perk up. Both are areas traders may want to consider first when seeking new long trades.
Of course, the Telecom sector (NYSEARCA:IYZ) (NYSEARCA:TTH) (NYSEARCA:XTL) is still large and in charge.
Relative Sector Performance, since March 31st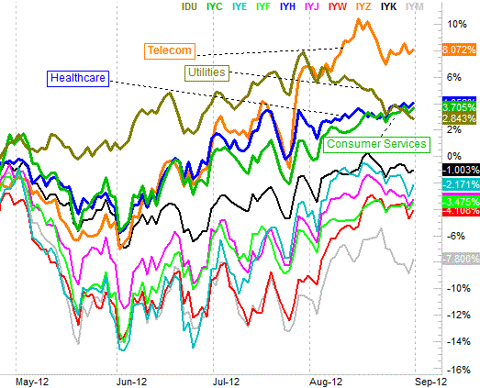 Disclosure: I have no positions in any stocks mentioned, and no plans to initiate any positions within the next 72 hours. I wrote this article myself, and it expresses my own opinions. I am not receiving compensation for it. I have no business relationship with any company whose stock is mentioned in this article.
Additional disclosure: BigTrends Rapid Options Income clients are in a neutral SPY Iron Condor options position.