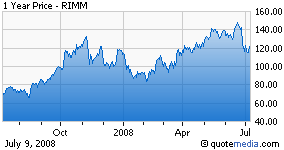 A recent 15% pullback in shares of Research in Motion Ltd. (RIMM) represents "the most compelling" buying opportunity for the stock in the past 12 months "ahead of a major product rollout cycle," says Canaccord analyst Peter Misek.
In a research note, he said:
Our channel checks indicate thatn ew product launches are on tract for stellar shipment volumes at both AT&T (NYSE:T) and Verizon (NYSE:VZ).
At AT&T, growth will be fueled by the launch of the Bold in August and the Javelin in October, while Verizon is scheduled to launch RIM's Thunder model for late August. It is expected to be heavily marketed against Apple's (NASDAQ:AAPL) iPhone.

Mr. Misek said:
Current leaks suggest that the Thunder touchscreen keyboard utilizes a  tactile screen combined with Haptic technology that will provide RIM with an edge when competing with the iPhone. Moreover, we are hearing that T-Mobile is expected to receive the Kickstart in the August time frame. Overall, these product launches are setting RIM up to have a "major November quarter.
The analyst suggests investors buy on RIM's current weakness to increase their holdings. He has a buy rating and a C$225 target price on the stock, which at just over C$120 currently trades at about 16X his fiscal 2010 earnings-per-share estimates.