From a business cycle perspective, Fidelity recently released a report that indicated the risk of a recession in the U.S. was rising. Although the rising recession risk is low, the report cited weak "external" factors as the cause. Also, these weak external factors may be impacting company earnings expectations as noted in this post: Companies Lowering Earnings Guidance For Third Quarter.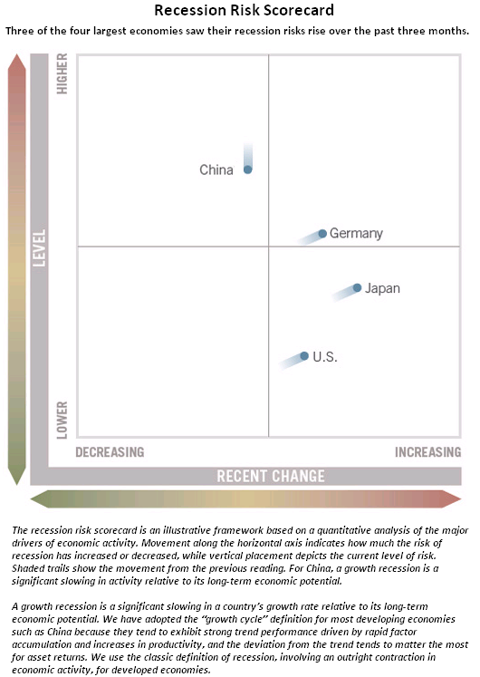 From The Blog of HORAN Capital Advisors
In spite of this higher risk, the U.S. and Japan remain in the mid-cycle expansion phase, while China is contracting.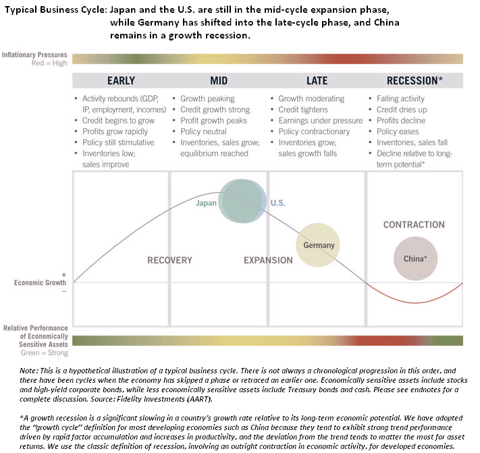 From The Blog of HORAN Capital Advisors
Importantly for investors, one question being asked is where should investment dollars be allocated if the economy is nearing a slowdown. Our post, Sector Rotation and The Economic Cycle, will provide some insight. Clearly, the U.S. economy is slowing. The Bureau of Economic Analysis released the second revision of GDP last Wednesday and it estimates GDP growth in the second quarter came in at 1.7%. This compares to 2.0% real GDP growth in the first quarter.