The bond market appears sanguine about the inflation outlook. In my recent article Inflation Fears Are Overblown, I discussed how inflation pressures across the economy are largely under control. I also indicated how many disinflationary and deflationary forces were also at work that should cause lingering pricing pressures to subside in the months ahead. Based on the data, it appears that the bond market generally shares this view.
The bond market is typically very sensitive to any signs of inflation. While it is certainly an issue for stock investors, the threat of inflation is a paramount concern for the bond market. This is due to the fact that rising inflation erodes the value of the fixed income coupon payment provided by bonds. As a result, bond investors watch inflation signals very closely and will reacting swiftly by selling bonds given a mere whiff of prolonged inflation pressures.
Bond investors are signaling that recent inflation is not a cause for concern. Today is not the first time in history that we have experienced a dramatic and sustained rise in oil prices accompanied by a sharp increase in inflation expectations from consumers and the media. In the 1970s, we experienced two such episodes, first from 1973 to 1974 and then from 1977 to 1980 (see charts). During these past episodes, bond yields rose sharply along with oil prices, as fixed income investments were sold off heavily amid developing inflation crises. During the current oil driven rise in inflation, however, bond yields have actually moved lower, suggesting bond investors are currently not worried about any potential inflation threat.
click to enlarge image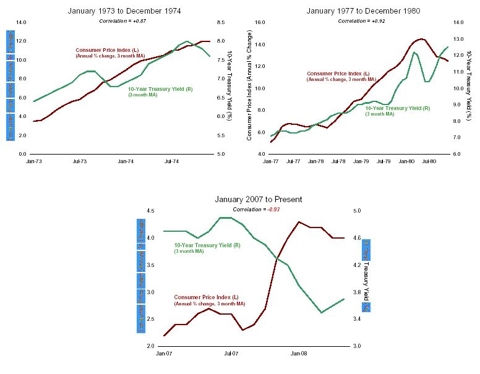 The bond market view on inflation is subdued for good reason. As discussed in my recent article Inflation Fears Are Overblown, wage pressures are virtually not existent, rising fuel and food prices are serving as a tax on consumers, and heightened global competition is deterring businesses from raising prices. Also, the disinflationary/deflationary impacts from the slowing economy along with declining housing prices should more than offset any inflationary effects of higher oil and food prices. While some understandable inflation jitters are likely to surface along the way, it appears that bond investors are on the most part feeling reassured that any lingering inflation signals should ultimately prove fleeting. The competence of global central banks provides further reassurance. Back in the 1970s, a prolonged mishandling of monetary policy compounded inflationary pressures. But since the early 1980s when Fed Chairman Paul Volcker broke the back of inflation, global central banks including the U.S. Federal Reserve are widely regarded as competent inflation fighters. As a result, the market has confidence that if a sustained inflation threat were to arise that the Fed and other central banks will act swiftly with the necessary steps to contain the problem. The recent decision on July 3 by the European Central Bank to fight inflation by raising interest rates despite concerns about weakening growth among many business leaders across the region supports this view.
Benign inflation does not suggest that bonds will move higher, however. While a more restrained inflation backdrop is certainly positive for the bond market, other factors must also be considered. For example, the Treasury market is currently trading at premium valuations with 10-Year Treasury yields below 4%. The corporate and high yield bond markets are working through a deteriorating earnings outlook and rising default concerns, particularly among financials and consumer cyclicals. And the problems facing the mortgage bond market have been well documented during the credit crisis over the last year. As a result, bond investors must still remain patient and selective.
But lingering inflation concerns are likely to present new trading opportunities in bonds. Inflation worries are likely to surface again in the months ahead, causing the bond market to sell off and potentially providing good entry points for new commitments. For example, those investors that stepped in and bought 10-Year Treasury bonds after yields had risen from below 3.50% in April to above 4.25% in early June have enjoyed a solid run, as yields have fallen back below 3.90% in the days since. New outbreaks of inflation jitters are likely to provide bond investors with attractive trading opportunities once again in the future. This assumes, of course, that the fundamental inflation backdrop has not materially changed along the way.
Conclusion: The bond market is signaling that a prolonged inflation problem is unlikely. While this does not suggest that bonds will make a sustained move higher, windows of opportunity caused by renewed inflation concerns are likely to surface for bond traders along the way.
Disclosure: No Long or Short Positions in Bonds or Bond ETFs