One of the best ways to boost returns comes from improving entry and exit points. Too often investors jump into positions too fast or exit too slow.
One way to make better decisions is to arm yourself with a better understanding of the seasonal head and tailwinds facing markets, sectors, industries and stocks.
September is notoriously tough for markets.
The S&P 500 index ETF (NYSEARCA:SPY) has produced an average negative return of -1.72% over the past 10 years. But, there's also a silver lining to September's poor track record.
Patient investors who have taken a disciplined approach to building technology positions are usually handsomely rewarded come October and November.
As you can see from this next chart, the Technology ETF (NYSEARCA:XLK) has its worst monthly return this month, falling an average -3.33% over the past 10 years.
But, before you panic, notice October is alternately the XLK's best month. September tends to bookend poor summer seasonality, serving as a capitulation month for weak handed investors.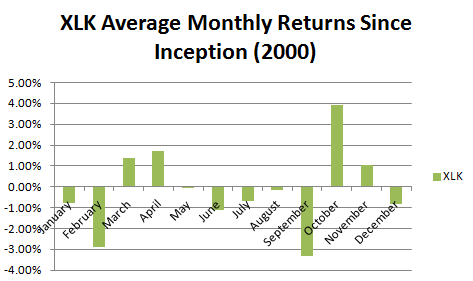 The next chart drives home how important technology returns may be for generating market beating returns by year end.
The chart shows the spread to the SPY by month, showing when the XLK typically produces the greatest lead and lag to the benchmark. Clearly, September is one of the year's worst months for relative returns. But, October is by far the best month.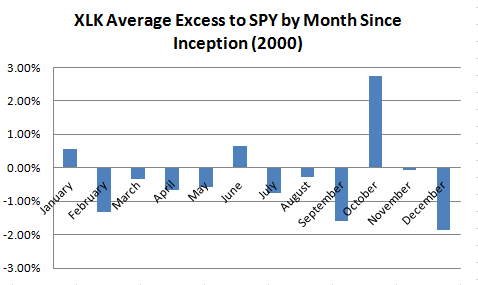 These charts suggest short-term investors should remain nimble and keep powder dry in technology this month. At the same time, position traders can use September weakness to patiently increase positions and lower average cost.
As for which technology stocks may benefit the most from the shift to tailwinds, I sorted data on 1500 stocks from The Seasonal Investor to discover which offer the best seasonality through November.
Among those technology stocks finishing November higher than they start September, shares of Netscout (NASDAQ:NTCT), Synaptics (NASDAQ:SYNA) and Verisign (NASDAQ:VRSN) are among those trading higher in 9 of the past 10 years. During the period, each has gained in every year except 2008 while also producing average returns over 20%.

So, while September is usually unkind, it can also provide a great entry for bigger returns in fall, specifically in technology. And, while everyone knows past performance is no guarantee, knowing seasonal head and tailwinds serves as another vital tool for staying the course and trading a plan, rather than being whipsawed by emotion.
Disclosure: I have no positions in any stocks mentioned, but may initiate a long position in NTCT over the next 72 hours. I wrote this article myself, and it expresses my own opinions. I am not receiving compensation for it (other than from Seeking Alpha). I have no business relationship with any company whose stock is mentioned in this article.