Prostate cancer treatments continue to move forward at a rapid pace, improving the lives of men, but making for a highly competitive market for drug companies. According to ClinicalTrials.gov there are 183 prostate cancer related, industry sponsored trials that are actively recruiting, of which 84 are Phase 2 and 32 Phase 3. Last November, I highlighted five drugs which could be big players in the market. This article tracks the progress of four of them over the last 10 months and highlights another drug in late stage trials.
Xtandi, previously MDV3100 - Medivation (MDVN)
On Friday, the FDA approved Xtandi, a new androgen receptor inhibitor for patients with MCRPC. The approval wasn't a big surprise, but the timing was. The FDA approved the drug almost 3 months ahead of the PDUFA deadline of November 22nd. The drug extended overall survival in patients by 4.8 months, slightly higher than Zytiga's 3.9, and does not have to be taken with Prednisone. It will cost slightly more than Zytiga, running $7,450 for a 30 day supply. Since my November article, the stock is up more than 140%, including a 7% rise late in the afternoon Friday. Whether this run up is sustainable now comes down to how well the company can execute commercially. The company has declined to provide sales projections on the drug and it will be interesting to see over the next several quarters how well the drug launches and how much market share it takes from Zytiga and Provenge.
Provenge - Dendreon (DNDN)
Provenge, the customized immunotherapy treatment from Dendreon, continues to struggle to gain traction among prescribing doctors. As sales growth disappointed, the company made a number of changes attempting to reverse the company's fortunes. In February the company replaced Chairman and CEO Mitch Gold with pharmaceutical veteran John Johnson, luring him from Savient Pharmaceuticals (OTC:SVNT). Johnson has experience selling companies (Imclone to Eli Lilly (NYSE:LLY) in 2008), which initially raised some speculation that Dendreon was for sale. However, Johnson has quashed most of that speculation, remaining committed to a turnaround.
In July, Dendreon reported disappointing sales with revenue falling 2.4% quarter over quarter. However, the company counteracted with a plan to close its New Jersey factory and cut 600 jobs, saving about $150 million a year and reducing COGS to 50% of revenue. Provenge is currently conducting trials meant to expand the drug's indication to patients in earlier stages of prostate cancer. Results have been promising, but getting FDA approval is still a ways off and Zytiga is likely to get there first. The stock has been hit hard, down almost 40% since November, and some argue that the company has hit bottom. However, this argument has been made before, and Dendreon continues to look to me like a company with great science and a broken business.
Zytiga - Johnson & Johnson (JNJ)
Zytiga sales have been strong over the last year, growing $32 million to $232 million in the second quarter of 2012. Currently only approved for patients with metastatic castration resistant prostate cancer (MCRPC), Johnson & Johnson is looking to expand the drug's indication for use earlier on. In June, JNJ ended early a study of its use in pre-chemotherapy patients. The study showed improvement over a number of areas, though didn't achieve statistical significance in overall survival due to the early termination of the study. For a further breakdown of the study, see Ted Cohen's article. Note I do not fully agree with his article's conclusion that the study bodes well for Dendreon. JNJ has received priority review for the expanded indication and will likely hear from the FDA in late 2012 or early 2013.
Cabozantinib - Exelixis (EXEL)
Exelexis's Cabozantinib is still in Phase 3 clinical trials for prostate cancer, but the drug has come into the spotlight as the PDUFA date approaches for approving the drug in patients with medullary thyroid cancer (MTC). MTC is a small indication, but is a stepping stone for approval in other indications. The drug works by targeting bone metastases, which are common in many different cancer types.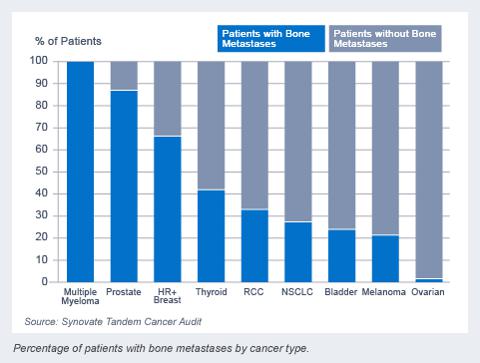 I believe approval for Cabozantinib is likely as the trials were conducted under a special protocol assessment from the FDA and MTC is a generally unmet medical need. Of note, especially due to the recent approval of MDV3100, the FDA recently cancelled the presentation of Cabozantinib at the November advisory committee meeting. This leads me to believe that the FDA has already made up its mind and expects to announce a decision before the November 9th meeting date, well before the November 29th PDUFA date. The company knows that an MTC indication will not be a cash cow, having recently shored up its balance sheet with a $362 million offering of common stock and convertible notes. The shares were sold at $4.25, and the notes can be converted at $5.31 in 2019. This issuance will allow the company to continue and expand its clinical trials to study the drug in other cancers. Additionally, it will fund the company's loaded pipeline of partnered compounds in various stages of early development.
Alpharadin Bayer (OTCPK:BAYRY) / Algeta (OTC:ALGZF)
A competitor for Cabozantinib, Alpharadin (radium-223 dichloride), is also coming through clinical trials. Being developed in partnership between Bayer and the Norwegian company Algeta, alpharadin showed a 3.6 month survival benefit and a "statistically significant delay in the time to first skeletal-related event" in an interim analysis of an ongoing Phase 3 trial. The trial is expected to be completed in October, and Algeta expects to submit its NDA by the end of 2012. The drug has fast track status which is likely to lead to a priority review and a decision by mid-to-late 2013.
Prostate cancer continues to be the focus of many drug companies as the market is large and the technologies are continually improving. This is great for patients who suffer from the disease, but presents a challenge for drug companies. Dominating the market will become more challenging and having a best in class drug will become more important. Additionally, it is likely that we will see these drugs being used in combination more often, though cost may remain an important barrier to combo use. For companies that can lead the pack overall, or who can establish specific niches, the opportunity is there to produce outstanding results, both for patients and shareholders.
Disclosure: I am long EXEL. I wrote this article myself, and it expresses my own opinions. I am not receiving compensation for it (other than from Seeking Alpha). I have no business relationship with any company whose stock is mentioned in this article.