Insider ownership can be one of the most powerful indicators available to equity investors. Not only does it show that the people who know the company best believe in it, but it also gives some degree of insurance that the management is acting in the best interest of shareholder.
Unfortunately, insider ownership can also be an indicator of dirty dealing. For that reason, picking stocks that simply have a high rate of insider ownership won't give you an advantage; that requires thinking about incentives for insiders inherent in the capital structure of the company.
Insider owners have an incentive for negative behavior when the company reports a strong balance sheet and the stock has performed well in recent years. In this situation, insiders can make more money propping up the stock price than they can diligently running the business and collecting an honest salary from the resulting earnings. Excess cash may be spent on unwise stock buybacks, burned in pursuit of empty sales, or simply spent on marketing and self-promotion aimed at dazzling stockholders.
Worse yet, when insider holdings are high, we should be extra suspicious of fraud. A healthy balance sheet may simply reflect fuzzy accounting, and strong price performance may simply reflect manipulation. This is particularly true when insider stock holdings are larger than insider salaries.
So when do insider owners have the most incentive for positive behavior?
Simple: when the company has no cash. A low current ratio combined with high insider ownership is a fairly rare combination and is often a recipe for strong future stock appreciation.
In this situation, management really only has one imperative: to get more solvent. There's no point in propping up a stock if the underlying company goes bankrupt. And in most of these cases, management can and will improve the balance sheet. If they couldn't, the insiders would have sold already.
At the end of 2009, I put together a screen with two main criteria; 45% or greater insider ownership and a current ratio of 0.8 or lower. I found four matching companies.
COMPANY

INSIDER

OWNERSHIP

2009 YEAR END

CURRENT RATIO

NRCI
68%
0.72
LGF
45%
0.76
ROL
56%
0.51
WTW
52%
0.37
And here is how those companies have performed since that time: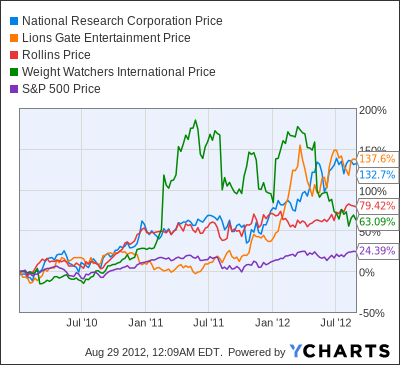 Stock price data by YCharts
Two doubled, all four beat the S&P by at least 40%. And here's why: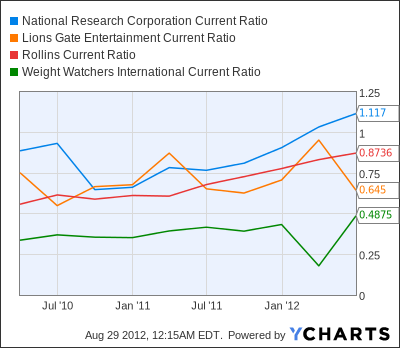 Current Ratio data by YCharts
All four companies improved their current ratios. It was that simple.
At present, there is only one company that shows up on this same screen, W&T Offshore (NYSE:WTI). Continental Resources (NYSE:CLR) falls close, but the current ratio is just a tad too high. I am not recommending buying these two companies; when a screen turns up only a single hit, it is a bad time to use that screen.
It is, however, a perfect time to explain the concept. This isn't confirmation bias of an existing position. I will be sure to keep you updated when I find more companies fitting this criteria.
Disclosure: I have no positions in any stocks mentioned, and no plans to initiate any positions within the next 72 hours. I wrote this article myself, and it expresses my own opinions. I am not receiving compensation for it (other than from Seeking Alpha). I have no business relationship with any company whose stock is mentioned in this article.