Grain prices remained elevated throughout the month as the USDA decreased the estimated 2012 U.S. average corn yield per acre to a dismal 123.4 bushels per acre. Farmers have been preparing for a very early harvest this year due to the accelerated maturity of corn in such a horrific drought. Crop insurance adjusters have also been busy working with farmers on crop claims. Many farmers across the Corn Belt estimate crop insurance payments to become available in November, which may provide a great opportunity to invest in farmland leading up to November.
Grain Prices
Corn prices traded sideways and closed at $8.02 per bushel and decreased by 0.5% in August, due to the ongoing drought conditions, which primarily offset a destruction in demand. The USDA decreased the estimated average 2012/13 U.S. corn yield by 40.0 bushels since the June WASDE to 123.4 bushels per acre in the August WASDE due to the worst drought in 56 years. Third-party agribusiness, Pro Farmer, estimated the current crop at 120.25 bushels per acre. Demand was significantly decreased by the USDA by 1.5 billion bushels due to high prices causing demand destruction globally. Prices rallied toward the end of the month on the very strong fundamentals still present in corn and the outlook of a potentially wet harvest due to Hurricane Isaac.
Soybean prices decreased this month to close at $17.64 per bushel, a 2.5% increase. Prices increased due to a reduction in average yield by the USDA from 40.5 bushels per acre last month to 36.1 bushels per acre in the August WASDE. Total 2012/13 U.S. production was cut by 358 million bushels to 2.7 billion bushels due to the decrease in yields and harvested area. 2012/13 U.S. soybean supplies were projected 12% lower than last month to a nine-year low. Foreign demand from areas outside of China, including Thailand and Vietnam, also supported soybean prices in August.
Wheat prices declined by 2.1% this month, closing at $8.70 per bushel due to profit taking late month. Prices followed corn and soybeans and were also driven by additional demand for wheat as a feed because wheat provides an alternative to expensive corn. The USDA estimated the average U.S. 2012/13 wheat yield 2% higher at 46.5 bushels per acre, which increased total U.S. production by 44 million bushels. Reports of below-average quality and yields of Russian and FSU wheat spurred a late month rally in prices.
Farmland Values
Farmland values rose 15% in the last 12 months, slowing down from last quarter due to concern over drought conditions, according the Federal Reserve Bank of Chicago. The value of "good" farmland increased 1% in the second quarter of 2012 compared with the first quarter of 2012, the smallest quarterly increase in two years. All District states posted year-over-year increases in farmland values and the largest year-over-year land value increase came from Iowa, with a 24% increase. Although there is concern over the recent drought conditions, a majority of bankers still believe there will be an increase or pause in farmland prices in the third quarter.
Nonirrigated farmland values increased by 3% in the second quarter of 2012 in the Tenth Federal Reserve District, according to the Federal Reserve Bank of Kansas City. Year-over-year, nonirrigated farmland values were up 26.4%, irrigated farmland values were up 28.2%, and ranchland values increased by 16.2%. Bankers felt that values in the Tenth District would hold steady throughout harvest.
The Creighton University farmland price index declined this month to its lowest level since July of 2009, but remained above growth neutral for the 31st consecutive month, posting a 52.8 from 58.6 in July. "The drought is putting a dent in farmland price growth and the purchase of agriculture equipment, including trucks," said Professor Ernie Goss.
Farm Income
2012/13 farm income was estimated 3.7% higher this month by the USDA from $117.9 billion in 2011. Record crop prices will more than offset decreased yields to provide U.S. farmers with $122.2 billion in income this year. $30.0 billion of the $122.2 billion has been the estimated amount of crop insurance payments in 2012 of which $14.0 billion will be from the U.S. government, according to the University of Illinois. The value of the total U.S. crop is $222.1 billion, an all-time high. Food inflation was estimated as high was 4% by the USDA due to the surge in commodity prices since mid-June. Farmers who escaped the intense drought will earn much higher income with average yields and very high crop prices. North Dakota's 2012 farm income was estimated 39% higher year-over-year.
The 2012 forecast of farmer debt-to-assets ratio dropped to 10.2%, according to the USDA. Since the USDA has been keeping record of farmer debt-to-assets ratios in 1960, 10.2% is the lowest on record. Farmer balance sheets have never been this conservative before, thus leading us to firmly believe that there are no signs of a farmland price bubble forming due to over leverage.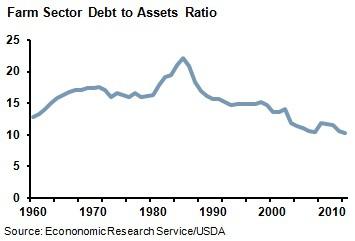 Crop Progress and Conditions
Corn conditions have continually deteriorated since early June dwindling to only 22% of the crop in good or excellent condition compared with 54% in 2011. The drought has sped up maturity causing 26% of the corn crop to be mature as of the last week in August compared with the five-year average of only 8%. Harvest has been ahead of schedule as well with 6% of the corn crop already harvested compared with the five-year average of only 2% by the end of August.
Soybeans are also maturing quickly due to the stress produced by the drought. 8% of U.S. soybeans have started dropping leaves compared with the five-year average of only 4% by this time in the growing season. Only 30% of the soybean crop is in good or excellent condition, which is severely behind 2011's 57% by the end of August. We will continue to monitor harvest progress throughout September, and will also watch for actual yield data from farmers. The lingering effects of Hurricane Isaac could cause above-average amounts of rainfall in parts of the Corn Belt that could lead to stalk lodging and substantially hurt corn yields during harvest.
Outlook
Harvest will provide the first actual yield data that will either support or oppose the USDA's estimate of 123.4 bushels of corn per acre across the U.S. and grain prices will react accordingly. We will monitor the effects of Hurricane Isaac and other weather events that could cause excess moisture during harvest and hurt yields even further.
We feel that over the next few weeks, investors will have an opportunity to invest in farmland at an excellent time due to a lag in crop insurance payments. Farmers have been reporting that crop insurance payments are expected to arrive in November, which will limit farmland purchasing power from the majority buyer of farmland; farmers. Since farmers make up nearly 75% of all farmland buyers, even conservatively committing a down payment from a farmer on land may be an issue until November. We have been able to recently source properties for sale at strong values and expect this to continue through harvest.
Disclosure: I have no positions in any stocks mentioned, and no plans to initiate any positions within the next 72 hours. I wrote this article myself, and it expresses my own opinions. I am not receiving compensation for it. I have no business relationship with any company whose stock is mentioned in this article.