We previously published our report based on our thesis that the Federal Reserve should let Citigroup (NYSE:C) increase its dividend 10-fold and to return $1B to Citigroup's long-suffering shareholders. We understand why the Federal Reserve failed Citigroup during the first CCAR Stress Test Examination scenario in March 2012. The Fed failed Citigroup because it objected to Citigroup's original plans to increase its capital returned to shareholders. The Fed didn't object to keeping Citigroup's current quarterly payout at its whopping $.01/share, which we think is mighty big of the Fed in doing so. Citigroup decided to resubmit to the stress test examination however in its makeup examination, it decided to not seek to return capital to shareholders in 2012. That enabled Citigroup to pass the makeup exam and this was formally announced on August 23rd.
The Fed required that banks maintain at least a 5% capital ratio after undergoing the stress scenarios, which is a measure of a bank's equity capital relative to its risk-weighted assets. Bill Ackman elaborated that if Citi had been allowed to return the amount of capital to shareholders that it proposed, it would have achieved a 4.9% capital ratio, 10 basis points below the required minimum. Unfortunately, the Fed took a "thumbs-up" or "thumbs-down" approach to the capital return request - if the bank's request was one dollar above the minimum as determined by the Fed, its request was denied. Even though Citi has a higher tangible equity ratio than JPMorgan Chase (NYSE:JPM), JPM had performed better during the crisis and was able to use its previously ethereal reputation to pass the stress test. JPM was allowed to boost its dividend by 20% and authorize a new $15B share repurchase program.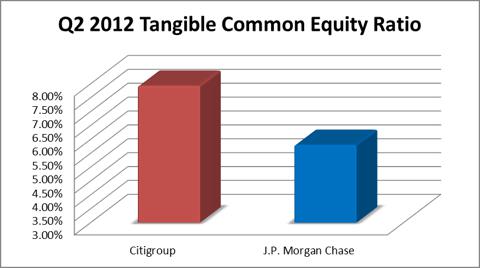 Source: Q2 2012 Press Releases for Citi and JPM
While Citigroup passing the stress test makeup exam is not very impressive in relation to its peers, which passed the stress test on the first attempt and was able to return capital to shareholders through dividends and share repurchases, we think it is still noteworthy. We noticed that if Citigroup had reduced its dividend/share repurchase program to shareholders slightly, Citigroup would have not only potentially passed the test, but it would have been able to return additional capital to shareholders in the form of dividends and share repurchases. In our report published on August 1st, 2012, we proposed a $2.1B return of capital program that was approximately even with regards to dividend increases and share repurchases. Our program only represented 1% of Citigroup's capital yet it would have served to boost Citigroup's per share quarterly dividend from $.01 to $.10, which we felt was very conservative, but certainly something that we didn't think the Fed could object to. Our estimate of Citigroup's capital took into account estimated pro forma Q3 net income from operations offset by the potential asset write-down at Citi Holdings (Citigroup's bad bank) for Citigroup's 49% stake in Morgan Stanley Smith Barney LLC.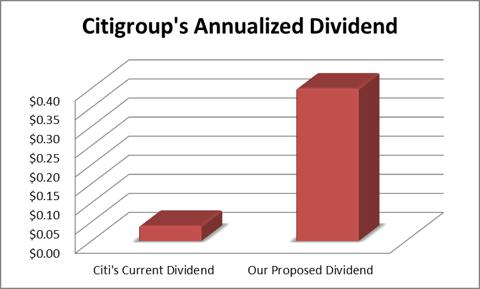 Source: Saibus Research's August 1st Report on Citigroup's Dividends
We think Bill Ackman sold out too early with regards to Pershing's position in Citigroup. Maybe he believed that the stock would be dead money until 2013. However, we have noticed that investors have been noticing that Citigroup is gaining ground on JPMorgan Chase and Wells Fargo (NYSE:WFC). Citicorp (Citigroup's good bank) saw its deposits growth by 7.4% year-over-year for Q2 2012 and that exceeded JPM's deposit growth of 6.4% in the comparable period. Even with the recent run-up of 20% since July 23rd, Citigroup is still trading at 53% discount to book value. We are expecting the Fed to take the handcuffs off Citigroup next year and we believe that this will further serve to help unlock value in the company.
In conclusion, we tip our hats to Vikram Pandit and Citigroup's management team for its progress towards catching up to JPM and Wells Fargo, as well as to reduce leverage and bolster Citi's capital ratios. We believe that people are starting to see that the Citigroup of 2012 is different than the Charlie Prince era of Citigroup or Citicorp in 1990. We believe that Citi's back to basics focus will enable it to continue its progress in generating deposit growth, reducing its leverage and bolstering its capital ratios. This will enable it to offset weakness from the run-off in Citi Holdings and to allow Citigroup to return cash to shareholders.
Disclosure: I am long C. I wrote this article myself, and it expresses my own opinions. I am not receiving compensation for it (other than from Seeking Alpha). I have no business relationship with any company whose stock is mentioned in this article.
Additional disclosure: This article was written by an analyst at Saibus Research. Saibus Research has not received compensation directly or indirectly for expressing the recommendation in this article. We have no business relationship with any company whose stock is mentioned in this article. Under no circumstances must this report be considered an offer to buy, sell, subscribe for or trade securities or other instruments.