Digital Domain Media Group (DDMG) is currently down 34%. The Florida based special effects company is known for rendering a stunning Tupac holographic performance at Coachella Valley Music and Arts Festival.
Since then the company has been in talks to create holographic performances of Elvis. CEO John Textor stated in the company's August 16, 2012, earnings call:
We reported a net loss attributable to common stockholders of $36 million compared to $71.9 million for the second quarter of 2011. This improvement was primarily attributable to non-cash adjustments related to financing instruments, which improved to an expense of $12.6 million compared to an expense of $52.1 million in the second quarter of 2011.
However an SEC filing just published:
On August 21, 2012, each of the holders of the Senior Notes severally notified the Company in writing that the Senior Notes were in default, asserting, inter alia, that the Company had failed to satisfy the terms of the Available Cash Covenant applicable as of August 20, 2012 ... the holders of the Senior Notes may elect to pursue all of their available remedies under the Senior Notes arising as the result of an Event of Default (as defined therein), including, without limitation, foreclosing on the first-priority security interest in all of the personal property of the Company and its subsidiaries held by the Collateral Agent (as defined in the Senior Notes) for the benefit of the holders of the Senior Notes.
Companies Need Income
Digital Domain Media Group may have an impressive ability to create special effects. However, so far the company has not been able to produce a sound financial structure.
The company's 2011 annual report showed $95M in revenue, $93M cost of revenue and $63M selling and administrative expenses. The company reported a $75M operating income loss. Net income came in at negative $140M on adjusted EBITDA of negative $22M.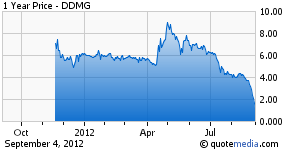 Despite these abysmal financials the company's stock leaped above $8. Digital Domain Media Group fell below $2 a share this morning.
Investors should consider the utmost caution with any company that has negative net income. Companies with negative net income should consider doing everything possible to reduce administrative costs, tighten compensation packages and increase revenue.
Investors should consider searching for a company's annual report. Even though a company may be popular their financials are important. In this instance Digital Domain Media Group has defaulted on Senior Notes.
Unlike Nokia (NYSE:NOK) or Ford (NYSE:F), a small company like Digital Domain Media Group has a less likely chance to rebound. However it is anyone's guess as to whether they can. Other than losing money and defaulting on Senior Notes the company does have artistic ability.
It is of the utmost importance that investors consult financial advisors in determining a course of action.
Disclosure: I am long DDMG, F, NOK. I wrote this article myself, and it expresses my own opinions. I am not receiving compensation for it (other than from Seeking Alpha). I have no business relationship with any company whose stock is mentioned in this article.