Merck (NYSE:MRK) can well cross pass $60 in the next two years and you don't have to stretch in your assumptions while modeling for this case. There are four major clinical trials that should shape this upside for investors. Positive results from these trials will put MRK on a double-digit growth trajectory by 2014. The current trends favor positive results and I am keeping my fingers crossed.
Studies that will shape MRK Growth Outlook
If TECOS study evaluating cardiovascular benefit of Januvia is successful, Januvia peak sales could well exceed

$12 billion.

If HPS2-THRIVE study evaluating Cardiovascular benefit of raising HDL using Tredaptive is successful, Tredaptive will be a mega blockbuster drug
If the interim analysis of IMPROVE-IT trial shows that Vytorin is superior to Zocor in reducing CV morbidity / mortality endpoint, Vytorin growth which is currently declining should move back on a growth trajectory
If the Data from Pivotal Phase 3 study shows Odanacatib has a superior safety profile compared to bisphosphonates (no osteonecrosis), Odanacatib will repeat Fosamax Success in Osteoporosis
CURRENT TRENDS FAVOR POSITIVE RESULTS FROM HPS2-THRIVE TRIAL
HPS-2 THRIVE study has enrolled 25,000 patients and is one of the largest CardioVascular (NYSE:CV) outcome study. The objective of the study is to evaluate whether HDL (High Density Lipoprotein) cholesterol raising effect of Tredaptive would translate into a reduction in adverse Cardiovascular events in patients with a history of circulatory problems.
I am expecting positive results and looking at $2 to $5 billion in peak sales for Tredaptive, depending on the extent and scope of benefit observed in the HPS2-THRIVE trial. The trial will report data in first half 2013.
Background on Tredaptive
Tredaptive is an HDL raising drug that combines Niacin with a novel drug (laropiprant) to overcome the flushing side effect associated with Niacin monotherapy. Tredaptive improves compliance when compared to Niacin. Superior compliance should improve HDL levels in the blood and thus reduce cardiovascular risk. HPS2-THRIVE study, if successful, would validate the hypothesis that raising HDL levels should reduce the risk of cardiovascular morbidity/mortality
Why the current MRK stock price does not build a successful result from HPS-2 THRIVE ?
The hypothesis HDL is an independent risk factor of Cardiovascular events is being questioned. In the recent past, investors have witnessed two major trials that failed to show the benefit of HDL raising on CV outcome. In the AIM-HIGH trial Niacin failed to show improvement in Cardiovascular risk and was discontinued earlier because of lack of efficacy. The other failure was Roche's Dalcetrapib, which also failed to demonstrate efficacy benefit in the DAL-OUTCOME trial. These failures have made investor's cautious about HPS-2 THRIVE, although current trends favor positive results.
Why HPS2-THRIVE may still succeed, despite failure of AIM -HIGH and DAL-OUTCOME trials?
1) Current Trends Favor Positive Results
A Data Safety Monitoring Board (DSMB) is looking at the trial for safety and efficacy. The DSMB has taken an interim look at the data and has given a green signal. This suggests potential benefit and no safety issues.
2) The power of HPS2-THRIVE trial to detect clinical benefit is much higher than AIM-HIGH.
HPS-2 THRIVE study has enrolled 25,000 patients, compared to 3500 in AIM-HIGH trial. AIM-HIGH trial was stopped 18 months before schedule. The average follow up when AIM-HIGH trial was stopped at 32 months. HPS-2 THRIVE continues to progress after an average follow-up of 36 months.
3) Tredaptive when compared to Niacin should provide superior benefit, driven by better compliance.
4) Tredaptive raises HDL and lowers LDL compared to Roche's Dalcetrapib which only raises HDL.
5) The trial design of HPS2-THRIVE is more conducive than AIM-HIGH for getting a positive outcome. The AIM-HIGH trial protocol required similar LDL cholesterol levels in the active treatment and control arms during the study. HPS-2 THRIVE trials allow for LDL difference between the arms during the study.
JANUVIA FRANCHISE (JANUVIA, JANUMET XR AND JUVISYNC) WILL CROSS $12 BILLION IN PEAK SALES
Januvia belongs to a class of drugs called DPP-IV. DPP-IV class of drugs offers unique benefits over existing treatment options especially sulfonylurea's. DPP-IV drugs are weight neutral and do not cause hypoglycemia and hence they are being increasingly preferred in earlier stages of treatment. The Januvia franchise which grossed $4.8b in annual sales in 2011, comprises three drugs - Januvia, Janumet XR (Januvia + Metformin XR) and Juvisync (Januvia + Simvastatin). The franchise continues to grow aggressively even at the current base. In the 1H-2012, the franchise grew at a staggering 30% (yoy). Merck is conducting an outcome Study called TECOS to show Januvia can reduce risk of Cardiovascular events in diabetes patients
DPP-IV's are poised to become the second largest class of treatment among oral anti-diabetic agents:
The DPP-IV market is growing much faster than the diabetes market, driven by penetration in earlier lines of treatment. DPP-IV's have approximately 10% market share in the oral anti-diabetes space. I expect the market share to double from current levels. The increase in market share would be driven by cannibalization of sulfonylurea's market share. The sulfonylurea's now have approximately 30% of the oral anti-diabetes market share.
Why will DPP-IV's cannibalize Sulfonylurea's
Drugs that offer Long term safety / Outcome benefit and are more tolerable are preferred in the earlier lines. Metformin and sulfonylureas are the standard of care in the first and second line setting respectively. Metformin which has 45% market share is the gold standard treatment. It has set a high bar for newer drugs to grab a share from its pie. Sulfonylureas which is the second largest category in the oral anti-diabetes market have ~ 30% market share. The data so far suggests that DPP-IV's are better than sulfonylurea's on tolerability. Unlike sulfonylurea's DPP-IV's are not associated with weight gain, hypoglycemia and secondary failure. Hence over time I expect sulfonylureas to lose market share to DPP-IV's. Clinical trials are also ongoing to establish the CV outcome benefit of DPP-IV's compared to existing treatment options. If the results are positive, we should see DPP-IV's replacing sulfonylurea's as the second largest segment within oral anti-diabetes space.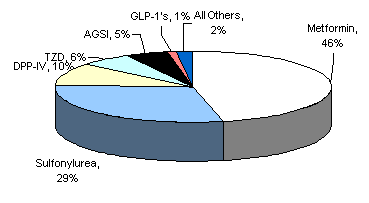 Source : AstraZeneca (NYSE:AZN) , Company Presentation
Januvia would be first among the DPP-IV on the US market to report Cardiovascular Outcome data, and is likely to be positive
A pooled analysis of 19 double blind controlled studies of up to 2 years in duration with more than 10,000 patients shows that Januvia has a lower Cardiovascular risk than comparator arms. In another pooled analysis comparing Januvia to sulfonylureas, there were no patients on Januvia arm who had a CV event per patient year follow up, as compared to 11 events per patient year follow up in sulfonylurea arm. In order to get a label for this CV benefit, MRK has initiated an CV outcome study (TECOS) on Januvia. The outcome study will enroll 14,000 patients and would complete by 2014.
Januvia will continue to grow and lead the DPP-IV class despite competition
A recent study by IMS has found that follow-on drugs in a competitive market like diabetes,, are unlikely to grab a decent share. This is true when follow-on drugs lack differentiation and is not backed up with an effective marketing campaign. Usually, the follow on drug ends up chasing ever-decreasing portions of the market. We have seen the same case with DPP-IV market. Januvia has very well capitalized its first mover advantage. Two other DPP-IV's have been approved in the US, but Januvia continues to grow unabated and still takes about 80% of the DPP-IV market (Chart 1). AstraZeneca's (AZN) / Bristol Myer's (NYSE:BMY) Onglyza / Saxagliptin and Eli Lilly's (NYSE:LLY) / Boehringer Ingelheim's Tradjenta / Linagliptin are the other two DPP-IV inhibitor on the market. Compared to Onglyza or Tradjenta, Januvia appears to have a better efficacy. In an 18 week study, comparing Januvia to Onglyza, Januvia reduced HbA1C by 0.62% as compared to 0.51% with Onglyza. In another 28 days study, Januvia was associated with a greater weighted mean glucose reduction at 28 days when compared to Boehringer ingelheim's Linagliptin. (26.1 mg/dl vs. 19.8mg/dl).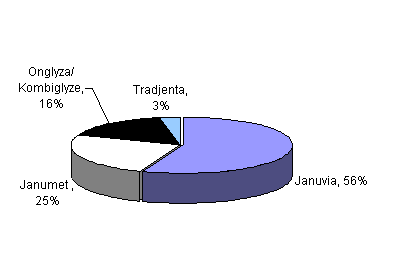 Source -Merck, Lilly, Bristol-Myers
Life Cycle Management and customer focus will keep competition at bay
About 60% of the diabetes patients are on concomitant statins and simvastatin is currently the leader in the statin class. In order to improve patient compliance, MRK has recently introduced Juvisync (a fixed dose combination of Januvia and Simvastatin). Juvisync, besides enhancing patient compliance, also has entrenched the Januvia brand among the physicians . MRK is also developing a fixed dose combination of Januvia and atorvastatin, which should reach the market by 2014.
RESULTS FROM THE IMPROVE-IT TRIAL ON VYTORIN/ZETIA:
IMPROVE-IT trial is evaluating Vytorin against patent expired Zocor in head to head trials on CV morbidity / mortality endpoint in 18,000 Acute Coronary Syndrome (ACS) patients.
A successful outcome from the trial would rejuvenate sales of Vytorin. Vytorin sales are currently declining at double digits (~ 20%) on a year over year basis.
The data monitoring committee (DMC) is monitoring the trial. In the recent past the DMC conducted interim analysis of the trial data with regard to safety and efficacy and gave a go-ahead signal. The DMC recommendation to continue with trial is reassuring in terms of the efficacy and the long term safety of Vytorin. The DMC has also indicated that they will take another look at the trial data in early 2013 or by YE 2012. Since futility is not a pre-decided criterion for early discontinuation of the trial, hence the decision of DMC to review the data in the next nine months may be indicative of their expectation that the efficacy would reach statistical significance by then.
ODANACATIB - SUCCESSOR TO FOSAMAX
Odanacatib is a cathepsin K inhibitor and is being developed for Osteoporosis. Recently the DSMB advised early discontinuation of the ongoing Phase 3 trial, because of a clearly favorable risk-reward profile. Osteoporosis is a very large market and MRK's Fosamax which is currently facing generic competition reached peak sales of ~$4billion.
Besides a comparable efficacy, there are some obvious advantages that Odanacatib has over existing oral bisphosphonates that are widely used, which would help it atleast carve a niche for itself.
After taking bisphosphonates, patients need to sit upright for atleast 30 minutes, and this is not the case with Odanacatib. Bisphosphonates are also contraindicated in patients with renal insufficiency or with abnormalities of esophagus. In pre-clinical studies on Odanacatib it was found that only 5-10% of the drug is eliminated through renal route. Hence it is likely that we might see a positive outcome from the ongoing study evaluating Odanacatib in patients with renal insufficiency.
The potential upside in its peak sales potential would largely depend on the safety profile of Odanacatib, especially on Osteonecrosis of Jaw.
Globally bisphosphonates prescriptions are declining because Osteonecrosis concerns. Even Amgen's drug Prolia, which was approved in the recent past for Osteoporosis causes Osteonecrosis of Jaw. We would see the detailed data on Odanacatib next year and if Odanacatib is able to keep this safety issue off, it is for sure a potential heir to MRK's own drug Fosamax , which grossed close to $4 billion in peak sales prior to patent expiry ( 2008).
What is the downside risk if the outcome from these trials does not deliver as per expectations?
I see a safety net embedded in MRK's current cost structure. Because of these large outcome trials that are ongoing, MRK is one of the largest R&D spenders among peers. MRK currently spends approximately $8.3 billion on R&d annually. Once these outcome trials are complete, I see MRK reducing annual R&D spend by $2 to $2.5b which should alone help the EPS by around 20 percent.
Disclosure: I have no positions in any stocks mentioned, and no plans to initiate any positions within the next 72 hours. I wrote this article myself, and it expresses my own opinions. I am not receiving compensation for it (other than from Seeking Alpha). I have no business relationship with any company whose stock is mentioned in this article.