RBC Capital Markets has upgraded Canadian Natural Resources Ltd. (NYSE:CNQ) to "outperform" and downgraded Nexen Inc. (NXY) to "sector perform" citing their relative valuations and oil sands project execution risk.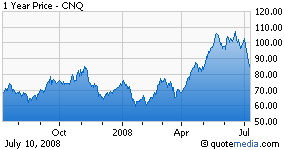 Given the roughly 20% decline for Canadian Natural shares since peaking in mid-June, the stock is now at an attractive valuation relative to some of its peers, analyst Gordon Gee told clients. However, he lowered his price target from C$115 per share to C$110.
He said:
Despite our view that Horizon production will ramp up more slowly than company expectations, we believe the execution risk to be lower than that of a competing project such as Long Lake (Nexen and OPTI Canada Inc.).
The analyst also noted that Canadian Natural is discounting oil prices in the range of $90 per barrel.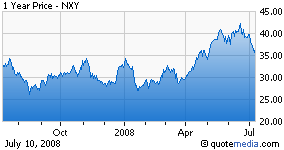 As for Nexen, which saw its target price cut from C$48 to C$43, Mr. Gee noted that not only will Phase 1 of Long Lake face execution risk associated with achieving upstream production volumes, but upgrader and gasifier integration as well.
He noted that it too has an attractive valuation, but recommended switching into another producer like Canadian Natural given the declines for it and other names.