Investors may be quick to assume that timber does not have much potential for investment. The opposite is true, however, as the price of timber has risen 5% annually. The Claymore Beacon Timber ETF (NYSEARCA:CUT) exchange traded fund is a play on lumber prices and any moves in the housing market.
"During America's last major inflationary period - from 1973 to 1981, when inflation averaged 9.2% - timberland values increased by an average of 22% per year" Larry D. Spears wrote for Money Morning.
Timber can be a hedge in any market against inflation, as the price of timber outpaces inflation. Furthermore, the Timberland Index has risen 15% per year, in comparison to the 9.61% annualized return for the S&P 500. Most recently, in 2008, when the S&P 500 lost 38%, the NCREIF Timberland Index 9.5%, reports Spears.
Timber is also benefiting from the rising global demand. Supply and demand for lumber is bullish on a global scale,and when you factor in the prospect of the U.S. housing market rebounding the case gets stronger.
ETFs offer investment choices for those investors that want to mitigate the risk of a single company. For instance, CUT is composed of companies from around the world that own or lease forest land, harvest trees for lumber and other wood-based products, and that produce such finished products as lumber, paper and even packaging. All have a minimum market capitalization of $300 million, and trade in the United States.
CUT has gained 28% over the past 6 months, and has a dividend yield of about 3%.
The iShares S&P Global Timber & Forestry Index Fund (NASDAQ:WOOD) include forest products companies, timber real estate investment trusts (REITs), paper-products companies, paper-packaging companies and agricultural-products companies. There is no dividend yield for WOOD yet.
Despite a slow housing market in the U.S.,much of the timber cut domestically is transported overseas, where housing market are in better shape. While timber prices and ETFs will rise based on good news from the housing market in the United States, it also jumps from the fundamentals of economic demand, reports Chris Vermeulen for ForexPros.
Claymore Beacon Timber ETF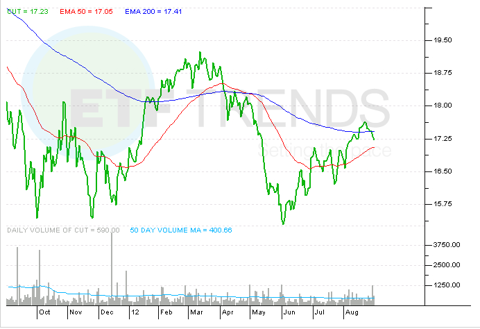 Tisha Guerrero contributed to this article.
Disclosure: I have no positions in any stocks mentioned, and no plans to initiate any positions within the next 72 hours. I wrote this article myself, and it expresses my own opinions. I am not receiving compensation for it. I have no business relationship with any company whose stock is mentioned in this article.