Despite economic headwinds and the turmoil in Europe, First Solar's (FSLR) sales have significantly increased up to 90% QOQ. The stock has shown an upside of 73% in the last 3 month. Our 12-month expected target price is $95, with a considerable upside of 300%, based upon EV/EBITDA. On EV/Revenue basis, the stock is trading at a 30% discount to its competitors. The company has ample growth potential in line with the growth in the Semiconductor/Solar Industry, which it can achieve through its drive to achieve grid parity and cost effectiveness in its operations. The company's efforts in moving its exposure to markets like India and Australia will help the company generate more revenues in the coming years. The company has recently appointed George Antoun as COO, who is well known for his operational leadership skills. The PV module in the U.S. grew by 120% in the first half of the year, and the company's ongoing projects will bring a substantial amount of revenues at their completion. Due to the aforementioned reasons, which are discussed at length below, we recommend a long position in First Solar.
The company's revenue increased by 80% in 2Q2012, primarily because of an increase in the sale of large-scale power generation projects. First Solar has shifted its focus from solar panels to large scale power generation projects. This will help the stock to trade at higher valuation multiples. Some of its major buyers with regards to large scale power projects include Exelon Corporation (NYSE:EXC), Berkshire Hathaway Energy Division (BRK.A) and Enbridge (NYSE:ENB).
Competitive Analysis
Rivalry among Competitors
The Solar Industry has been facing intense competition, with each player fighting to acquire the maximum market share. The company has benefited from the U.S. government's anti-dumping policy on Chinese solar imports. This has reduced the power of Chinese players. The high tariffs have created serious problems for the world's largest solar maker, Suntech Power Holdings Co. (NYSE:STP). Moreover, Trina Solar Ltd. (NYSE:TSL)'s revenues from the U.S. decreased from 36.8% to 26.3% QoQ. However, MEMC Electronic Material (WFR)'s share price rose by 55% in the last 3 months, after witnessing a revenue increase of 78% in 2Q2012. First Solar has managed to restore its competitive position in the Solar Industry; with its substantial market share, convergence efficiency of 12.6%, low cost per watt of $0.63, and considerable growth potential.
Bargaining Power of Customers
Chinese production of cheaper solar products has triggered an increase in the bargaining power of customers. The customers are looking for low cost electricity and high solar module conversion ability. Price, along with the electricity conversion ability, is an important catalyst in the industry. The bargaining power of customers enhances with competitors' low-cost products. First Solar's major customers are independent power producers and developers, commercial companies, industrial companies, and other buyers of large scale power generation projects.
Threat of New Entrants
Threat of new entrants is not that high in the industry, primarily due to the thin profit margins. As the graph given below shows, the margins are continuously decreasing in the industry over the last three years or so. The thin profit margins make it unfeasible for new entrants to invest in the industry.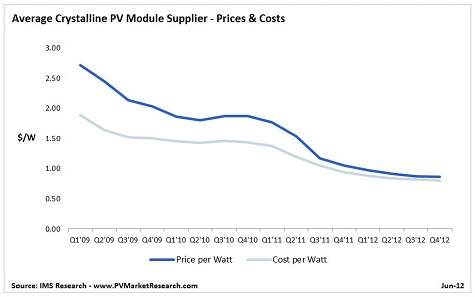 The company, in this regard, is facing a potential threat from power generation through other means, including wind turbines and fossil fuels.
Financial Analysis
Direct Competitor Comparison

FSLR

TSL

STP

(NYSE:YGE)

(NASDAQ:JASO)

Market Cap:

1.71B

314.52M

162.87M

258.82M

185.92M

Qtrly Rev Growth (yoy):

80%

-40%

-53%

-9%

-32%

Revenue (NYSE:TTM):

3.12B

1.61B

2.68B

2.26B

1.23B

Gross Margin :

27%

8%

8%

12%

0%

EBITDA :

563.77M

-126.25M

-116.80M

18.34M

-31.07M

Operating Margin :

9%

-13%

-10%

-6%

-10%

Net Income :

-555.03M

-219.15M

-1.17B

-607.48M

-238.30M
The company's net income increased by 82% in the second quarter; its free cash flows have significantly accelerated, and were over $300 million in the last quarter, which reflects its ability to pursue future development projects to increase maximum shareholder value. The table given above shows its strong financial position as compared to its peers. First Solar's strong operational strength is seen in its EBITDA margin. Its operating and gross margins are 9% and 27% respectively, far more than its peers in the industry. Due to increasing demand, its EPS and net income guidance have increased from $4-to-$4.7 per share and $3.5-to-$3.9 billion respectively for 2012. Suntech has reported a 2Q loss of $84.2 million; with that we have seen a decline of 4.2% in its share price. FSLR's Capex has increased by 26% in the last quarter. The company produces the highest revenue of $3.12 billion because of high sales of cdTe panels, which are famous for their compatibility in hot climates. These panels are generating a considerable amount of revenue for the company in hot weather countries. Along with that, a shift towards power generation projects enhances its financial performance.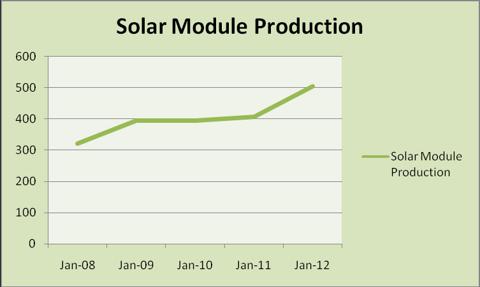 There is an increase in solar module production because of its increasing demand, as depicted in the above graph. Global solar energy demand has grown by 30% annually over the last 20 years. First Solar also increased its production from 1.8GW to 1.9GW over the last quarter to cater to this increasing demand. We believe that if the company brings further technological innovation, and further decreases costs by achieving manufacturing economies of scale, it will easily compete with other energy substitutes.
The company's sales and net profit margin have improved over the last quarter. We can predict the same upward trend in the coming years. The company recently installed its 10 millionth power plant PV module, with an installation capacity of 550MW. The company is also working on some other important projects like Desert Sunlight, which will be able to produce 2.7GW to support 7,000 construction and other manufacturing jobs in North America.

Figure Source: Google Finance
First Solar is the only stock in the industry that is showing a bullish outlook in the future. The stock is down 80% from its 52 week highs and has a considerable potential to move upwards with increasing demand.
Valuation
Direct Competitor Comparison

PEG (5 yr expected):

0.22

-

1.14

P/S :

0.55x

0.19x

0.06x

0.11x

0.14x

Enterprise Value/Revenue :

0.48x

0.62x

0.73x

1.14x

0.27x
We estimate our 12-month target price as $95 using an EV/EBITDA multiple, with an upside of 400%. The stock is trading at EV/Revenue of 0.5x, at a significant discount as compared to its peers Yingli Green Energy , Suntech Power and Trina Solar Limited. However, it is trading at a premium when compared to JA Solar 's EV/Revenue of 0.27x. The stock is trading at cheap valuations as reflected in its five-year expected PEG ratio of 0.22. This high upside reflects the company's potential to capitalize the high demand of solar panels. The company's cost per watt has been substantially decreased from $0.73-to-$0.63.
The stock is trading at 5 times its 2013 earnings. We think that securing of IPP customers will help the stock to trade at better multiples.
Below are the details on FSLR's valuation and target price of $95.
| | |
| --- | --- |
| Average. EV/EBITDA(Last four years) | 12x |
| Estimated EBITDA of 2013 ($ millions) | $665 |
| EV | $8,226 |
| | |
| EV | $8,226 |
| Less: (Debt) ($ millions) | $619 |
| Add: Cash ($ millions) | $605 |
| Add: Marketable securities ($ millions) | $66 |
| | |
| Equity($ millions) | $8,278 |
| No. of shares (millions) | 87 |
| | |
| Target Price of 2013 | $95 |
Conclusion
The company has recently shifted its focus from solar panels to large scale power generation projects, to increase its revenues. This significant change is required to sustain the company's premium position in the market. Moreover, the increase in oil prices and U.S. tariffs on Chinese solar imports will help the company increase its revenue growth. A recent change in the top management signifies potential developments in the coming years.
Disclosure: I have no positions in any stocks mentioned, and no plans to initiate any positions within the next 72 hours.
Business relationship disclosure: The article has been written by Qineqt's Technology Analyst. Qineqt is not receiving compensation for it (other than from Seeking Alpha). Qineqt has no business relationship with any company whose stock is mentioned in this article.