Given the geopolitical climate, the continuing problems in Europe, as well as tepid domestic and worldwide growth, the fact the markets are up double digits percentage-wise so far is pretty remarkable. As we enter the most historically challenged month of the year, any fully invested portfolio that has ridden this wave should seriously consider raising at least 10% to 20% cash as we likely head into more turbulent waters. There should better entry points after things get clarified over the next six to eight weeks.
Here are 10 signs the market is starting to flash red"
Noted technician Louise Yamada, who called the top of the market in 2007, said the market is flashing amber, as this rally is being driven by short-covering, low volume, and deteriorating new highs vs. new lows.
MarketWatch's Mark Hulbert is also calling for September skid in the markets.
The market is also likely to be disappointed after either the upcoming Fed and/or ECB meetings that happen within the next 10 days, as expectations seem to be high for both.
The global semiconductor market is expected to decline for the first time in three years, as slowdowns in Europe and China take hold. ARM Holdings (NASDAQ:ARMH) has already warned of a second half slowdown. Look for more companies in this important sector to follow suit.
The "Fiscal Cliff" is now less than four months away, and is likely to produce an increasing amount of concern from investors.
Europe continues to be a basket case. One item that is not getting enough press is the accelerating capital flight out of Spain. It is only a matter of time before the fourth largest economy is forced to seek a bailout.
Firms in the periphery countries in Europe are increasingly unable to get loans at reasonable rates, accelerating economic decline in these countries.
Consensus is forming that China's growth will come in under 8% for 2012, and the slowdown is negatively impacting commodity prices, especially iron ore. Stimulus measures may be hampered by the once a decade leadership transition.
America's mutual funds had withdrawals of another $12.7bn in July, the fifth consecutive monthly outflow. Not exactly a vote of confidence for equities by retail investors.
The S&P looks like it has a lot of upside resistance at current levels (see chart below).
(click image to enlarge)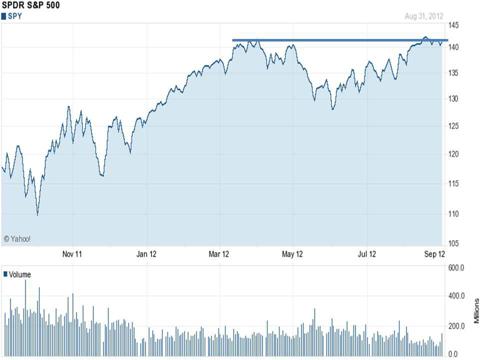 Disclosure: I have no positions in any stocks mentioned, and no plans to initiate any positions within the next 72 hours. I wrote this article myself, and it expresses my own opinions. I am not receiving compensation for it (other than from Seeking Alpha). I have no business relationship with any company whose stock is mentioned in this article.