It's been a good year so far for equity based high yielding Closed-End funds (CEFs). Roughly half of the funds I follow have outperformed the S&P 500 on a market price basis though only a handful have actually outperformed on a Net Asset Value (NAV) basis. Still, there are funds that present good opportunities for investors and others that investors should take advantage of the run up and sell.
The following Table shows in green the top 40 equity CEFs out of roughly 75 whose market price total return performances have outperformed the S&P 500 YTD through August 31, 2012. I use the SPDR S&P 500 Trust (NYSEARCA:SPY) as the benchmark for these funds since not only is SPY the most popular and heavily traded ETF, it also includes dividends which makes the comparisons more apple-to-apples. YTD, SPY has risen 13.52% including dividends so all of the fund's market prices shown in the table have risen more than that. Other relevant information shown includes NAV total returns, premium/discount levels and market price/NAV yields of each fund.
The funds are color coded by their income strategy...blue for option-income, orange for leveraged and olive for dividend harvest. In addition, I have included 'red flags' for funds that may have overly high premium valuations, NAV yields or expense ratios. Note: Leveraged funds tend to have higher expense ratios because of the cost of borrowing included in their expenses.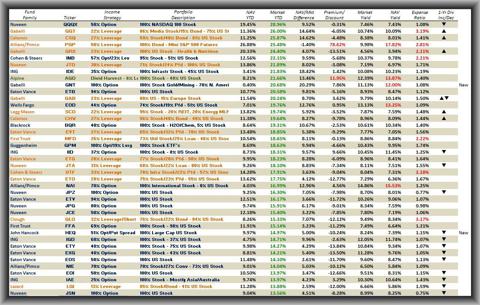 Though I normally would be comparing NAV total return performances, which is the true apples-to-apples comparison with the fund's benchmarks, I realize that investors would rather know how their funds have performed on a total return market price basis, since after all, that's where the money is at.
Funds To Sell
I'm going to start with funds that I would be lightening up on because it is easier to find overvalued funds after the strong performance of the broader market. All of these funds have one common theme and that is they all have excessively high NAV yields (red flagged in table above) which have resulted in some of the worst NAV total return performances in their classes. These funds may look attractive to investors with their high market yields, but all of them are overpaying their distributions and are in need of distribution cuts if they want to have any chance of reversing their NAV erosion.
1. The first fund is the Alpine Global Dynamic Dividend fund (NYSE:AGD) at a 13.9% NAV yield and an 11.9% premium pricing. I've written often on AGD and I am just appalled that anyone sees any redeeming qualities in this fund, particularly at a premium price. By my calculations, AGD should be trading closer to a $4.25 value, or an -18% discount instead of a $5.81 current price and an 11.9% premium. Based on the amount of NAV loss that this fund has shown since inception in mid 2006 (about $2.30 on average per year), I would need to have at least a 17% market yield before I would accept the risk that this fund will just continue to amortize its NAV over time. And based on a 17% market yield with no distribution cut, that would put AGD trading closer to a $4.25 market price. Don't be fooled by a positive UNII, AGD's dividend harvest income strategy may be great at reaping portfolio dividends but the cost to the fund's NAV has been enormous. AGD is up 21.7% on a market price basis and is significantly overvalued in my opinion.
2. The second fund to sell is the Wells Fargo Advantage Global Dividend fund (NYSE:EOD). EOD has made another run to a slight premium and that's a good time to unload this perpetual NAV underperformer. A 13% market yield may look juicy to investors but EOD has the worst total return NAV performance of all the global option-income CEFs I follow. Here's another fund that has lost an enormous amount of NAV since its inception (from $19.06 to $8.45) and needs to cut its distribution to have any hope of sustaining its NAV going forward. Unfortunately, a defensive options-income strategy and 20% in preferred stocks in its portfolio is not going to provide EOD the NAV upside to support a 13.3% NAV yield and I would sell EOD until the distribution is cut and a more reasonable distribution is offered. EOD is up 19.7% on a market price basis and goes ex-dividend on September 14th.
3. The last fund to sell is the Allianz International & Premium Strategy fund (NYSE:NAI). Another option-income fund whose defensive sell call option strategy will not likely generate the NAV upside to support an exorbitant 15.5% NAV yield over time. NAI needs to cut its distribution and we'll find out at its next declaration later this week or early next week. NAI is an international stock fund with no US stock exposure so it is very susceptible to weak overseas markets. With an NAV up only 4% YTD and at a 4.6% premium pricing, NAI is a sell.
NOTE: Two other funds, the PIMCO Global StocksPlus & Income fund (NYSE:PGP) and the Gabelli Natural Resources, Gold & Income Trust (NYSE:GNT) are also red-tagged with excessive NAV yields in the table but both also have strong NAV upside potential when their income strategy is optimized, much more so than the three funds above. PGP owns long derivatives on the S&P 500, so in a year like 2012 in which the markets are up strongly, PGP can at least cover its exorbitant 17.8% NAV yield. PGP has the best CEF NAV total return performance YTD, up 26.9%. GNT is a sector specific fund that is heavily dependent on the direction of gold prices. Though I wouldn't recommend either fund at their premium market prices, and GNT may be in jeopardy of a distribution cut in 2013 following on the heels of the Gabelli Global Gold, Natural Resources & Income Trust (NYSEMKT:GGN) which cut its distribution from $0.14/share to $0.12/share last month, a strong gold market could help support the fund's NAV and market price.
Funds To Buy
1. The first fund to buy is the Gabelli Healthcare & WellnessRX Trust (NYSE:GRX). GRX has had a fantastic year both on a market price and NAV basis, up 24.4% and 20.3% respectively, but at a -13.5% discount and an extremely low 3.9% NAV yield, GRX is still undervalued and could see a healthy distribution raise by the end of the year. I first recommended GRX in early February when it was at a $7.44 market price and with no regular distribution in place. Since then, the fund has moved up to a 52-week high around $9 due to its strong NAV performance and the adoption of a regular distribution policy in March. GRX goes ex-dividend on September 12th.
2. The best buy in my opinion right now is the Calamos Global Dynamic Income fund (NASDAQ:CHW). CHW has been under increased selling pressure recently and this is a good opportunity to own a fund that is doing everything right but has dropped back to around a -10% discount. After raising its distribution substantially in January along with its sister fund, the Calamos Strategic Total Return fund (NASDAQ:CSQ), CHW was reducing its wide discount along with CSQ, but whereas CSQ has continued to narrow its discount and is trading close to a 52-week high around $10, CHW continues to sell off. What's interesting is that CHW has better NAV total return performance YTD than CSQ, up 11.4% vs. 11.2%, and has shown better NAV performance even on a longer term 5-year basis as well.
Both CHW and CSQ include a lot of convertible and corporate bond securities in their leveraged portfolios, around 45% as of 7/31/12, so they both rely less on stock dividends and stock appreciation than most leveraged funds which have less fixed income exposure. CHW also has a more global stock portfolio than CSQ which may be why it has been under selling pressure, but this hasn't detracted from its NAV performance at all compared to other global funds which have suffered due to their reliance on overseas stock markets. CHW and CSQ are also both monthly pay funds going ex-dividend on September 7th.
3. The last fund to buy is the Cohen & Steers Infrastructure fund (NYSE:UTF). UTF has a very defensive portfolio of yield oriented global stocks (US and international) in the utility, pipelines, toll/railroads and communication tower sectors. Combined with about 22% of its leveraged portfolio invested in preferred securities, UTF is in an excellent position to ride out any market weakness. With an outstanding total return NAV performance up 14.3% YTD and a -9% discount combined with a comfortable 8% yield, I still believe UTF is a buy even at a market price close to its 52-week high like GRX. Historically, UTF has had one of the best total return NAV performances of all global CEFs.
I cannot emphasize enough the quality difference in these six funds. If investors would only look past the yield differences and realize that it's the funds with the more reasonable NAV yields that have and will continue to show better total return performances over time than funds which overpay their distributions, then we would probably see more rational valuations and the premiums and discounts would be flip-flopped.
NOTE: If you would like to see the full table of equity based, high yielding CEFs I follow, please click on the Capital Income Management logo in the left column and sign up for my 2012 Fund Performance spreadsheet. You will need Excel 2007 or later to receive the table.
Disclosure: I am long GRX, CHW, UTF. I wrote this article myself, and it expresses my own opinions. I am not receiving compensation for it (other than from Seeking Alpha). I have no business relationship with any company whose stock is mentioned in this article.
Additional disclosure: Short AGD, EOD, CSQ