By Steven Orlowski
Investment management firm U.S. Global Investors (USGI) reported in August that the stocks in emerging European countries have performed impressively so far this year.
Moreover, although the region's shares have lagged U.S. stocks, they have significantly outpaced stocks in developed European markets.
While the SPDR S&P 500 Index ETF Trust (NYSEARCA:SPY) was up about 12% year-to-date through August and the Vanguard MSCI Europe ETF (NYSEARCA:VGK) gained approximately 6% (in the chart below, SPY is red and VGK is green), some emerging European countries provided returns comfortably in the high single digits — and at least one country has significantly outperformed both indexes.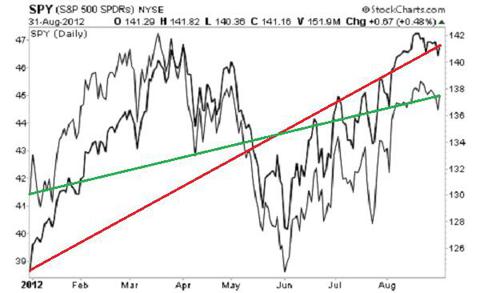 Among the best-performing emerging European countries is Poland. The homeland to my patriarchal ancestors, as represented by the iShares MSCI Poland Investable Market Index Fund ETF (NYSEARCA:EPOL), was up about 9% so far in 2012.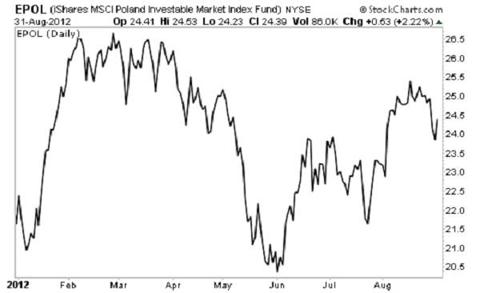 RSX, the Market Vectors Russia ETF Trust (NYSEARCA:RSX) had advanced by about 2% for the year by the end of August, lagging both SPY and VGK, so the good news is not all-inclusive.
But the best news out of emerging European countries this year has come from Turkey, a country that uniquely is alternately deemed Eastern European, Western Asian or, often, Eurasian. U.S. Global Investors considers it Eastern European, so I do too. The iShares MSCI Turkey Investable Market Index Fund (NYSEARCA:TUR) was up some 35% year-to-date through August.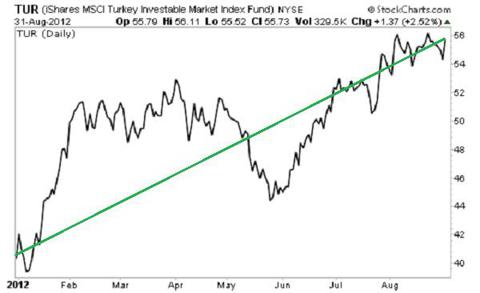 The U.S. Global Investors report cites a number of reasons to expect Eastern Europe as a whole to perform better than developed Europe and the U.S. in the future. For example, USGI estimates that these emerging European countries will enjoy superior gross domestic product growth: 4% for Russia and Turkey, and 2% to 3% for Poland.
The report also suggests that stocks in these countries are undervalued and have attractive dividend yields. These two measures alone could further arouse the interest (and investment dollars) of investors looking for emerging stocks with growth potential and higher yields than are available in the U.S. or developed Europe.
The problems in the eurozone don't seem likely to abate very soon. Future growth in the U.S. is suspect, and consensus estimates still project GDP to be about 1.5%. Despite SPY's outperforming VGK on a year-to-date basis, future growth is likely to be superior in VGK.
And for a country like Turkey, which straddles two continents and therefore has a distinct geographic advantage contributing to its growth, the future is certainly promising. It is reasonable to expect superior growth in emerging European countries to continue.