The advent of $4-per-gallon fill-ups generated a lot of headlines during the last few months, but gasoline wasn't the only commodity with a soaring price. Corn recently hit $8 per bushel for the first time in history, gold surged to $950 per ounce following a sharp drop in April, natural gas futures hit a 29-month high, soybeans topped $16 per bushel for the first time ever, and the price of a barrel of oil rose 38% to hit all-time highs beyond $140. iShares S&P GSCI Commodity-Indexed Trust (NYSEARCA:GSG), which invests in all those commodities, gained almost 29% for the quarter, even as broad market indices suffered losses.
GSG invests in futures contracts of 24 commodities: six energy products, five industrial metals, eight agricultural items, three livestock products and two precious metals.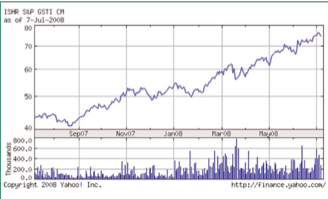 Like the index it tracks, the S&P GSCI, GSG's portfolio is world-production weighted. In other words, the amount of a particular commodity in which GSG invests is determined by the amount of that commodity that flowed through the global economy during the last five years. Standard & Poor's uses a complex methodology to estimate these production values, which shift constantly due to economic conditions. When growth in emerging markets is strong, for instance, agricultural and petroleum-based commodities tend to play a larger role in the global economy. Conversely, when global economic growth is mostly driven by industrialized countries, industrial metals are typically weighted heavier on the index.
Recently, the former scenario has been the dominant paradigm. Emerging economies such as China, India and Brazil continued to expand their presence in the global economy in recent months, causing demand for agricultural and petroleum-based commodities to continue growing. For example, China recently became a net importer of both corn and gasoline for the first time in its history.
More than 54% of GSG's assets recently were invested in crude oil. GSG is designed to offer investors exposure to a broad array of commodities, but the fund's world-production weighting system leaves it heavily focused on the fuel of the global economy. While GSG has benefited from its stake in oil recently, the fund's large position in one component may disappoint investors looking for a more evenly diversified take on commodities. Consider that GSG's exposure to commodities like cocoa, silver, feeder cattle and lead combined recently to make up less than 1% of the fund's assets. If oil prices plummet, these commodities won't do much to offset the impact on GSG. And with another 22% of the fund's assets invested in other energy products—gasoline, natural gas and heating oil investors should keep in mind that GSG first and foremost offers heavy exposure to the energy sector.
That said, one advantage of the world-production weighting system is that it allows GSG to reflect the changing dynamics of the global economy. For example, if a certain biofuel eventually usurps oil's role in the global economy, then GSG will invest the majority of its assets in that commodity. Likewise, if a particular crop overtakes corn's dominant position among agricultural commodities, that crop's role in GSG's portfolio will expand proportionately. Altogether, nearly 12% of GSG's assets recently were invested in agricultural commodities, with corn, soybeans and wheat taking the bulk of the agricultural allocation. The severe floods along the Mississippi River last month destroyed thousands of acres of corn, causing futures in the crop to rally sharply. High corn prices have spilled over to wheat as well, as farmers began to feed their livestock with the less-expensive product rather than conventional corn feed. The floods also hit soybeans hard, and supplies last week seemed in danger of sinking to historic lows.
Industrial metals and livestock were the worst-performing commodity sectors during the second quarter. Fears of an economic slowdown caused the automobile and construction industries to slash demand for metals like zinc, which saw its price sink 16% for the quarter. Demand for the metal grew 6.6% in 2007, but crept up only 0.6% during the first four months of 2008. Demand for cattle and hogs was robust in recent months, but expensive corn and wheat feed nonetheless made livestock commodities fairly unattractive. Hogs, which can't be put out to pasture to feed, fared especially poorly in this environment, with futures in the animal falling 9% for the quarter.
GSG has remained in the top three positions on the ETF Momentum Tracker sector rankings table since its January 22 debut. Its returns are equally impressive. The fund gained 44% year to date through July 3 and nearly 79% in the one-year period ending on that date. Whether GSG can keep up this pace largely depends on the fate of oil prices and, less important, the prices of other energy commodities. Politicians are struggling to devise policies to halt out-of-control oil, while economists are attempting to explain the phenomenon, and consumers and businesses are searching for ways to cut back on their fuel consumption. If such efforts are successful, oil prices may soften. But as long as emerging economies are driving the global economy with robust growth, many of the commodities in GSG's portfolio are likely to spur positive returns for the fund.