Is Caterpillar (NYSE:CAT) reaching that glorious place that most of us investors like to call the "double bottom"? From Investopedia, here is the definition they give:
The double bottom looks like the letter "W". The twice touched low is considered a support level.
Most technical analysts believe that the advance off of the first bottom should be 10-20%. The second bottom should form within 3-4% of the previous low, and volume on the ensuing advance should increase.
So is CAT close to qualifying for this status? Let us look at a chart and review some numbers.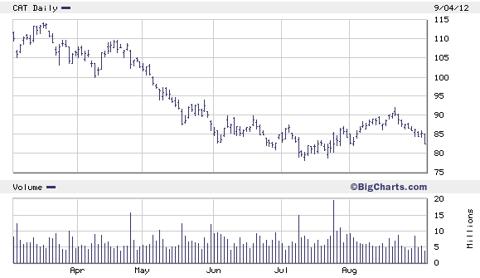 On July 12th, CAT was at a low of $79.64. On August 20th, CAT hit a high of $90.44. This equates to a 13.56% advance. On September 4th, we are seeing CAT trade for around $82.50, which is within 3-4% of the previous bottom. Of course we can't see if volume is increasing on the next advance, since we aren't there yet. However we do see that the volume on this bottom is much lower than the last bottom, which is a very positive sign.
CAT has consistently beat earnings over the last 4 quarters, and even with revised EPS values down for 2012 and 2013 mostly due to some of the economic slowdown, the values are strong
2012 EPS Projected: $9.62
2013 EPS Projected: $10.61
The 2013 EPS number was projected in the $11 range a few months ago, but even at $10.61, we are talking about a forward PE of 7.7. This is extremely solid looking forward. Let's review a couple other heavy equipment manufacturers and see if we can paint a more complete picture.
Joy Global (NYSE:JOY) had a low of $48.77 on August 2nd. On August 21st, JOY hit a high of $57.91. This shows a 18.7% advance. JOY is falling once again, trading at $51.37 on September 4th, not quite within the 3-4% of the last low. The other interesting thing looking at the chart for JOY is the big spike of volume has happened just recently.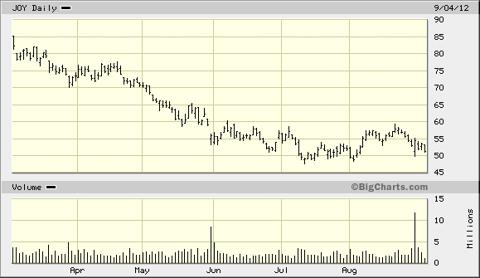 This spike occurred when JOY announced that they missed earnings for Q3.
My thought on JOY is that they still have a bit to go until they hit their bottom, especially with decreased guidance for 2013 which will actually fall short of 2012 EPS ($7.11 and $6.93 respectively).
The one large equipment company not following the same patterns is Terex (NYSE:TEX). TEX has a nice earnings surprise on July 25th, where they earned 75 cents for the quarter, compared to a 49 cent estimate. The stock took off from around $15 a share to the low 20's. Like CAT, TEX has had positive earnings surprises for the last 4 quarters. Terex is also showing growth, with a 2012 EPS estimate of $1.95 and a 2013 EPS of $2.60. This places TEX with a forward PE of just over 8.
Conclusion: If you look at the sectors and the charts, it's easy to compare CAT with JOY. If you look at the consistent earnings surprises and growth of earnings, CAT and TEX compare more favorably. CAT in my opinion has serious upside, even with the slowdown in China, and that is why I bought it today on the double bottom.
Disclosure: I am long CAT. I wrote this article myself, and it expresses my own opinions. I am not receiving compensation for it (other than from Seeking Alpha). I have no business relationship with any company whose stock is mentioned in this article.