Market Recap: It was a see-saw day for the market as the market dropped significantly after Construction Spending and the ISM Index came in weaker than anticipated. That news complemented some very weak data that was released from China's manufacturing sector, which actually showed some contraction for China. That news was mixed with the Fed comments at the end of last week along with anticipation of the ECB meeting on Thursday. The market got a bit of a pull mid-day as stocks bottomed on news that Apple (NASDAQ:AAPL) officially set the Sept. 12th event, and pictures surfacing promoting the event suggest the iPhone 5 will be released. Apple helped pull stocks up mid-day, and short covering definitely occurred as no one wants to be net long or net short into the ECB Thursday meeting.
Here are some stocks we like moving into the rest of the week and beyond:
Stocks To Trade
Today, we are looking at an earnings trade in Caterpillar (NYSE:CAT), longs in Symantec (NASDAQ:SYMC) and Morgan Stanley (NYSE:MS), and shorts in Netflix (NASDAQ:NFLX) and Cummins (NYSE:CMI).
For an earnings trade, we like the looks of Caterpillar right now. The stock broke on our screens today after the stock broke the 50-day MA. The news out of China about manufacturing, coupled with construction spending data here at home, both seem to suggest some fundamental weakness for infrastructure plays like CAT. The break of the 50-day MA couples fundamental weakness with technical weakness, and we do not see much upside for the company right now that is not market-based. CAT is expected to show some growth in earnings for this quarter, but we now believe data is bringing that into question. We like the 90 line for a bear call spread for CAT for Oct20 options. That paired with 92.50 is offering a potential 20% gain.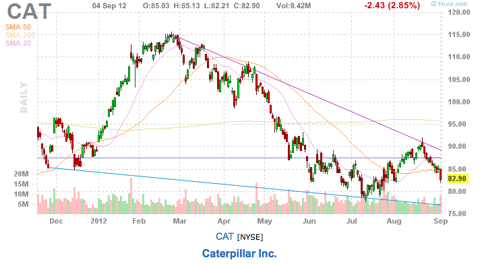 For longs, we like the looks of SYMC and MS. Both companies are really showing some nice upward momentum right now, and we would like SYMC for an equity position. The company is looking like it is primed for a breakout higher. The $18 line has been heavy resistance for Symantec all through August, and a break of that line should send the stock soaring. Symantec has been on fire since solid earnings at the end of July, and that momentum has stalled below $18. With the market potentially getting ready to rip a bit higher, SYMC looks well positioned for a swing trade. For a bit longer term, we like MS. The chart has really turned up after breaking what was resistance at 15, and we like a bull put spread on this one now under the $15 area. The 14/13 bull put spread for Oct20 is offering over 20% potential, and we see a lot of strength for MS right now. Financials are going to be one of the biggest benefactors from a move from the ECB. If they go through with a bond buying program, look for financials to lead the way.
For shorts, we like Netflix and Cummins. Cummins is really looking like a good short right now, especially if the stock breaks the key 50-day MA giving support to it right now. Cummins has some weakness with other machinery companies over the weak ISM, Construction Spending, and China news today. Now, the stock is either going to bounce off the 50-day MA or break it and drop a lot more. The company, in the long run, is a great company with solid business lines, but right now, the short-term picture looks bleak. It is a solid short candidate on a break of the 50-day MA as that is the last support before 85. Netflix got hit hard today by news that Amazon (NASDAQ:AMZN) is doing a deal with Epix that will add about 3,000 movies to their database, which definitely hurts the NFLX potential moving forward. The company looks great for a bear call spread as they are in a strong downward channel right now.
Tomorrow's Outlook:
The market showed resiliency today by coming back from triple digit losses despite an array of weak data and news. That move goes to show that the two important points for the market are the Fed QE potential and ECB meeting this Thursday. With some unknown there, the market still has potential for a lot of melting higher. At the same time, the ECB can easily disappoint this week, and that would drastically hurt the market. We expect another light day for these reasons though tomorrow. We actually have very little data tomorrow anyways.
Our Moves/Holdings:
We had a weaker day in the market as we were forced to close a long in Netsuite (NYSE:N) at our entry to halve our gains as well as we closed a Gamestop (NYSE:GME) bear call spread for a heavy loss after the Goldman upgrade. We added a short in Yum! (NYSE:YUM) to our Short-Term Equity Portfolio. We added calls for Costco (NASDAQ:COST) in our Options Portfolio. We added a long in Finish Line (NASDAQ:FINL) to our Earnings Alpha Portfolio. We added a long in Autozone (NYSE:AZO) and Fiserv (NASDAQ:FISV) to our Goldman Portfolio.
We have the following positions:
In our Short-Term Equity Portfolio we are long Microsoft (NASDAQ:MSFT). We are short Yum Brands.
In our Options Portfolio, we are long Costco, Apple (AAPL), Whole Foods Market (NASDAQ:WFM), Priceline.com (NASDAQ:PCLN), Google (NASDAQ:GOOG). We are short Safeway (NYSE:SWY).
In our Earnings Alpha Portfolio, we are long Finish Line, Crocs (NASDAQ:CROX), Discover Financial (NYSE:DFS), Smith & Wesson (SWHC), Lennar (NYSE:LEN), Ulta (NASDAQ:ULTA), Francesca's (NASDAQ:FRAN). We are short RedHat (NYSE:RHT). We have a reverse iron condor in Abercrombie & Fitch (NYSE:ANF).
In our Goldman Sachs Up/Down Paper Portfolio, we are long AutoZone and Fiserv.
Chart courtesy of finviz.com.
Disclosure:
I have no positions in any stocks mentioned, and no plans to initiate any positions within the next 72 hours. I wrote this article myself, and it expresses my own opinions. I am not receiving compensation for it (other than from Seeking Alpha). I have no business relationship with any company whose stock is mentioned in this article.