Ever since Bank Of America (NYSE:BAC) dropped to multi-year lows around $5, the stock has taken more time to climb through each resistance level. This time as well, the company's stock price seems to have got stuck around $8, which is its strong resistance level. Once the stock crosses $8.20, the next stop will be well above $9 (next resistance starts at $9.50).
Let us evaluate some reasons why the stock should be moving upward in the next month.
Earnings Performance
Looking back into the previous three years, BAC has reported 2 positive, 1 negative, and 1 inline earnings surprises.
The 2Q 2012 earnings call on 07/18/12 was a positive EPS surprise of more than 30% above the Wall Street consensus. The company reported 2Q 2012 net income of $2.5 billion and EPS of $0.19 (consensus was $0.14).
Positives coming out of the second quarter results are:
The company's long term debt reduced by $53 billion and the balance sheet became stronger, thanks to both maturities as well as the company's assertive liability management actions.
Capital ratios showed good improvement as well. The Tier 1 common capital increased by $2.5 billion, ending the quarter at 11.24% under Basel 1. The company said it expects the Basel 3 Tier 1 common equity to be 8.1% on June end - on track so far with their 7.5%+ target for 2012.

Regarding this, the company quoted during the earnings call:

"So based on where we came out at the end of quarter, we're quite pleased with the progress we've made so far".

The improvement in delinquencies and more importantly, the credit quality was faster than the analysts expected.
Expenses were less than expected and appear to be in control. Expenses declined 11% q/q. Such expense reductions should continue for the next two years, as the company completes its Phase 2 of the New BAC project.

The CFO had stated during the earnings call that the company is targeting to produce annualized cost savings of approximately $8 billion by mid-2015, thanks to combined efforts of both Phase 1 and Phase 2.

The company is working hard to be become leaner since past many quarters. It has announced closure of many branches and even job cuts. This in my opinion is a smart move that will help the company achieve better operating efficiency and reduced expenses in the next many years.
The impact of interchange related regulations on the company's debit card revenue was not as bad as the market had expected.
EPS Estimates Positive For Next Two Years
Take a look at the EPS estimates for Bank Of America.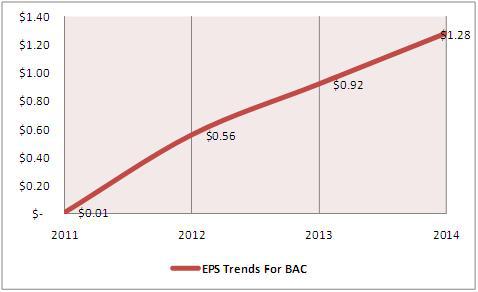 The 2011 annual EPS is the actual number, while the 2012-2014 numbers are the most recently revised estimates.
The quarterly EPS estimates for the next four quarters trends upward as well, with estimates for 3Q 2012 at $0.14, 4Q 2012 at $0.19, 1Q 2013 at $0.21 and 2Q 2013 at $0.24.
Bullish Options Activity
On 08/31/2012, more than 50,000 calls with $9 strike price and October 2012 expiration were purchased, indicating that many traders are expecting a short term rally in the stock price.
Bullish Technical Indicators
There are several positive technical indicators for this stock.
The slope for 10 day, 20 day, 50 day and 200 day Moving Averages are all up.
The On Balance volume indicator is positive and shows that there is lot of buying interest.
The Up-Down volume also indicates that the stock is under accumulation rather than distribution.
The company's stock has a high institutional holding (54%), and usually when market sentiments or a stock's technicals turn positive, institutional trading make a bigger impact because greater levels of accumulations occur. This tends to raise the stock price significantly higher in a relatively shorter period.
Conclusion
With 2Q 2012 results, the company seems to be on the right track.
If the stock pushes above $9 as suggested by the recent Option activity, the appreciation should continue to the $9.50-$9.90 range, which is the stock's next resistance level. This is appreciation of 18%-24% from its current $8.00 stock price, before the end of 2012.
Looking at the earnings estimates for next two years, BAC could appreciate to $12-$14 during this same period, and the price appreciation should have more momentum if there are any positive surprises.
Risks
BAC trades with a high beta of around 2. As with any other investment, there are several risks associated with BAC.
Risks related to regulations continue to linger for the entire sector and will not spare Bank Of America.
Investors should keep watch on whether the company stays on track for its expense reduction and capital ratio targets.
A slower recovery in the housing and overall economy will adversely impact the stock price.
Risks associated to lawsuits and similar contingent liabilities could impact the company's profitability.
Disclosure: I am long BAC. I wrote this article myself, and it expresses my own opinions. I am not receiving compensation for it (other than from Seeking Alpha). I have no business relationship with any company whose stock is mentioned in this article.