Virtually all riskier assets gained significant ground in August. Yet few have been as impressive as things like grains, oil and gold. Even the beaten down industrial metals like copper and aluminum appear to have found their footing.
Is it because Europe is growing its way out of its recession? Hardly. Eurozone leaders from Germany to the Netherlands still want a modicum of financial discipline out of Spain and Greece in exchange for upcoming bailouts.
Is it because probable China stimulus will create more demand for a wide variety of commodities? Perhaps. Yet Chinese leadership has been very deliberate in its determination on how best to enhance its already impressive expansion since the late 80s. In essence, whatever measures the Chinese leadership take may be modest.
So if demand for "stuff" remains questionable and supply is adequate (not counting the drought-damaged agricultural sub-sector), why are across-the-board commodities rising with impressive momentum? Are commodities simply positioned well to benefit from the present-day "risk-neutral" environment?
Popular Commodity ETFs Expect the Fed To Deliver On QE3
5 Days %
1 Month %
iShares Silver Trust (NYSEARCA:SLV)
5.2%
16.1%
PowerShares DB Precious Metals (NYSEARCA:DBP)
2.5%
7.8%
SPDR Gold Shares (NYSEARCA:GLD)
1.9%
5.7%
PowerShares DB Energy (NYSEARCA:DBE)
1.8%
6.1%
PowerShares DB Commodity (NYSEARCA:DBC)
1.5%
4.7%
iPath DJ AIG Grains ETN (NYSEARCA:JJG)
1.4%
2.0%
iPath DJ Copper (NYSEARCA:JJC)
0.0%
3.1%
SPDR S&P 500 Trust (NYSEARCA:SPY)
-0.8%
0.8%
In all likelihood, the most reasonable answer for a bounce-back in precious metals, oil and even certain industrial metals is the probability that the U.S. Federal Reserve will eventually embark on another round of quantitative easing (a.k.a. "QE3″). To do so, they will electronically create U.S. dollars that did not exist previously so that they may buy up more treasury bonds and mortgage-backed bonds. And since commodities are priced in U.S. dollars, the value of those commodities should rise with more dollars in existence.
In fact, one can easily see these price movements. As the Powershares Dollar Bullish Fund (NYSEARCA:UUP) has strengthened over the last 18 months.
Click to enlarge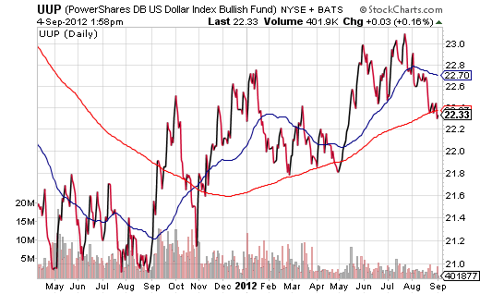 PowerShares DB Total Commodity (DBC) has weakened considerably.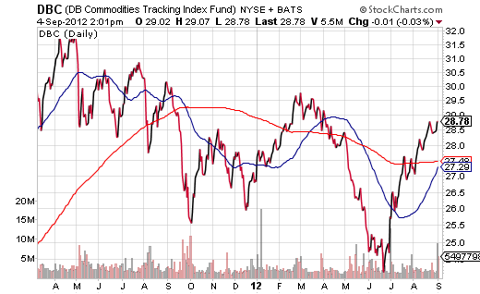 Of course, there's something else that investors should notice - trhat is, a shift may already be in the works. On behalf of the commodity space, DBC has recently entered an uptrend, while the greenback via UUP has recently dropped below its long-term 200-day trendline.
At the moment, at least, the expectations are pretty straightforward. The commodity uptrend/dollar downtrend is rooted in a conviction that the Federal Reserve will create more of the world's currency in yet another quantitative easing endeavor. Indeed, it is a reasonable expectation to believe that the dollar could depreciate and commodities could appreciate if there is an aggressive Fed move to enact QE3 policy.
Before betting against the greenback or allocating a large amount in commodity ETFs, however, one should pay some attention to the other school of thought. In particular, there are those who believe that further deterioration of the euro and eurozone is inevitable. Naturally, if there is a shock to the global system, panic has historically resulted in safe-haven, almighty-buck buying. So if you're gearing up to purchase a commodity ETF, be certain that you have an exit strategy to minimize the risk of the market moving against you.
Disclosure: Gary Gordon, MS, CFP is the president of Pacific Park Financial, Inc., a Registered Investment Adviser with the SEC. Gary Gordon, Pacific Park Financial, Inc, and/or its clients may hold positions in the ETFs, mutual funds, and/or any investment asset mentioned above. The commentary does not constitute individualized investment advice. The opinions offered herein are not personalized recommendations to buy, sell or hold securities. At times, issuers of exchange-traded products compensate Pacific Park Financial, Inc. or its subsidiaries for advertising at the ETF Expert web site. ETF Expert content is created independently of any advertising relationships.