As Power Industry Gets Facelift, Perhaps Utility ETFs Might As Well
The United States has an aging power grid, and efforts to bring it into modern times could benefit utility ETFs.
The target is for electric power providers to spend $17 billion on upgrades by 2010, reports Steve Gelsi for MarketWatch. The alternative, if the industry doesn't start making improvements, is increased blackouts and power-quality problems.
Utility providers are stuck, though, between the effects of an economic slowdown and uncertainty about climate legislation. Even so, while the power industry has often been criticized for its pokiness, it has stepped up efforts to go high-tech. But some still fault the industry for only stepping up its efforts after a crisis.
For example, the summer 2003 power outage that affected much of the Northeast. First Energy's (NYSE:FE) territory in Ohio was found to be the cause.
Dominion (NYSE:D) has been offering "smart meters" to homes in Virginia that allows users to tell them how much energy they're consuming and what it costs. But many of these improvements aren't coming for free. Florida's provider, FPL (NYSE:FPL), got the go-ahead to raise monthly bills by 8% from August through December to offset rising fuel costs.
But even with all the problems of high cost and a creaky system, energy demand continues to rise. Kevin Law, CEO of the Long Island Power Authority, says that on Long Island alone, yearly demand is going up 2% in Nassau and Suffolk counties, and 7% on the eastern end of the island.
Will high-tech translate into high returns for utility ETFs?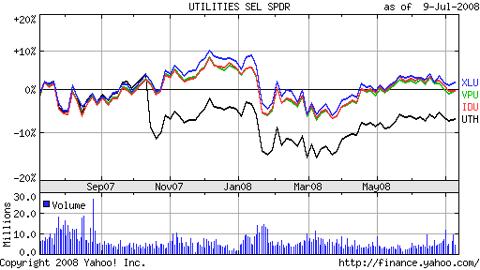 Retail Sales Lift ETFs In June, But It's Not Frivolous Spending
If you took that rebate check and went shopping, give yourself a hearty pat on the back, because you just might have helped some retail ETFs in June.
Retail sales overall rose 4.3%, reports Anne D'Innocenzio for the Associated Press. Wal-Mart (NYSE:WMT) and Costco (NASDAQ:COST) in particular benefited from the spending, likely because people whose dollars are already stretched by soaring gasoline and food costs wanted to use the extra dough to stock up on necessities and 10-gallon drums of oatmeal.
At Wal-Mart, stores open a year or longer saw sales jump 5.8%, the largest increase in four years. The discount retailer also said it expected second-quarter profit to be higher than it had forecast. Sales at Costco rose 9%, handily beating the analysts' predictions of 8.1%.
Who knows? Maybe Wal-Mart will be able to keep up the pace with an assist from Martha Stewart, who is planning to expand her line of crafts at the stores this month, according to the Chicago Tribune. When waterslides and swimming pools begin to bore you, perhaps Martha can interest you in a paper mâché project this summer?
Consumer Staples Select Sector SPDR (NYSEARCA:XLP), down 5.9% year-to-date
Vanguard Consumer Staples (NYSEARCA:VDC), down 6.4% year-to-date
Retail HOLDRs (NYSEARCA:RTH), down 5.6% year-to-date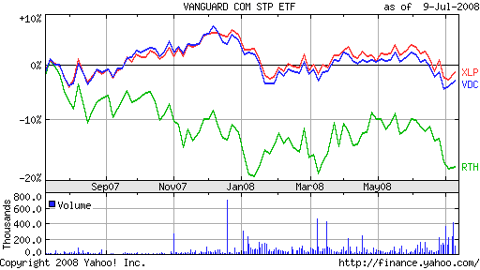 Can Biotech And Agriculture ETFs Get Acreage With Your Money?
Not many ETFs outside those focused on commodities are perched above their 200-day moving averages. That makes it worth noting that two biotechnology ETFs crossed the mark recently.
Both iShares Nasdaq Biotechnology (NASDAQ:IBB) and Biotechnology HOLDRs (NYSEARCA:BBH) have outperformed all other biotech and healthcare ETFs year-to-date. While IBB is down slightly, off 0.5%, BBH is up 8.7%. Respectively, they're 2.7% and 3.8% above their trend lines.
Some of the funds' success is from strong earnings reports from major holdings, such as Gilead (NASDAQ:GILD), which beat earnings estimates for each of the last 10 quarters, reports Trang Ho for Investor's Business Daily. The maker of HIV drugs and Tamiflu is 10.4% of IBB and 22.8% of BBH.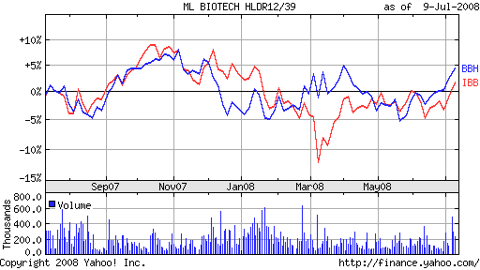 Another sector that could benefit from the biotech growth is agriculture.
The USDA reported that flooding along the Mississippi River and Missouri River have reduced corn and soybean acreage to be harvested as producers expect to harvest around 86% of the original acreage planted, reports High Plains Journal.
Corn planted in comparison to last year is down 7%, while soybean planted is up 17% from last year, putting pressure on food crops to sustain demand. Introduce the engineered crop, where genetic modification and engineering mimics the makeup of plants, animals and microorganisms. It could be anticipated that biotechnology could pick up where flooding left off, however, many products within this field never make it out of the pipeline, reports the Union of Concerned Scientists.
The list of engineered agricultural items in the works include tomatoes, squash, corn, soybeans and cotton.
PowerShares DB Agriculture (NYSEARCA:DBA), up 20.5% year-to-date
iShares S&P GSCI Commodity Indexed Trust (NYSEARCA:GSG), up 35.7% year-to-date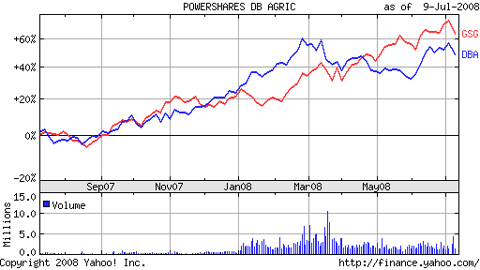 For full disclosure, some of Tom Lydon's clients own shares of DBA.