In early July 2012, I wrote an article on Caplease, Inc. (NYSE:LSE), a single-tenant REIT founded around 17 years ago in 1996. At the time that I wrote the article, Caplease was trading at around $4.15 per share and the dividend yield was 6.4 percent. Over the past sixty days, Caplease's stock price has climbed to $4.94 per share and the shares hit a 52-week high Tuesday. The closing market cap Tuesday was $329.8 million and the current dividend yield is 5.26 percent.
Click to enlarge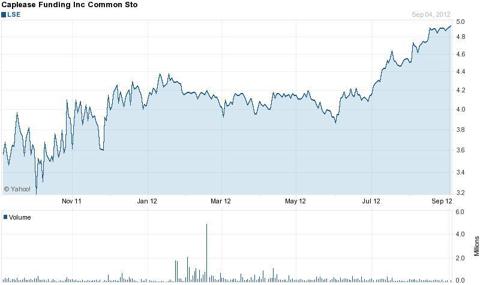 Caplease has been performing well overall, as the company's year-over-year total return is 43.42 percent.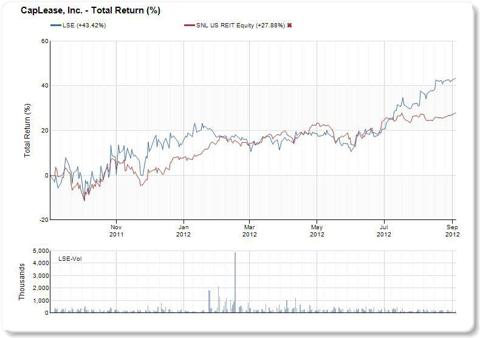 So What Has Caplease Being Doing Lately?
As I mentioned in my previous article on Caplease, the company was exposed to a notable risk related to Caplease's concentration and exposure to its largest tenant, Nestle Holdings. Although Nestle is considered a high quality (S&P AA) tenant, the leverage risk makes the underlying asset vulnerable to possible property level default.
Caplease's credit risk was its considerable leverage and specifically the company's cross-collateralization associated with a portfolio of Nestle-leased properties. However, since that time, Caplease has finalized the extension of the mortgage debt on the three Nestlé warehouses located in Breinigsville, Pa., Lathrop, Calif., and Fort Wayne, Ind., and these properties are now financed with a $106 million securitized first mortgage note that was scheduled to mature in August 2012.
The company obtained an extension for up to five years, inclusive of all extension options and with the last two years subject to re-tenanting the Fort Wayne property by August 2015. The note face amount of $106 million and coupon of 6.32 percent were not modified by the extension, and the only immediate capital required for the extension was $3 million, which was funded into a reserve with the lender for future re-tenanting costs at the Fort Wayne property.
Pursuant to the extension, Caplease agreed that any cash flow shortfalls from the properties after debt service during the extension term will be funded through an approximately $5 million reserve previously deposited with the lender. With just the Pennsylvania and California properties leased, the $5 million reserve is sufficient to cover expected shortfalls for the full term of the extension. Caplease also agreed to pay substantially all excess cash flows from the properties to reduce the principal amount of the debt. The company is permitted to prepay the loan at any time without payment of a penalty of premium to the lender.
Caplease previously extended the leases on two of the Nestlé properties where the leases were scheduled to mature in December. The extension of the approximately 1 million-square-foot Pennsylvania property is with the existing tenant Nestlé for five years commencing Jan. 1, 2013. The extension of the approximately 750,000-square-foot California property is with the existing subtenant Del Monte Corp. and is also for five years also commencing January 1, 2013. Caplease said it is continuing to actively market the Fort Wayne property for release at the end of Nestlé's lease term in December.
A New Build-To-Suit for Vitamin Shoppe
Also, Caplease announced Tuesday that the company had entered into a build-to-suit arrangement to construct a 311,730-square-foot distribution warehouse in Ashland, Va., at a total cost of $20 million.
Caplease entered into a 15-year net lease, which will start upon completion of construction. The company acquired the approximately 43-acre land site and entered into a development agreement with a large Southeast-based developer. Construction is expected to commence immediately and be completed during the second quarter of 2013. When complete, the property, which is being built for Vitamin Shoppe, Inc. (NYSE:VSI), will have an average capitalization rate of about 8 percent over the 15-year lease term.
In addition to the most recent announcement (with Vitamin Shoppe), Caplease enjoys a strong stable of high-quality tenants, including Nestle, the US Government, TJX Companies (NYSE:TJX), Kroger Co. (NYSE:KR), Lowe's Companies (NYSE:LOW), and Tiffany & Co. (NYSE:TIF).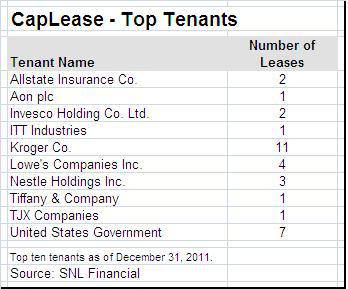 Caplease: More Growth in Sight
Caplease has maintained a consistent occupancy level (99.1% as of Q2-12) and the experienced management team has demonstrated skillful risk control fundamentals as it relates to retaining tenants (and values beyond the initial lease terms). As an example of Caplease's risk-control differentiation, the company's low FFO payout levels, compared with its peers as of Q2-12 was 23.21 percent - one of the lowest in the sector.
Caplease has an attractive preferred issue available, the Series A, which has a yield of 8.22% (see Michael Terry's article). Back in July (60 days ago), I expected the Caplease common shares to hit $4.75 and that price has surpassed my target (closed today at $4.94). With the Nestle-related risks muted, I expect to see more movement, as the stock is still trading at a discount to both NAV and peers.
Of course, Caplease could be considered a gem-stone in the making. The company's dividend yield is arguably "icing on the cake" as the triple-net landlord must be learning some lessons from one of its crown jewel tenants, Tiffany & Company. I think there is strong chance that Caplease might just be another "diamond in the rough".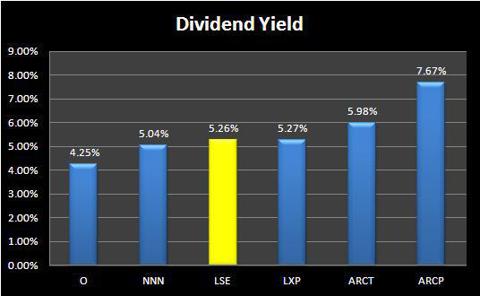 CapLease peers include Realty Income (NYSE:O), National Retail Properties (NYSE:NNN), American Realty Capital Trust (NASDAQ:ARCT-OLD), American Realty Capital Properties (ARCP), and Lexington Realty Trust (NYSE:LXP).
Related Article: Last week, I wrote an article (The Conundrum Of Triple Net Lease Valuation) in which I explained that the triple-net conundrum is cheap is truly great…if it comes with a cost of capital that is competitive over the long term.
Source: SNL Financial
Disclosure: I have no positions in any stocks mentioned, and no plans to initiate any positions within the next 72 hours. I wrote this article myself, and it expresses my own opinions. I am not receiving compensation for it (other than from Seeking Alpha). I have no business relationship with any company whose stock is mentioned in this article.