Companies involved in the production of household products are typically considered defensive stocks. Due to their non-cyclical nature, they are known for generating more stable earnings and as a result, distributing reliable dividends to shareholders. Therefore in recessionary times, or times of economic slow growth, investors may gravitate more to these stocks in search of income and protection against market slides. The graphs below show how this has played out in reality over the past 15 years.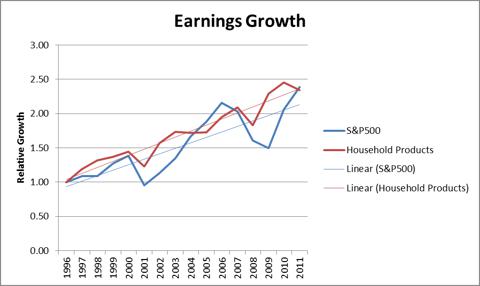 Over the past 15 years, the earnings growth of the S&P 500 and the collection of Household Products companies in this article (all listed at the bottom of the page), have actually ended up approximately the same. However the route each has taken has been very different. The Household Products companies earnings growth took less of a hit during market busts, but also grew less during market booms. The end result though, over these 15 years, turns out to be roughly the same.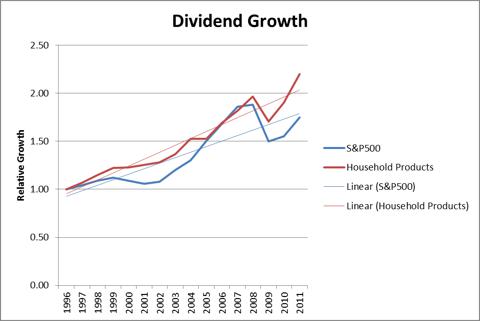 The graph of dividend growth reflects the earnings growth, however the Household Products companies do show a stronger dividend growth trend over time against the market as a whole. This reliability as a source of income is sought after during low growth times such as now, so is there currently any good value in the Household Products sector for the long-term investor?
As a long-term investor, I am interested in buying and holding. I focus on looking for best in class companies, with a proven track record. In compiling the data for this article, there were a number of standout companies.
Church & Dwight (NYSE:CHD), Colgate Palmolive (NYSE:CL) and Procter & Gamble (NYSE:PG) had the most reliable earnings performance. Over the 15 years analyzed, CHD increased earnings year on year over the entire period. CL and PG increased earnings year on year in all but 2 years over the period.
In terms of dividend performance Colgate Palmolive , Kimberly-Clark (NYSE:KMB), Lancaster Colony (NASDAQ:LANC) and Procter & Gamble, all raised their dividends year on year over the entire 15 years. Clorox raised its dividend in 14 of the 15 years. Although CHD doesn't have as strong a record in raising dividends (9/15 years), it has paid a dividend each year and never cut it. It has also been raising its dividend at a rapid rate since 2007 (CAGR of 51%), so that it has actually increased 5-fold in that time. With another 41% increase forecasted for 2012 and a payout ratio of 38%, CHD has an attractive dividend trend.
So based on the combined performance in earnings AND dividend growth, my focus is targeted to three companies; CHD, CL and PG. By comparing the graphs of earnings growth and dividend growth of these three companies alone to the S&P 500, it accentuates the benefit of choosing best in class companies. The divergence between these three companies and the market is much greater now, suggesting this is where future alpha lies.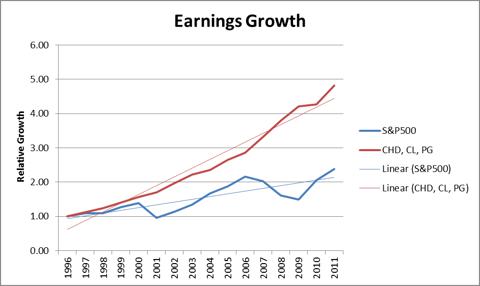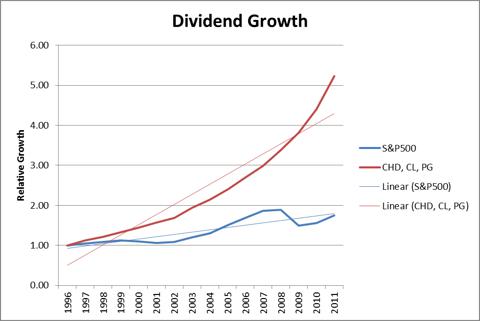 Next is a table that breaks down the companies' individual growth records in earnings and dividend growth rates over the trailing 15 years, the trailing 5 years and the prospective 5 year forecast. This way, we can compare how they have performed over the long-term past, medium-term past, and how they are predicted to perform over the medium-term future.
EPS Growth Records

Company

% CAGR

(trailing 15 Years)

% CAGR

(trailing 5 years)

% CAGR

(forecasted 5 years)

Church & Dwight

18.2

16.4

11.1

Colgate-Palmolive

10.9

11.2

9.6

Procter & Gamble

9.1

8.3

8.7

DPS Growth Records

Church & Dwight

16.4

39.2

8.2

Colgate-Palmolive

11.1

12.7

9.1

Procter & Gamble

11.2

11.4

8.8
CHD has definitely had the stronger growth record looking back over the past 15 years but has slowed in terms of earnings growth over the last five years, and is predicted to slow further still in the next 5 years. Based on the margin of error in making 5 year predictions, it can be said that the future medium performance of the three companies is predicted to be largely similar.
The graphs below look at the valuations of each company in a historical context up to full year results from 2011:
Church & Dwight: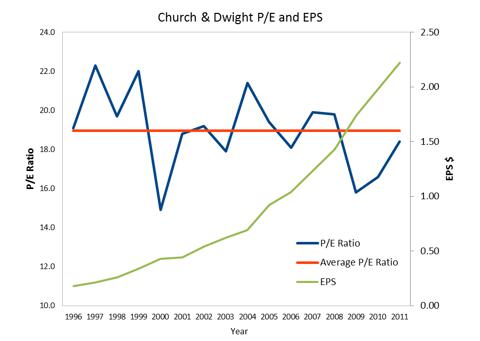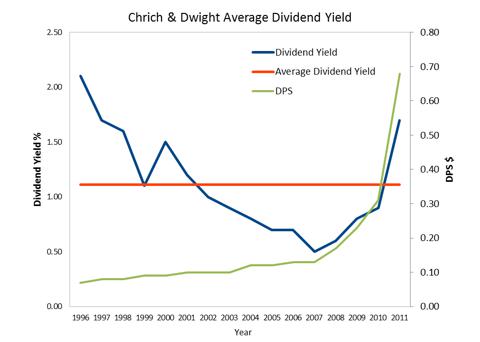 CHD's PE ratio fluctuates around a historical average of 19. With a 12 month forward PE ratio currently of 21.5, the PE ratio is nearing its 15 year high. This higher ratio may be justified based on the past CAGR in earnings, however this is forecast to slow now in the medium term, so the price seems a bit high to be thinking about starting a position in CHD. The yield of 1.8% is also near a high for the company, however this has been achieved through the recent rapid rate it has been returning profits to shareholders, raising its payout ratio from 12% in 2008 to 30% in 2011. With the dividend payments forecasted to slow and the yield still lower than CL or PG (see below), there does not seem to be great value right now in CHD.
Colgate-Palmolive: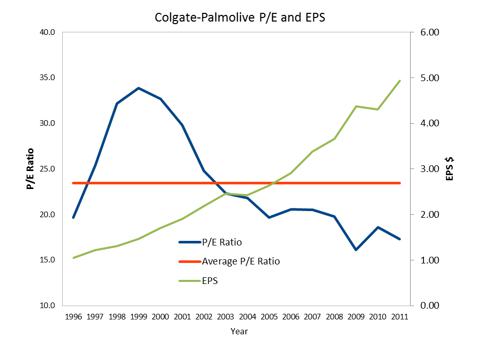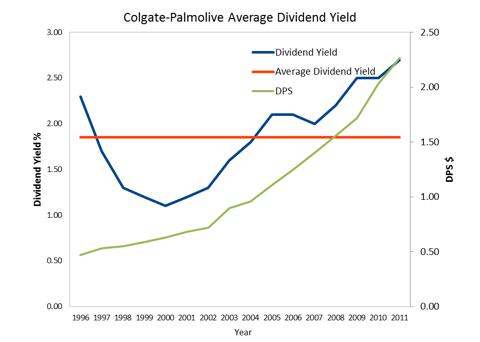 CL has a 12 month forward PE of 19.5 as it has already had a 16% rise in share price YTD. This is still below the 15 year average PE ratio of 23.5. The yield of 2.4% is also higher than the historical average of 1.9%. CL would therefore seem to be attractively priced.
Procter & Gamble: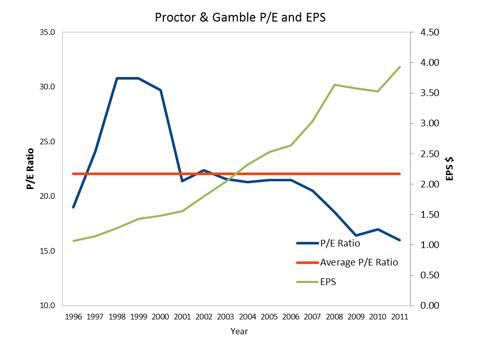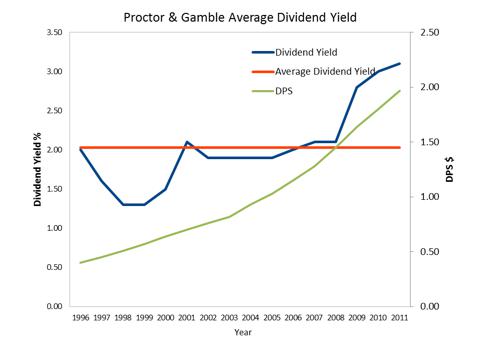 The PG graphs are very similar to the CL graphs. PG has a forward PE ratio of 17.8, below the 15 year average of 22.0. PG is also paying a 3.2% dividend, well above its 15 year average of 2.0% and higher than any yearly average yield over this time. PG, therefore, also seems attractively priced.
Conclusion:
When I started this article, I was hoping to uncover a lesser known name in the sector that was trading at great value. However, the companies that stood out for both earnings and dividend growth were the predictable behemoths of the sector. CL and PG have proven business models that substantially outperform the market and also outperform their sector. These companies are also currently priced relatively cheaply compared to the past 15 years. For the long-term investor who is looking to add proven income generating companies to their portfolio, CL and PG are priced well to justify further analysis.
Household Products companies: Blyth (NYSE:BTH), Central Garden & Pet (NASDAQ:CENT), Church & Dwight , Clorox (NYSE:CLX), Colgate-Palmolive , Energizer Holdings (NYSE:ENR), Jarden Corp. (NYSE:JAH), Kimberly-Clark , Lancaster Colony , Martha Stewart (MSO), Newell Rubbermaid (NYSE:NWL), Proctor & Gamble , Scotts Miracle Gro (NYSE:SMG), Spectrum Brands (NYSE:SPB), Tupperware Brands (NYSE:TUP), WD-40 Company (NASDAQ:WDFC).
Data sources: S&P 500 earnings and dividend growth derived from Damodaran Online. All company specific data presented is derived from Valueline.com.
Disclosure: I have no positions in any stocks mentioned, and no plans to initiate any positions within the next 72 hours. I wrote this article myself, and it expresses my own opinions. I am not receiving compensation for it (other than from Seeking Alpha). I have no business relationship with any company whose stock is mentioned in this article.