Heartware (NASDAQ:HTWR) hopes to obtain FDA approval for its revolutionary heart pump within 1-2 months. The device won solid backing from an independent review panel in April. Commercial sales in Europe have been underway for several years, moreover, and unit volume in that market has continued to accelerate. Initial U.S. sales will be limited to so-called "bridge to transplant" applications. Those patients qualify for heart transplants and will use the machine to assist their failing hearts until a replacement becomes available. The larger "destination therapy" market is expected to become available in 1-2 years, following the completion of more clinical trials and a second FDA review process. Those patients generally don't qualify for transplants due to age or other factors. Some prospective patients are in a gray area and might receive the system on an off label basis. One other heart pump is on the market today, a unit made by Thoratec (THOR). That device has lost market share in Europe and is likely to experience a similar fate in the U.S. once Heartware receives FDA clearance.
Both companies are developing next generation heart pumps. Those products will be smaller and less invasive to install. They also promise greater versatility and performance, better data analysis to alert physicians quickly when body conditions change, and WiFi electricity delivery so a wire doesn't have to run through the skin to keep the unit charged. Patients might be able to unbuckle the power pack altogether for 2-3 hours at a time, providing greater freedom on movement.
Both companies have road maps to create even better solutions down the road. The potential market is likely to expand dramatically as the performance of those systems keeps improving, and the operations to install them become simpler and less traumatic. Demand for heart transplants far exceeds the available supply. These systems could fill the gap, and benefit a potentially larger population of patients with weak hearts that could use a boost.
New competition is unlikely. Thoratec and Heartware are likely to divide the market for the foreseeable future. Demographic factors are likely to keep expanding the prospective market. Geographic expansion promises additional leverage. The reimbursement picture already is positive and should remain that way because heart pumps tend to reduce the likelihood of expensive surgeries. Decades from now stem cells and regenerative medicine might eliminate the need for artificial medical devices. Until then, these shares hold tremendous opportunity. Heartware has the technology advantage. Thoratec already has a device on the market, so it commands a marketing edge for now. Neither company is an obvious acquisition candidate but that possibility does mitigate downside risk. (Note - All of Heartware's debt is convertible into common at $100 a share.)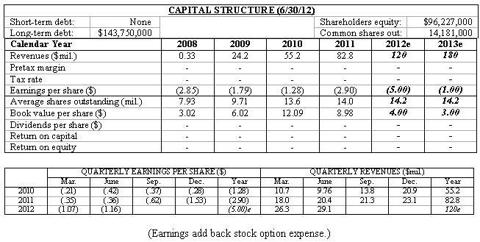 Disclosure: I am long HTWR. I wrote this article myself, and it expresses my own opinions. I am not receiving compensation for it. I have no business relationship with any company whose stock is mentioned in this article.