We had previously written upon the dealings between Verizon Communications (NYSE:VZ) and smaller historically rural local exchange carriers such as CenturyLink (NYSE:CTL) and FairPoint Communications (NASDAQ:FRP). We remembered that there was much buzz a few years ago when Verizon announced the sale of its Northern New England Wireline operations located in the states of Maine, New Hampshire and Vermont to FairPoint for $2.2B in cash and shares of FairPoint common stock in a Reverse Morris Trust. Under this plan, the cash portion of the deal went to Verizon Communications and 35M shares issued by FairPoint went to Verizon's shareholders. This transaction increased FairPoint's customer base by 746% and made FairPoint the eighth largest telephone company in the US. The price to do all this was steep and forced FairPoint to tap the capital markets for $1.6B in new debt.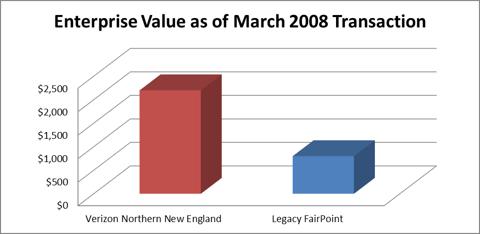 Source: FairPoint Q1 2008 10-Q
CenturyLink's predecessor Qwest Communications (Q) partnered up with Verizon Wireless in a 5 year deal in 2008 in which Qwest shut down its Qwest Wireless MVNO and agreed to market Verizon Wireless devices through its sales and service channels and gave those customers the choice of being billed directly by Verizon Wireless or as part of their Qwest Communications bundle. When CenturyLink announced in 2010 its agreement to acquire Qwest, it agreed to a wireless reseller deal with Verizon Wireless. Our thesis is that CenturyLink/Qwest ended up with a better deal from Verizon than FairPoint and in this report, we will prove or disprove our thesis.
CenturyLink is the third largest wireline telephone company in the US by revenue and the largest of the historically rural incumbent local exchange carrier. It was founded as Central Telephone and Electronics in 1968 and became CenturyLink in 2010 one year after its completed its acquisition of Embarq. It then announced its acquisition of Qwest that same year (completed in April 2011). In 2011, it announced its strategic partnership with Verizon Wireless and acquired cloud computing infrastructure specialist Savvis.
FairPoint was founded in 1991 as MJD Communications and renamed FairPoint Communications in 2000. The company was founded to acquire small rural local exchange carriers and was 75.4% owned by Kelso & Company and Carousel Capital Partners LP. MJD began issuing financial reports to the SEC in November 1998 because it had publicly traded debt. In 2000, an affiliate of Thomas H. Lee bought Carousel's 37.7% interest in MJD and the company changed its name to FairPoint that year. In February 2005 it went public on the NYSE and two years later it announced its acquisition of Verizon's wireline operations in Maine, New Hampshire and Vermont. FairPoint completed the acquisition in March 2008 and filed for bankruptcy in October 2009. It emerged from bankruptcy in January 2011 and went public (again) on the Nasdaq.
We can see that the deal between Qwest/CenturyLink and Verizon was much better than the deal that Verizon made with FairPoint. We are displeased that either CenturyLink or Verizon does not currently disclose the number of Verizon Wireless customers that have joined through CenturyLink's sales and service channels because that service is one part of our investment thesis behind our position in CTL. However, we can see that it did not force CTL to take on more debt and force CTL in bankruptcy unlike the FairPoint/Verizon Northern New England deal. Plus we are aware that revenues from this deal are part of CTL's strategic services revenue and we see that CTL's strategic communications services revenue has been steadily growing and almost offsetting declines in legacy wireline revenue. Plus we don't expect to see CenturyLink and Verizon Wireless in court over this deal, unlike Verizon and FRP.


Source: CenturyLink and FairPoint Q2 Earnings Releases
We like that both companies are looking to mitigate the decline of consumer wireline service through strategic communications like Data and Internet service and business customers. We were surprised to see that FairPoint had a higher rate of year-over-year growth in Broadband Internet than CenturyLink (5.1% versus 4.4%). However we were not surprised to see that CenturyLink was ahead of FairPoint in terms of Broadband penetration of wireline customers (40.74% versus 32.24%). CenturyLink also had a narrower wireline revenue decline of 6.1% year-over-year versus 7.8% for FairPoint. A bright spot for FairPoint was its 12% year-over-year increase in Data and Internet Services revenues. However, this was not enough to offset declining wireline revenues. Because voice and access revenues represent only account for 45.5% of CenturyLink's revenue versus 80.6% of FairPoint's revenue, we can see why CenturyLink's pro forma revenue decline of 1.2% year-over-year in Q2 2012 was narrower than the 7.3% revenue decline FairPoint saw.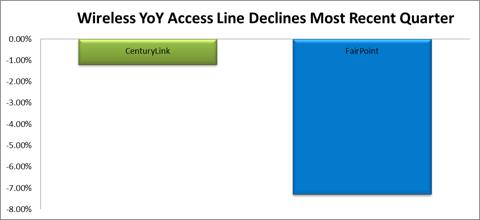 Source: CenturyLink and FairPoint Q2 Earnings Releases
In conclusion, we are intrigued by FairPoint's annualized cash flow/market cap ratio of 35%. However we were disappointed that it was due to a temporary reduction in capital expenditures which will pick up for the next 3 quarters due to its regulatory commitment to bring broadband services to 95% of its New Hampshire customers by March 31st, 2013. We believe that CenturyLink offers a better risk-adjusted return for rural telecom investors than FairPoint and we have proved our earlier thesis about CenturyLink's deal with Verizon working out better for it than FairPoint's. We like CenturyLink better than FairPoint due to the following factors
Authorized Wireless reseller agreement with Verizon Wireless
CenturyLink's partnership with DirecTV and its PRISMTV IPTV service.
CenturyLink's slightly lower decline in wireline rates
CenturyLink's 6.9% Dividend Yield whereas FairPoint needs to devote free cash flows to bolster liquidity and pay down debt
CTL is working to bolster its investment-grade credit rating while FRP is 20 months out of bankruptcy.
Presence in fast-growing metro markets as a result of the Qwest acquisition such as Denver, Las Vegas, Phoenix, Portland and Seattle.
FRP is heavily dependent on the slow growing, sparsely settled Northern New England area.
CenturyLink's cloud computing infrastructure business Savvis
CTL's $6.2B of Net-Operating Losses for Tax Purposes acquired from the Qwest and Savvis acquisitions are worth $2.5B and do not materially expire until 2020.
Although CenturyLink's stock has underperformed FairPoint's stock in 2012, it has outperformed FairPoint and the XTL since FairPoint emerged from bankruptcy in 2011.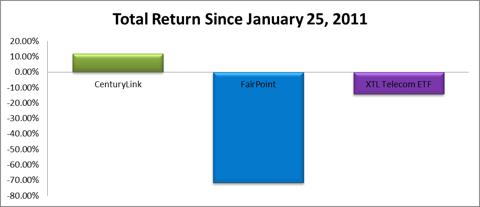 Source: Morningstar Direct
Disclosure: I am long CTL. I wrote this article myself, and it expresses my own opinions. I am not receiving compensation for it (other than from Seeking Alpha). I have no business relationship with any company whose stock is mentioned in this article.
Additional disclosure: This article was written by an analyst at Saibus Research. Saibus Research has not received compensation directly or indirectly for expressing the recommendation in this article. We have no business relationship with any company whose stock is mentioned in this article. Under no circumstances must this report be considered an offer to buy, sell, subscribe for or trade securities or other instruments.