Eli Lilly (NYSE:LLY) has suffered some major setbacks in recent weeks that might interest value investors. Test results for its new schizophrenia drug were so disappointing that it halted research into the product. A new treatment for Alzheimer's was only partially effective against a mild form of the disease and useless in most cases.
If that wasn't bad enough, a study found that Lilly's new blood thinner, Effient, was not as good as Bristol-Myers Squibb's (NYSE:BMY) existing Plavix. Since Plavix or clopidogrel went over the patent cliff in May, that's good news for generic drug makers like Mylan (NASDAQ:MYL) and Teva Pharmaceutical Industries (NYSE:TEVA), but no help to Lilly. Reuters reported that Effient sales were projected at $1.1 billion a year. Lilly sold $302.5 million worth of Effient last year; Bristol-Myers reported around $7 billion a year in Plavix sales.
Instead of raking in additional revenues, Lilly will be taking losses because of its new drugs. Reuters predicted that losses from the schizophrenia drug study will raise Lilly's research and development expense by $25 to $30 million for the third quarter. This works out to around 2¢ a share. The expense of the Alzheimer's and Effient studies has not been reported yet, but it might have a similar impact on revenue.
Eli Lilly is Overvalued
Naturally, value investors are wondering what kind of impact these R&D setbacks are having on Lilly's share prices. Well, oddly enough, the share price seems to be on an upward trajectory despite the reports of failure in drug development.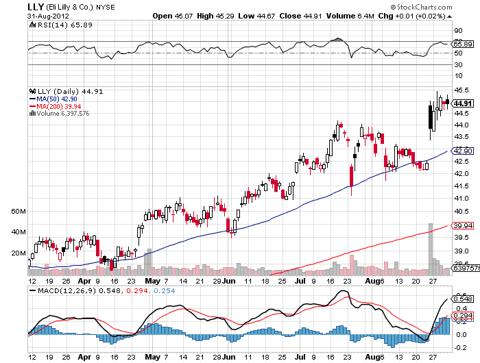 As you can see, Lilly's share price increased to a new high of $44.91 a share at the close of business on August 31. That seems to indicate that Mr. Market is paying attention to something besides the newsfeeds, but what is he paying attention to and are his assumptions valid?
Well, Eli Lilly does deliver a dividend rate of $1.96, a yield of $4.36, earnings per share of 83¢, and sales growth of 5.2%. It also reported some steep losses that translated into a 14.2% drop in income. These figures make it look like the reverse of a value stock; the company is actually losing money even as its share values rise.
Big Losses on Zyprexa
Lilly is losing a lot of money because of a drop in revenue caused by the expiration of the patent on its Zyprexa schizophrenia drug. The company reported a 10% drop in global revenues in the second quarter of 2012. Lilly's earnings press release noted that Zyprexa sales in the second quarter were $379.5 billion, while sales of the medication were $1.4 billion in the same period in 2011. The company admits that's a 73% drop in revenues for the medication.
Revenues in the second quarter in 2011 were $6.25 billion; revenues in the same period this year were $5.6 billion. Net income in the second quarter of 2011 was $11.97 billion, while net income in the second quarter of 2012 was $923.6 billion. That adds up to a 23% loss, according to Lilly's own earnings press release.
Judging by these figures, it looks like Mr. Market is the one who needs a dose of Zyprexa because he obviously hasn't been looking at Lilly's financials or the news. The company is losing money because the revenue is in freefall. This drop is affecting the company's earnings per share (EPS). The EPS was $1.07 in the second quarter of 2011 and 83¢ in the same period this year.
Questionable Opportunities in the Far East
The best news for Lilly is the growth of revenues from China and Japan. Lilly's sales grew by 28% in China and 15% in Japan. Continued growth in Japan is good news because that nation is the world's third largest market for pharmaceuticals after the U.S. and Europe.
The growth in Japan might drop off in the third quarter because the national health insurance system in Japan encourages the use of generic drugs. The expiration of the Zyprexa patent and the new findings about Effient might cut into the sales of those drugs in Japan. That may help Pfizer (NYSE:PFE) and Mylan, which have just signed a big deal to market generic drugs in Japan, but not Lilly.
Lilly has one successful drug in its portfolio, the antidepressant and pain reliever Cymbalta. The company reported that Cymbalta sales increased by 22% in the second quarter of 2012. Eli Lilly sold $1.22 billion worth of Cymbalta in the second quarter of 2012, as opposed to $1 billion worth of the drug in the same period in 2011. The Food and Drug Administration has given Eli Lilly another six months of patent exclusivity for Cymbalta. That means the Cymbalta patent will not expire until December 2013.
Eli Lilly is definitely not a value buy at this time; the company is clearly losing money by its own admission. To make matters worse, it seems poised to lose more money in the next year. The best advice is to stay away from this stock until the share price starts reflecting the reality at Eli Lilly.
Disclosure: I have no positions in any stocks mentioned, and no plans to initiate any positions within the next 72 hours. I wrote this article myself, and it expresses my own opinions. I am not receiving compensation for it (other than from Seeking Alpha). I have no business relationship with any company whose stock is mentioned in this article.