In our August 10th report on Apple Inc.'s (NASDAQ:AAPL) decision to cut the price of the iPhone devices available at its Apple Stores retail outlets by $50, we noted that Samsung (OTC:SSNLF) has allegedly been infringing on Apple's patents. Because Samsung allegedly infringed the iPhone's patent and didn't have to go through the trouble of researching and developing an original device, it can afford to sell its devices at a lower price than Apple to mobile carriers, and the carriers can sell Samsung Galaxy POS line of smartphones to consumers at a lower price. We found that Verizon Wireless sells the iPhone 4S with 32GB of data for $299.99 with a two year contract versus $249.99 for the Samsung Galaxy S III with 32GB of data. We found the same $50 difference for the iPhone 4S with 16GB of data versus the Samsung Galaxy S III with 16GB of data. On August 24th, a California Jury found Samsung guilty of infringing a majority of Apple's patents and awarded Apple $1.05B in damages.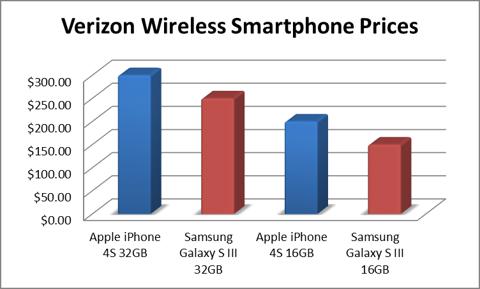 Source: Verizon Wireless
On a worldwide basis last quarter, Samsung sold 52M of its POS smartphones versus 26M units sold for Apple's iPhone device. However, Apple maintains a commanding market share with regards to the Big Three Mobile Carriers in the US (AT&T (NYSE:T), Verizon (NYSE:VZ) and Sprint (NYSE:S)). AT&T sold 3.7M iPhones in the most recent quarter, Verizon sold 2.7M and Sprint sold 1.5M iPhones. In contrast, AT&T, Verizon and Sprint did not see fit to elaborate on the sales volume of Samsung's devices, even though Verizon is pushing Android devices. Because the Big Three US Carriers did not elaborate on Samsung device sales volumes during the quarter, we would expect that sales volumes of Samsung devices were significantly smaller than Apple iPhone sales volumes. This probably explains why Apple's iPhone sales in the US of 8.3M exceed the 2M smartphone devices sold by Samsung during the most recent quarter. 95% of Apple's iPhone sales in the US were to the Big Three and if we were to extrapolate this to Samsung, we would estimate that the Big Three sold 1.9M Samsung devices.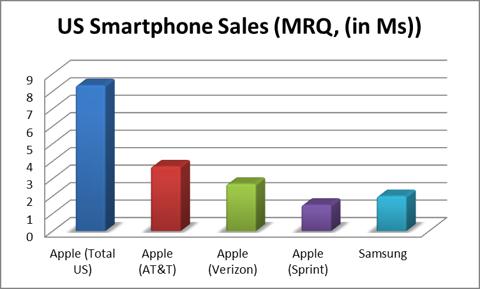 Source: BGR.com
On August 24th, Apple was able to prove that Samsung had maliciously and blatantly copied critical features of Apple's iPhone and iPad devices. We don't believe that the $1.05B in damages that the jury awarded Apple was that big of a deal. We think the fact that the jury only took three days to deliberate and come to this conclusion was a bigger deal. We also believe that the fact that the jury found that Samsung willfully infringed upon Apple's patents, Apple could seek triple damages is also a bigger deal. Regardless of whether or not key Samsung products are banned or not, we believe that this will solidify Apple's dominance in the tablet computing market as well as its smartphone share with the Big Three US Mobile Carriers. We found it amusing that Samsung's lawyers called its loss a loss for American consumers, especially since it's a multibillion-dollar Korean electronics conglomerate and the key constituent of a multibillion-dollar Korean Chaebol. We don't think Samsung cares that it may have to pay up to $3.15B in damages since it only represents less than 85% of its most recent quarterly profits.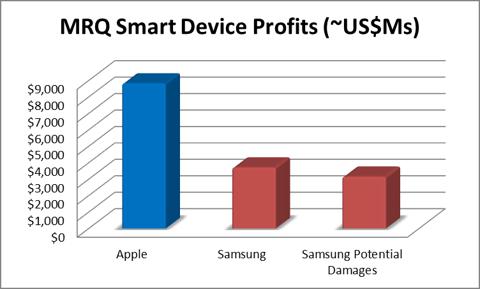 Sources: Earnings Releases for Apple and Samsung and Newsmax
One piece of good news for Samsung was that a hearing that will potentially result in the banning of certain Samsung Android smartphones was pushed back from September 20th to December 6th. Although 28 of Samsung's devices were guilty of infringing upon Apple's patents, Apple filed a narrower list of devices that Apple is seeing immediate, ongoing, irreparable harm. The "Elite Eight of Plagiarism" devices that Apple identified were the Galaxy S 4G, AT&T Galaxy S2, Galaxy S2 Skyrocket, Galaxy S2 T-Mobile, Galaxy S2 Epic 4G, Galaxy S Showcase, Droid Charge and Galaxy Prevail.
With the exception of Nokia (NYSE:NOK) and Research In Motion (RIMM), we expect this decision to impact the rest of the mobile phone handset makers. For Apple, this means that its competitors can't rip off its intellectual property. For the Android handset makers, we expect that this will push these companies towards having to find better ways to innovate rather than plagiarize the Infinite Loop. The reason why we expect that Nokia and Research In Motion to be immune from this ground-breaking legal result is because those companies were once industry leading handset device makers and each firm had its own operating system. Nokia had the Symbian system and is now using Microsoft's Windows Phone system. Research in Motion has the Blackberry operating system and based on our observations, RIMM still thinks that it is 2010. We can conclude based on that observation that RIMM is too stubborn to think of ripping of Apple iOS or resorting to Android. Even if RIMM wanted to change the system, Jim and Mike were too busy pursuing their own childish fantasies of owning their own professional hockey team.
In conclusion, Apple has shown that it is the game-changer in the mobile communications industry. The introduction of the iPhone in 2007 led to significant positive changes for AT&T, which was the exclusive home of the iPhone device for over 4 years. It helped AT&T stay relevant and offset its declining wireline business. Verizon selling the iPhone in 2011 solidified its leadership in the retail postpaid customer segment and Sprint selling the iPhone saved it from bankruptcy. Apple's iOS operating system prompted Google (NASDAQ:GOOG) to plagiarize it in conjunction with Samsung. We have taken note that Samsung has created an innovative program to get rave reviews. Samsung's Mob!lers program flew bloggers halfway around the world and then threatened to strand them unless they promoted Samsung's products. Now that Apple has won a knockout legal victory against Samsung, it can turn its attention to Google. We believe that the late, great Steve Jobs said it best when he said to his biographer Walter Isaacson:
Our lawsuit is saying "Google, you bleeping ripped off the iPhone, wholesale ripped it off! Grand theft! I will spend my last dying breath if I need to, and I will spend every penny of Apple's $40 billion in the bank, to right this wrong. I'm going to destroy Android, because it's a stolen product. I'm willing to go to thermonuclear war on this. They are scared to death, because they know they are guilty. Outside of Search, Google's products - Android, Google Docs - are bleeped.
Disclosure: I am long S, AAPL. I wrote this article myself, and it expresses my own opinions. I am not receiving compensation for it (other than from Seeking Alpha). I have no business relationship with any company whose stock is mentioned in this article.
Additional disclosure: This article was written by an analyst at Saibus Research. Saibus Research has not received compensation directly or indirectly for expressing the recommendation in this article. We have no business relationship with any company whose stock is mentioned in this article. Under no circumstances must this report be considered an offer to buy, sell, subscribe for or trade securities or other instruments.