Introduction
A recent Forbes article by Louis Woodhill has received a lot of controversy for its claim that General Motors (NYSE:GM) is headed for bankruptcy again. If you have not read it, I'll sum up his main points:
General Motors has a 18% market share in 2012, compared to 20% a year prior and 48.3% in the 1960s (reflecting a negative trend)
General Motors needs to have a strong presence in the D-segment, as it is the vehicle class in the U.S. with the highest volume (and the US is GM's home market)
GM is in the process of introducing a redesigned 2013 Chevy Malibu, which will compete with cars such as the Ford Fusion, Honda Accord, Volkswagen Passat and Nissan Altima
The Malibu came in at last place (6th) in a test against its competitors made by "Car and Driver"
My problem with the author
So basically, Louis Woodhill thinks General Motors will go bankrupt because one of its models didn't do very well in a test. His article contains no mention of an investment timeline, balance sheet, quality of other car models, their joint ventures in China, wages in Europe or anything that could have an impact on whether GM goes bankrupt or not. Here is a quote that I believe outlines the logic of the author:
Akerson (the CEO of Ford) has an engineering degree, but he also has a Master's Degree in Economics, and his first big job was as CFO of MCI.
When he uses the term "but," is he really implying that it's a bad thing that a CEO has a degree in economics and has worked as a CFO? Woodhill, who himself has a B.S. in engineering, is on the leadership council of the "club for growth." The club is a fiscally conservative organization, and it's difficult for me not to suspect political bias. Just as much as Obama wants GM to do well, I believe Woodhill wants GM to do badly to prove that the company shouldn't have been bailed out. Don't get me wrong: I am of the political conviction that government shouldn't have interfere in markets, and that GM should have gone bankrupt. However, to take the libertarian point of view one step further, businesses (and investors) do not have any other moral responsibility than to earn as much money as they possibly can. And in my investment thesis, I only look at the value of the company compared to the price I pay, ignoring potential ethical conflictions.
An analysis of his arguments
Let's look a little closer at his actual arguments. I agree with him that the Malibu 2013 isn't a very good car because it doesn't differentiate itself from its competitors in any way. Malibu was launched as an eco-version only, which puts it into competition with full hybrid cars (Malibu is a mild hybrid). But compared to those cars, it's very inefficient on a mile per gallon comparison and, unfortunately, is not a lot cheaper.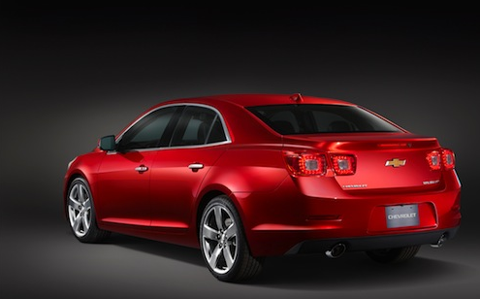 I don't think, however, that the author is aware that the Malibu has been overhauled since the review in March 2012 by "Car and Driver". A few changes have been made such as:
New exterior and interior design
New tech features
New engines
While I believe these changes make Malibu somewhat competitive (especially the new four-cylinder engine, which makes the car very quiet and nets a decent fuel economy), I agree with critics that it won't be a high selling car. But the Malibu is just one brand, and as you can see in the below diagram, it only accounts for a limited amount of car sales by General Motors in North America.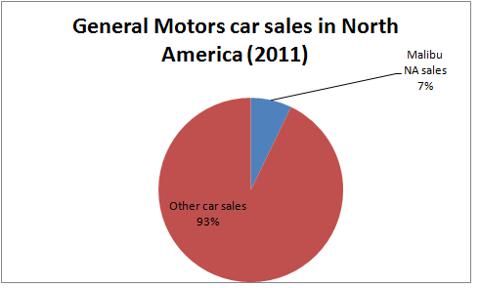 Critics, however, argue that if General Motors can't find success with Malibu (which historically has been a very important brand for GM), then they can't be successful at all. Though General Motors has had decent sales on other models, I can follow this logic to some extent. But here is my take on the situation: GM does not have to be the best automaker to avoid bankruptcy. If GM continues to be a mediocre company with mediocre sales and mediocre margins, it will be a great investment for shareholders. This is because the company is still making decent profit, but is priced as if it's barely making any money. As you can see below, GM and Ford trade at a discount compared to their global competitors.
Ford trades at a forward P/E of 5.8
General Motors trades at a forward P/E of 5.1
Nissan trades at a P/E of 10.5
Honda trades at a forward P/E of 7.6
Toyota trades at a forward P/E of 14
What has changed at GM post-bankruptcy?
Critics will also argue that nothing has changed since GM's pre-bankruptcy days, but that is not entirely true. Here are some of the differences between the old GM and the new GM:
General Motors has sold off unprofitable brands such as Pontiac, Saturn, Saab and Hummer
They have eliminated 20,000 of their 88,800 US employees and reduced their dealerships
U.S. hourly labor costs per North American vehicle have been reduced from 3,295 in 2005 to 1,606 in 2012
Unlike in 2008, GM actually has large cash reserves of $37 billion (which come mainly from federal assistance), and they have been producing positive free cash flow each year since bankruptcy
Fitch has recently

upgraded

GM's issuer default rating to BB+
Conclusion
General Motors is a mediocre company and it will continue to be that for the foreseeable future. But they have way too large cash reserves to go bankrupt in the immediate future, and as long as they continue to make a modest profit they will prove to be a great investment for shareholders.
Disclosure: I have no positions in any stocks mentioned, and no plans to initiate any positions within the next 72 hours. I wrote this article myself, and it expresses my own opinions. I am not receiving compensation for it (other than from Seeking Alpha). I have no business relationship with any company whose stock is mentioned in this article.